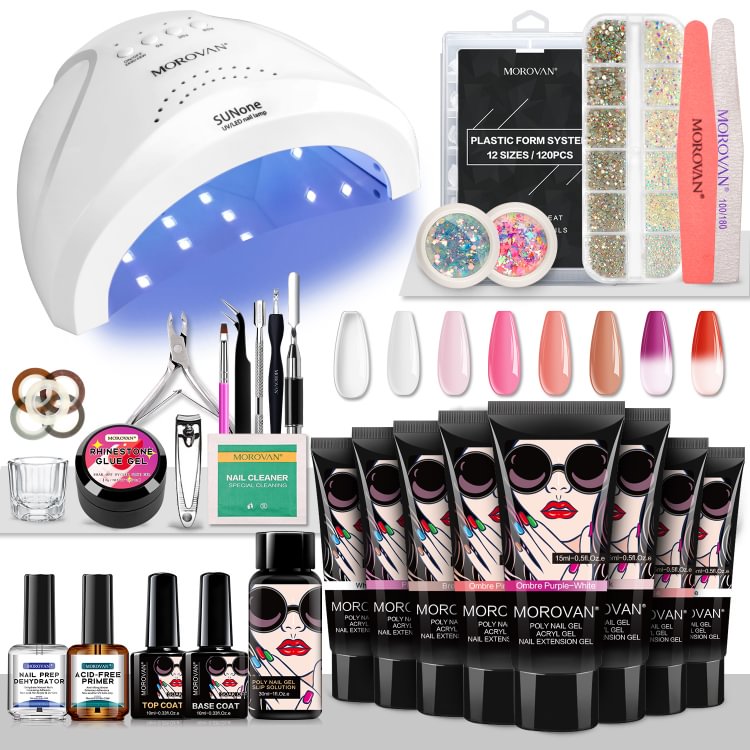 MOROVAN Poly gel nail kit
: With this complete poly nail gel kit, you can create trendy nail looks at home. Come with pure color, white, pink, milk, nude, brown, and two fantastic ombre colors, all of these poly gels are popular colors and easy to create special beauty poly gel nail arts with other nail art supplies.
ALL-IN-ONE POLY GEL NAIL KIT
: Come with 48W LED Lamp,6 pcs pure color + 2 pcs temperature changing color poly gel, nail prep dehydrator and primer, base coat, top coat, nail slip solution, and other basic poly gel nail art tools. whether It is beginners or nail lovers, this poly nail gel kit is convenient for you to build strong, flexible, feather-light nail extensions.
LONG-LASTING POLY GEL NAIL EFFECT
: Morovan Poly nail extension gel is easy to take shape with a slip solution and will last about one month or longer with proper nail prep (filing, buffering, and cleaning ). Notice, slip solution is designed for the nail extension gel especially. With this, you can make this builder gel to shape easily and form on dual forms smoothly. For better adhesion, we add nail prep dehydrate and acid-free nail primer in this poly gel nail kit.
WARM TIPS FOR APPLYING THIS POLY GEL NAIL KIT
: For preventing the poly gel from sticking to the brush or other poly gel nail tools, you can dip the brush in slip solution or 75% rubbing alcohol, so the poly nail extension gel can be picked and formed on dual forms smoothly. If you want to change the nail art style and remove this builder gel for nails, you can file the poly gel down and then buffer it. A nail drill machine will save your time and help to remove faster and cleaner.
BEST SERVICE OF THIS POLY GEL NAIL KIT
: We promise to provide all our customers with excellent products and services. If there are any problems with this poly nail gel kit, please do not hesitate to contact us and we will try our best to help you solve the problem. please go ahead and make the purchase with full confidence. we offer replacement or refund service. Enjoy Your Shopping~