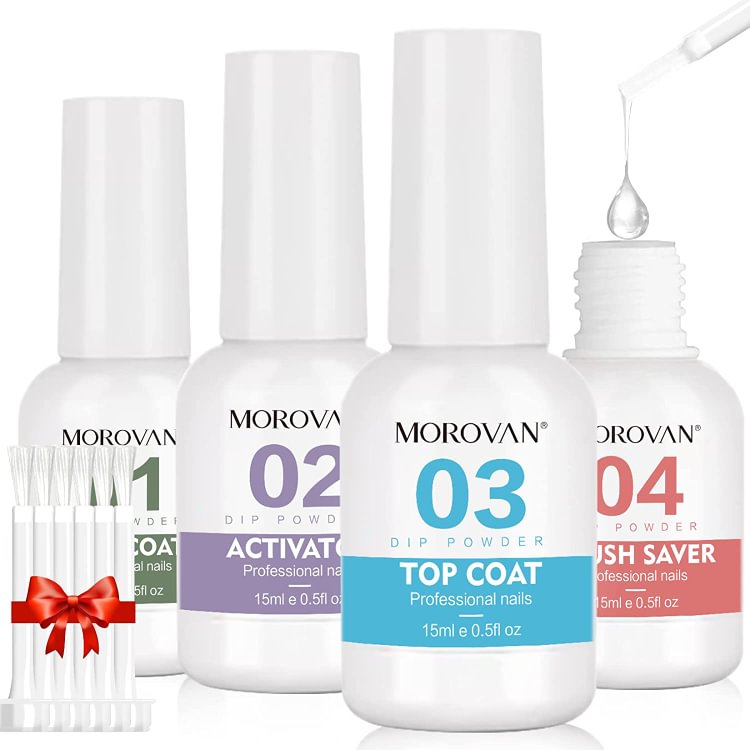 ---
Product Description
MOROVAN PROFESSIONAL NAIL DIP POWDER LIQUID SET - FOR BEGINNERS.
WHY CHOOSE MOROVAN DIP POWDER LIQUID SET
Morovan Dipping Powder Kit includes: Base Coat, Top Coat, Activator, and Brush Saver (15 ml / 0.5 fl oz each bottle), 6 Replacement Brushes.
FEATURES OF DIP POWDER LIQUID GEL SET:
Low Odor:

Natural Resin, Non-Toxic, No Odor, High Gloss, Crack and Chip Resistant;

Long-Lasting:

With great durability, the Dipping Powder Liquid Set can last dip powders for 3-4 weeks or more;

Easy to Use:

no nail lamp curing needed; no harm to the nails beds, save money and time.
For any leaking, missing or empty, please message Morovan Customer Services.
Dip Powder Base Coat

With an optimal viscosity, ensures a fast drying time as well as proper absorption and good connection of the Dip Powder to avoid unnecessary bumps and blemishes for minimal buffing.

Dip Powder Top Coat

Activates the dipping powder to harden it, speeding up the drying process to allow dip powder to set quickly. To be used before Top Coat to make the top shiny.

Dip Powder Top Coat

Secures everything together, delivers glass-like shine, and protects nails from the sun's harmful UV rays, preventing from chipping, scratching, or cracking.

Dip Powder Brush Saver

cleans and dissolves any dip powder residue that may harden bristles, ensuring a healthy re-usage of your brushes for easy work ability.
No Curing Needed for Nail Lamp - Saving Time
Morovan Dip Powder Liquid Set can be cured without a nail lamp,
which can prevent the nail lamp from darkening and damaging the skin.
TIPS:
If dip nail brushes are applied to different colored powders or turn hard,

please use the Replacement Brushes.

You can depart the hard brush from the gel cap,

then use the replacement brushes reload in the cap.