Press On Nails Ideas of Spring
Apr 08, 2023 by MOROVAN
Press on nails are very popular nowadays. Spring is one of the most beautiful seasons of the year, with warm weather and everything in nature beginning to come back to life. It's also a season full of vitality and color, and colorful press on nails art is a perfect way to bring a happy and energetic look to your style. Seeing these colors on your nails in spring will surely bring joy! Let's take a look at some recommended colorful press on nails art styles for spring.
The main characteristic of press on nails art in spring is bright and vibrant colors. During this season, we can see many flowers, trees, and blue skies, all of which can be a great inspiration for press on nails art designs. For example, bright colors like yellow, pink, and purple can be used to showcase the beauty of flowers, while shades of green such as dark green and light green can represent the vitality and energy of spring. Light blue and sky blue can be used to portray the beauty of the blue sky.
1.Press on nails design:Colorful Nails with Ice Cream Element
This press-on nail design features very spring-like colors, such as buttery yellow and baby blue, along with some cute ice cream and heart elements, making it very vibrant and lively.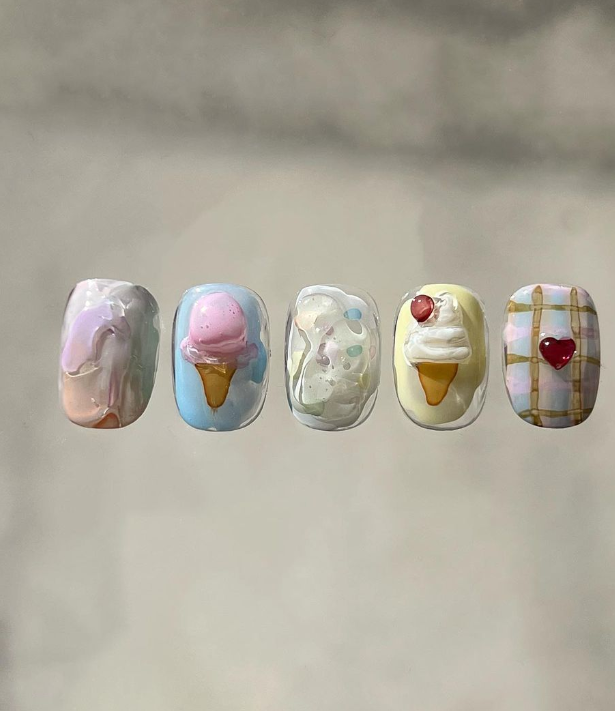 @_erikotakei_ /Instagram
2.Press on nails design:Flower & Glitter Nails
This press-on nail design incorporates elements of tulips, paired with glitter and shimmer, and uses gradient contrasting colors, making it very eye-catching~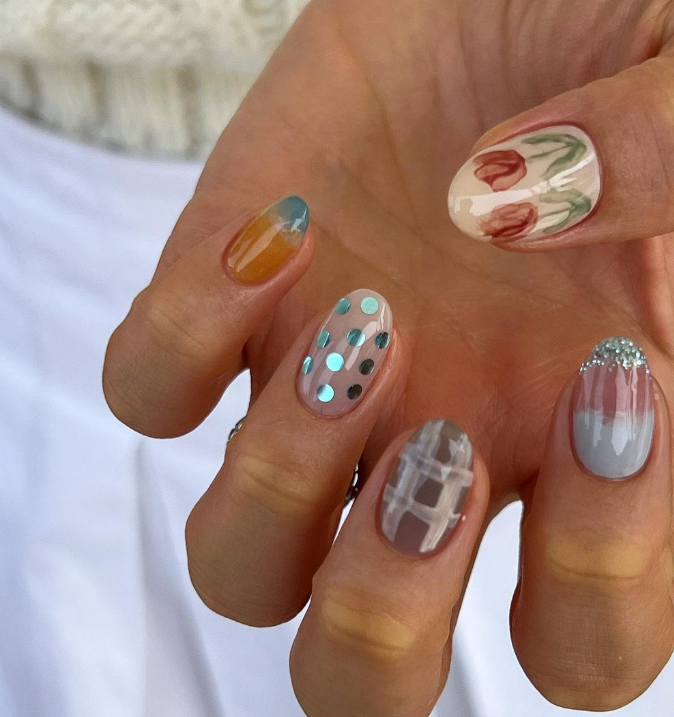 @_erikotakei_ /Instagram
3.Press on nails design:Rainbow jelly nails
This press-on nail design creates a jelly-like texture with candy-colored shades resembling gummy candies, full of vitality~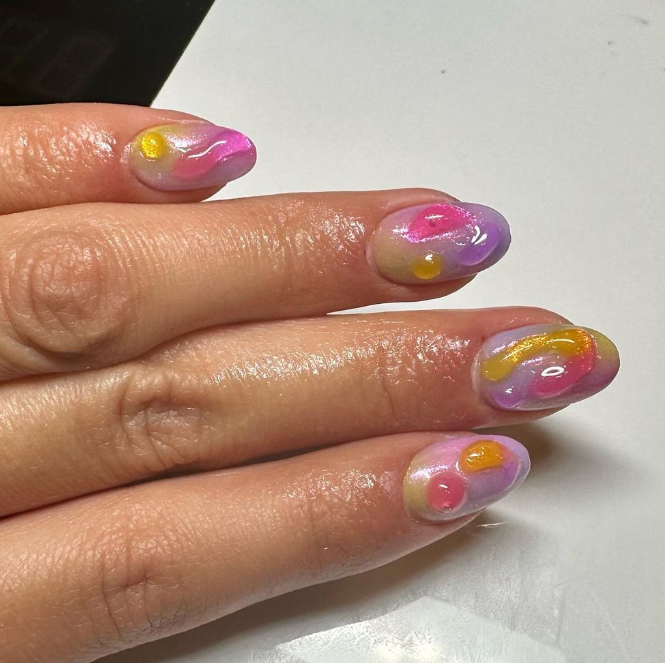 @_bruja_nails_ /Instagram
4.Press on nails design:French Pink Nails
This press-on nail design features a pink French tip with decorations of roses and butterflies, evoking a springtime vibe~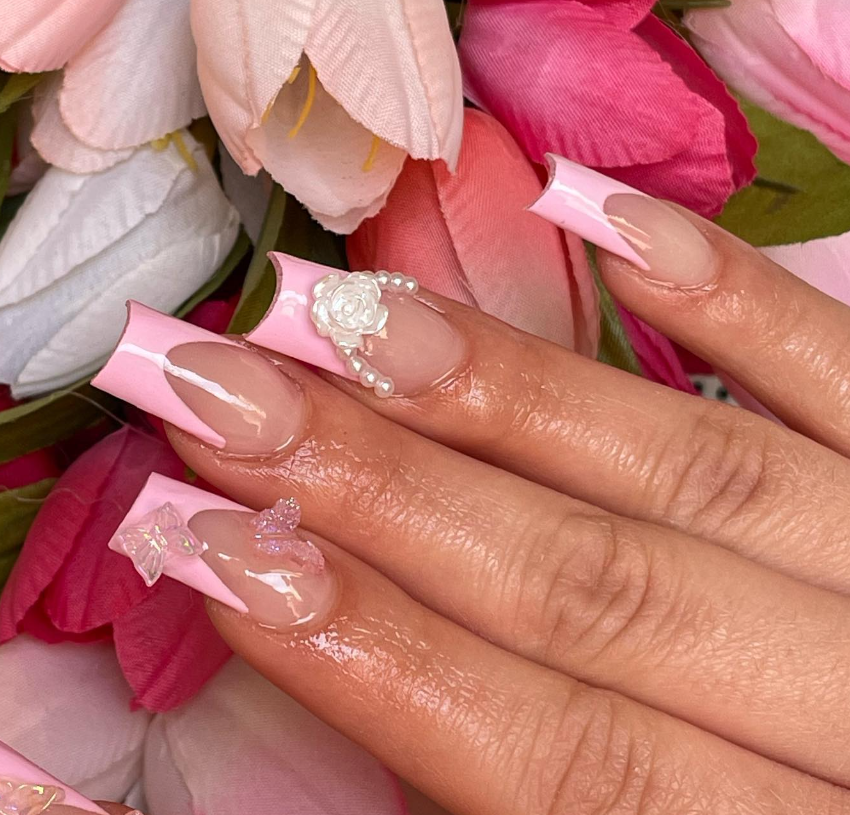 @lasexysnails /Instagram
Another characteristic of colorful press on nails art in spring is its diversity and changeability. These press on nails art styles not only use a variety of colors, but also pay great attention to the color matching. For example, yellow and green, pink and purple can be combined to create different visual effects and beauty. In addition, these press on nail art styles also use many popular techniques such as gradient, floral, and water droplet designs, making each nail unique and distinctive.
Additionally, in terms of aesthetics, wearing nail polish is primarily for beautifying nails and adding a touch of personal style. Different nail designs, shapes, and patterns can make nails more attractive. Wearing nail polish not only enhances the appearance of nails, but also provides nail care benefits. Some nail polishes contain nutrient-rich ingredients that can moisturize nails and increase their elasticity and hardness. Wearing nail polish can also effectively protect nails and reduce the possibility of damage. Some nail polishes contain protective ingredients that can prevent nails from being harmed by factors such as UV radiation and oxidation. So, let's try some vibrant nail polish designs in this beautiful spring season full of energy!
Nail Tips Usage Video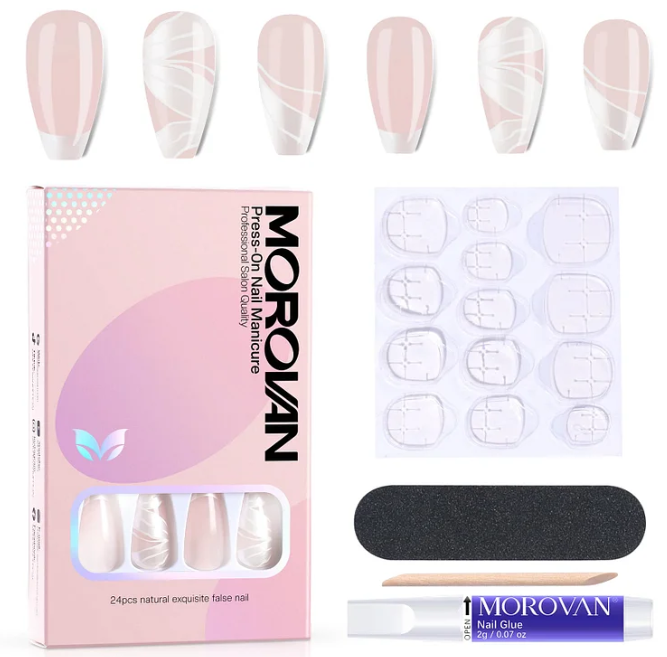 Press On Nails Product Recommendation
Latest Posts
Featured product