Cute Spring Nail Art Designs: Leaf Natural Nail Design
Apr 10, 2023 by MOROVAN
Spring is the season for grass to grow and sprout, as well as the season for inspiration to emerge. Green is one of the most representative colors of spring, which can bring people a fresh, comfortable and natural feeling. As a representative of spring plants, green leaves have unique beauty and symbolic significance. Therefore, leaf natural nail designs have become one of the most popular styles in spring nail designs.
In nail design, green leaf elements are usually matched with other spring elements, such as flowers, small animals, and pink, to create a spring atmosphere. Nail artists usually draw the shape of green leaves on the nails, or choose stickers or rhinestones with green leaf patterns and other decorations. The shape of green leaves can also be varied, including whole leaves, delicate young leaves, and interlaced branches and leaves. In addition, the combination of green leaves with other colors is also very important. For example, the combination of green and white can create a fresh and natural feeling, while the combination of green and gold or silver can appear more noble and elegant. Let's take a look at some leaf natural nail design styles together.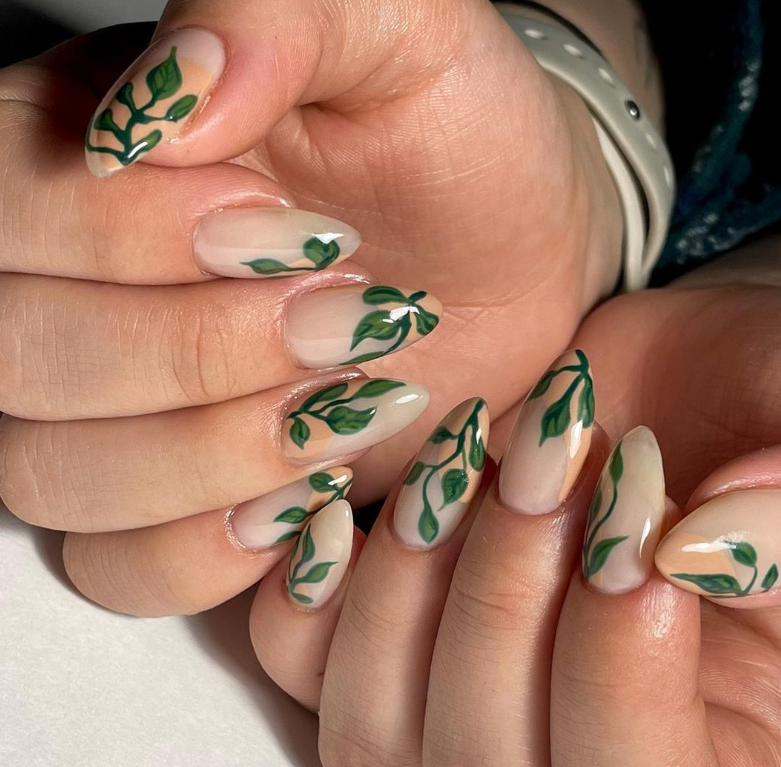 This Spring leaf natural nail design features a transparent base and nude color, with green leaves dotted on top, full of vitality.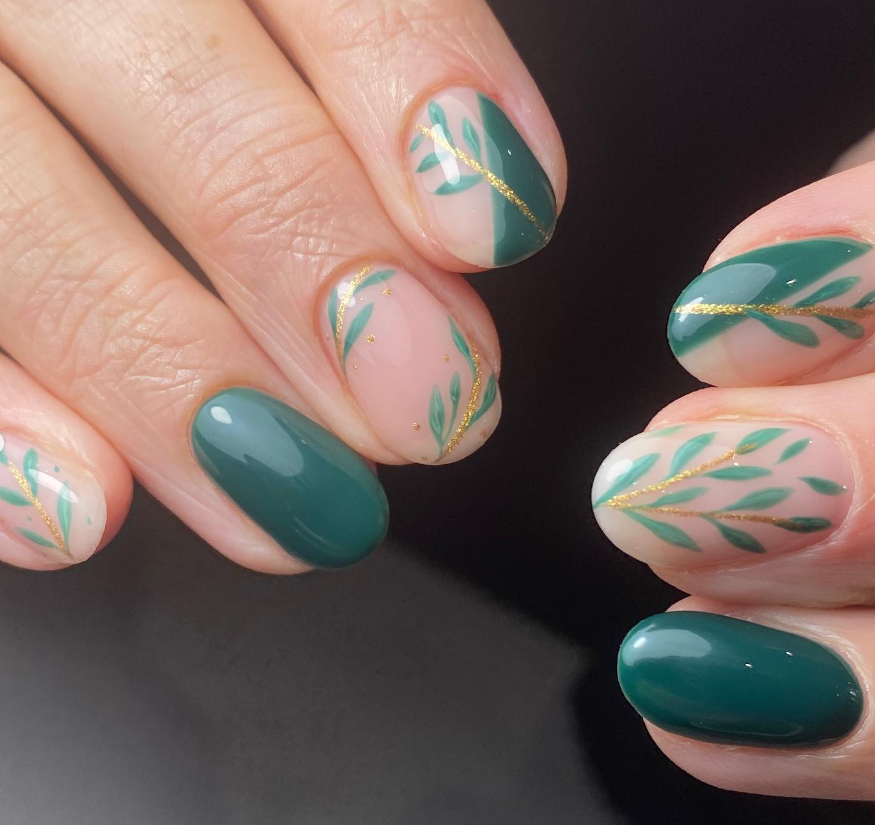 This leaf natural nail design cleverly combines deep and light green colors and is decorated with gold lines, giving it a fresh, natural, and sophisticated look.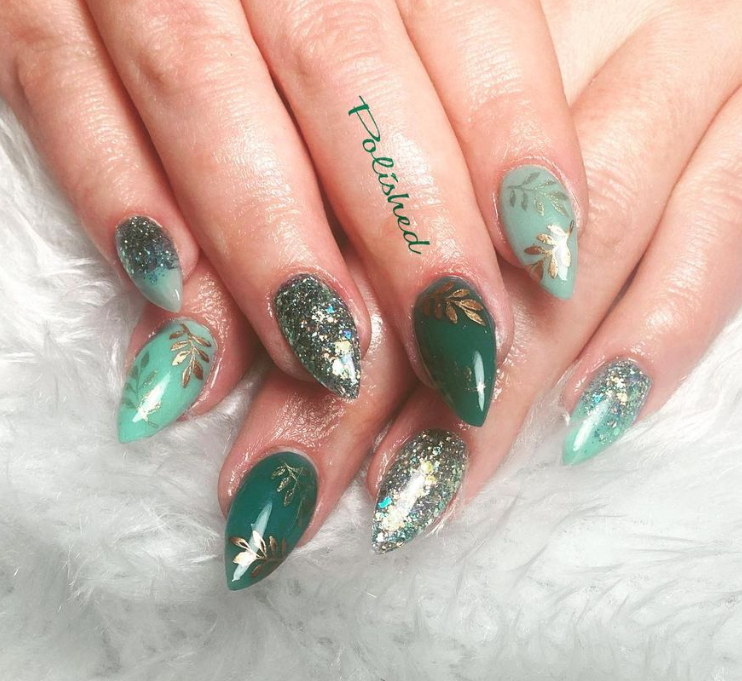 This leaf natural nail design also uses dark and light green colors, and is heavily embellished with glitter, which looks transparent and extremely shiny~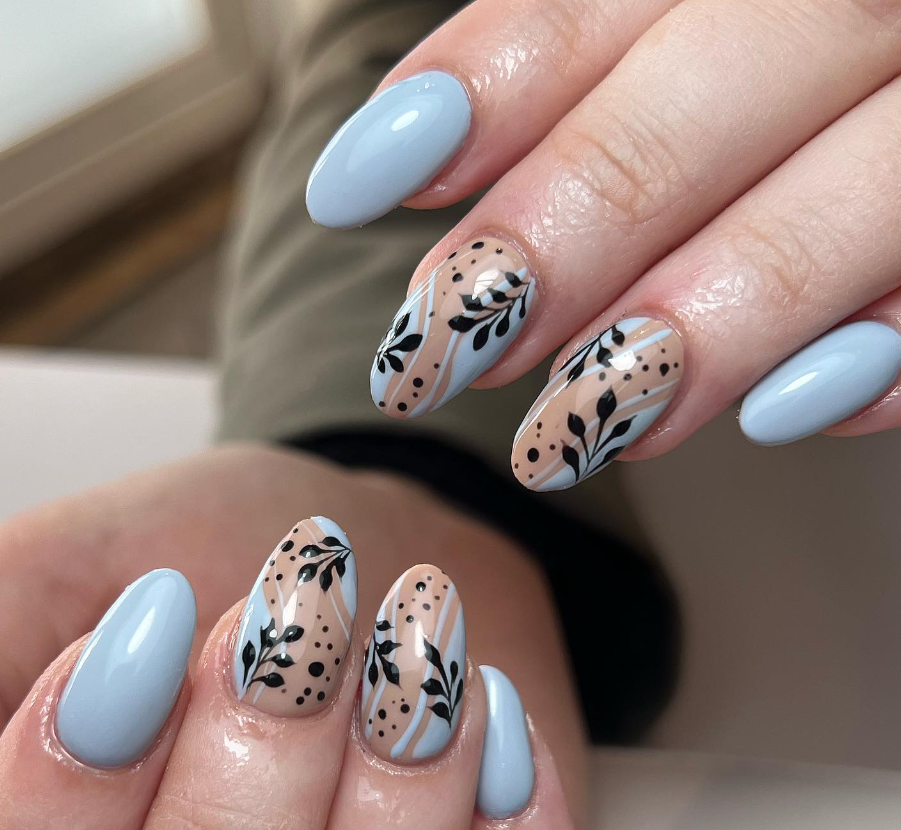 This leaf natural nail design breaks through the inherent color of the leaves, combining blue and khaki together, and decorating with leaf patterns on top, giving it a sense of innovative fashion.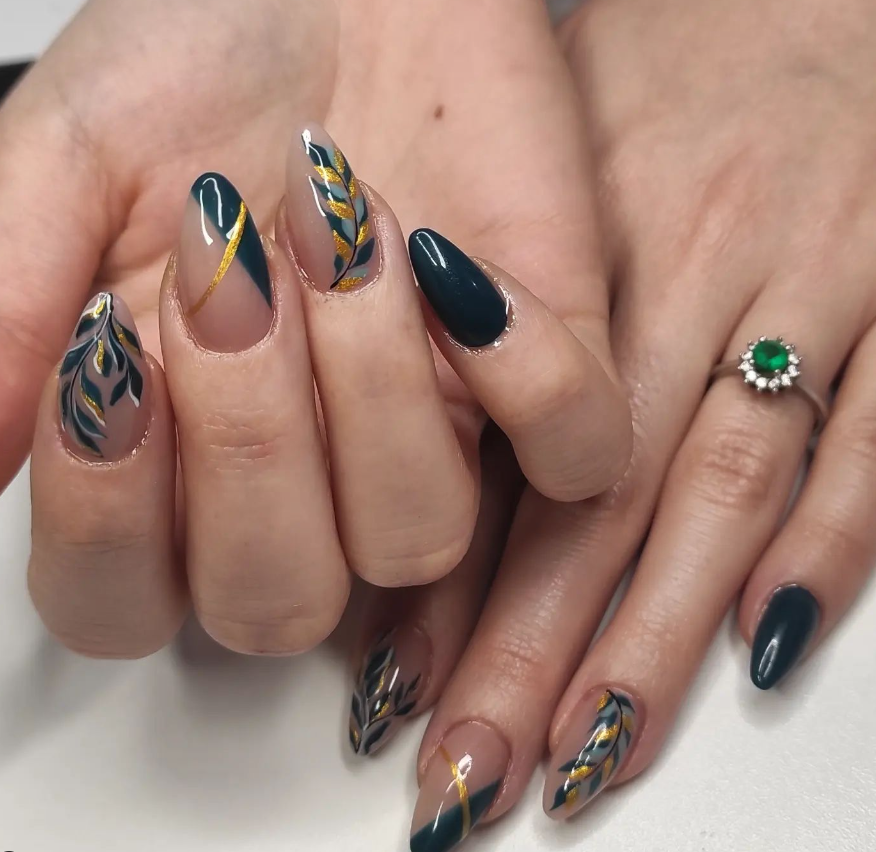 This leaf natural nail design also cleverly combines dark green and light green colors, with gold lines and leaves as embellishments, giving it a textured and natural high-end look.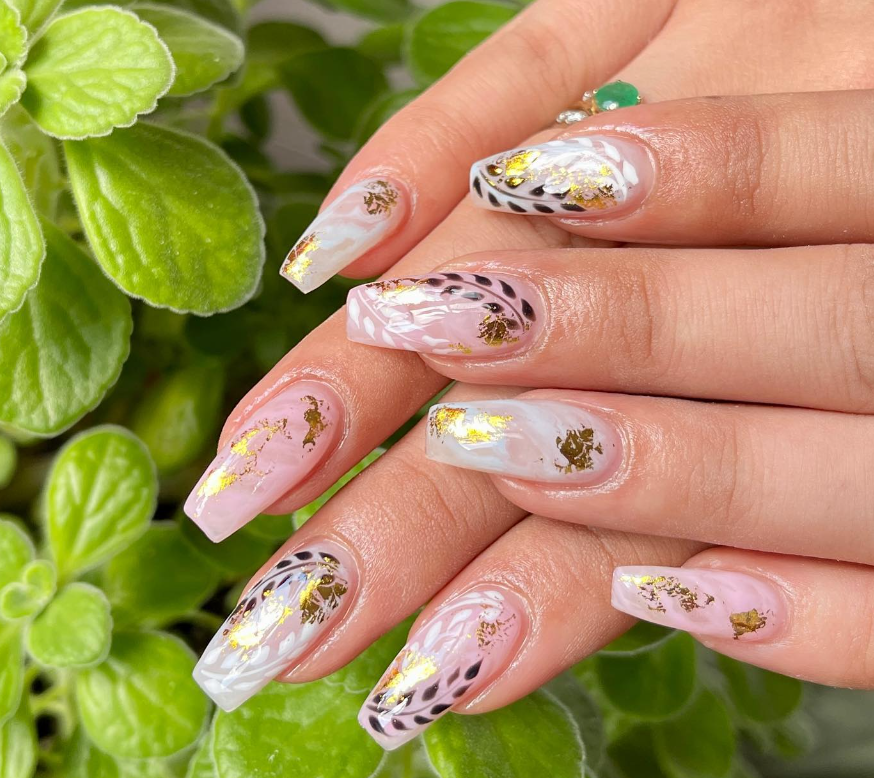 This leaf natural nail design uses a transparent base, with white and black lines outlining the shape of the leaves, creating a symmetrical beauty. The middle of the design is also mixed with marble texture and embellished with gold sequins, which looks very high-end.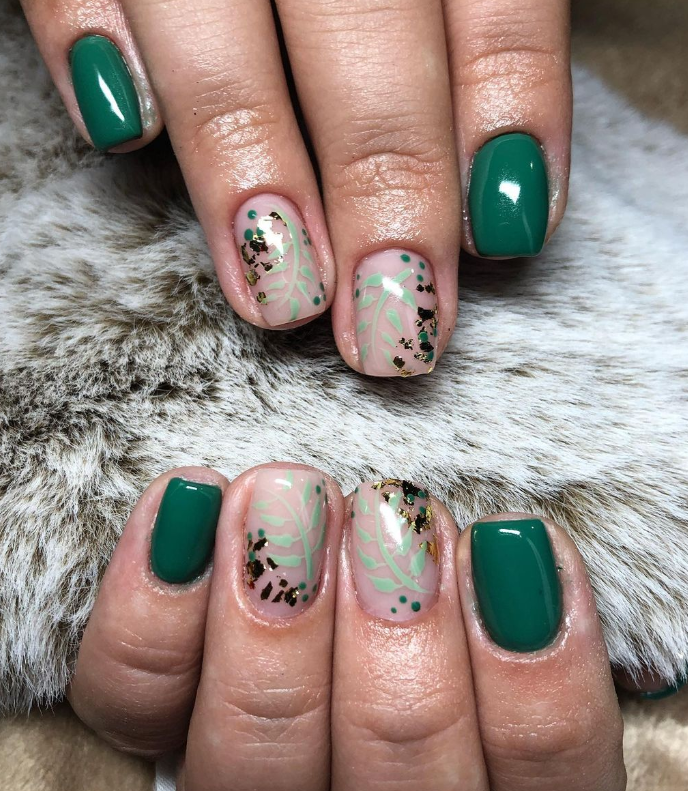 This leaf natural nail design also cleverly combines dark green and light green colors, and outlines the shape of the leaves with light green color, giving off a vibrant spring vibe.
In summary, the nail art styles featuring spring leaf elements usually have a fresh and natural style, creating an atmosphere and mood of spring. In the spring nail art ideas, the leaf element can not only add a natural and lively touch to the nails but also let people feel the beauty and warmth of spring. Above are a few recommended spring leaf natural nail art designs. No matter which one you prefer, it can make your nails full of spring flavor. I hope these nail art styles can bring you inspiration and make your nails more colorful in the spring!
The above styles can be achieved through Morovan's nail polish set.
Morovan 6 fashionable glitter gel nail polish kit is made from toxin-free healthy ingredients with vegan and cruelty-free formula, safe and healthy, with no harm to your nails.
GORGEOUS GLOSS: Each shade of Morovan glitter gel nail polish set is highly pigmented with a gorgeously glossy finish, allowing your creativity to go wild and you will be the most stunning in the crowd.
VARIETY OF COLORS:6 stylish Classic color gel & Glitter Gel polish& Glitter gel polish& Chameleon gel polish kit are available.
Boasting a gorgeous array of gel nail polish shades for you to choose from – including some irresistible colors!
Leaf Natural Nail Design Product Link:https://www.morovan.com/collections/gel-nail-polish-kit/products/morovan-gel-nail-polish-kit-gs24
Latest Posts
Featured product