50 Christmas Nail Designs Guaranteed To Bring Joy
Sep 16, 2022 by MOROVAN
It's that special time of the year again when we see the streets and neighborhoods full of Christmas lights and festive decorations. The idea of gift-giving and joy has begun to consume us as we get into the holiday spirit. One of my favorite Christmas activities is decorating my home by hanging up Christmas lights and stockings and decorating the tree. One thing I also enjoy doing is giving myself a Christmas manicure. It brings me so much joy seeing each Christmas nail design on my nails everyday and I know you will feel the same too.
Holidays are a great time to stray away from the simple designs we choose to do to our nails. You wouldn't normally have Santa and his elves on all ten fingers or Christmas lights and a Christmas tree on your nails, so why not now. These designs are made to put you in the holiday spirit and be eye-catching as well. So, give yourself a Christmas manicure or get it done by somebody else. In the end, these nails will look amazing while you are wrapping and unwrapping some special gifts.
So, to give you all the inspiration you need I have put together 50 Christmas nail designs that are guaranteed to bring joy.
So let's start with…
1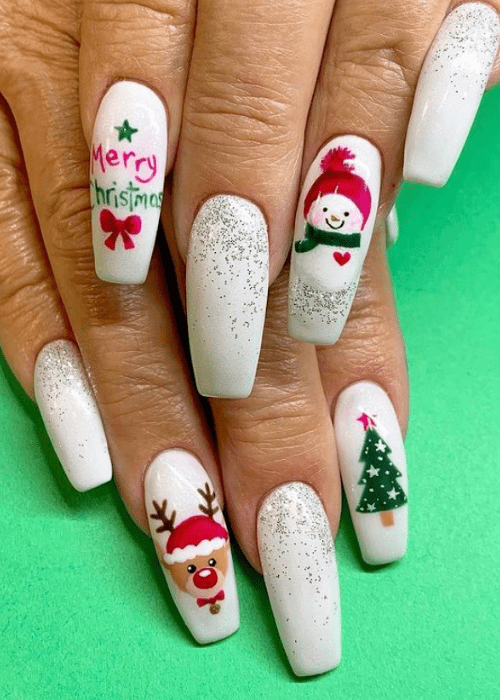 This nail design wants to tell you Merry Christmas and the snowman and the reindeer are there to give you extra joy and you can't forget the Christmas tree too. These four nails are here to show you the Christmas spirit.
2
The Gingerbread Man and His Christmas Lights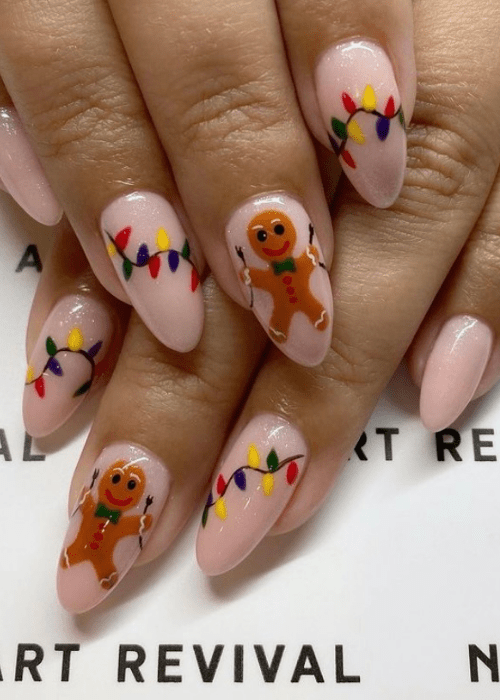 Just, look at the gingerbread man's happy face as he gets ready to light up the Christmas lights. How can this nail design not bring Christmas joy when you look at your nails.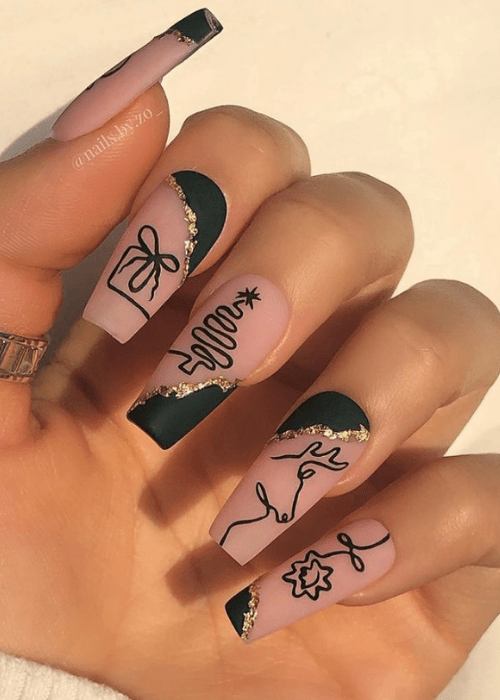 This design is creative on its own by the artist being able to use one line to create four different designs. On each nail you have a present, a Christmas tree, a reindeer, and a pretty flower all to create a beautiful abstract set. The dark green spot lined with a sparkly gold color makes the design pop even more.
4
I Like My Designs in Red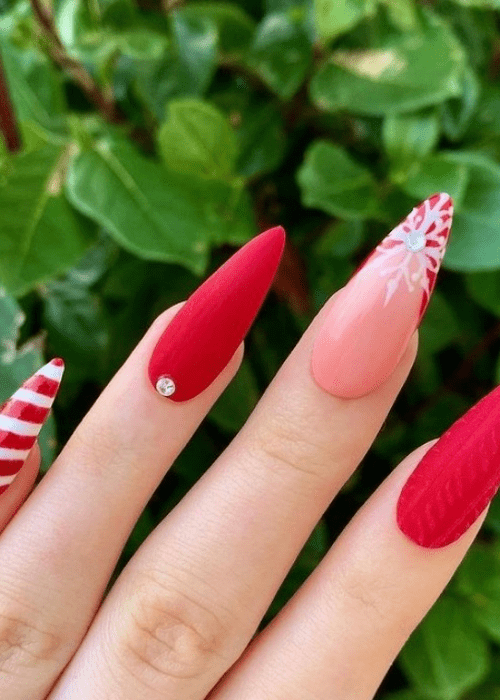 Four different designs but they all have something in common…the color red! You have the traditional candy cane design, then a plain red nail with a silver stud, next is a snowflake French tip, and lastly a winter sweater design.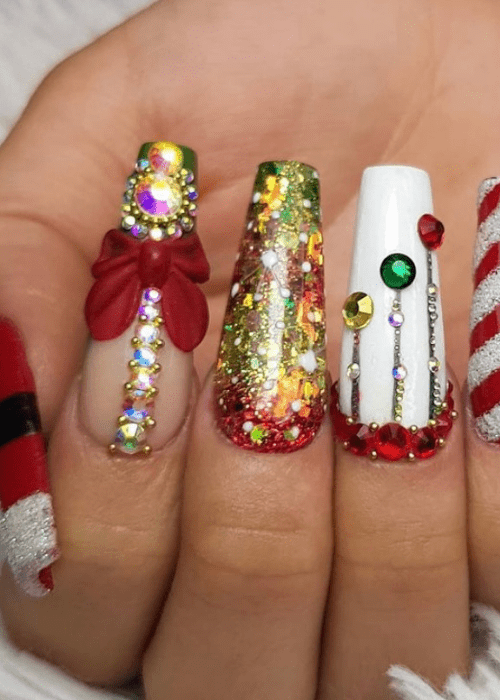 Why be simple when you can use sparkles and rhinestones. This Christmas nail design was made to stand out. Santa's jacket is brushed with silver sparkles on the fur part and the candy cane design is sparkly too. One thing that stands out is that beautiful bow on top.
6
A Bear's First Christmas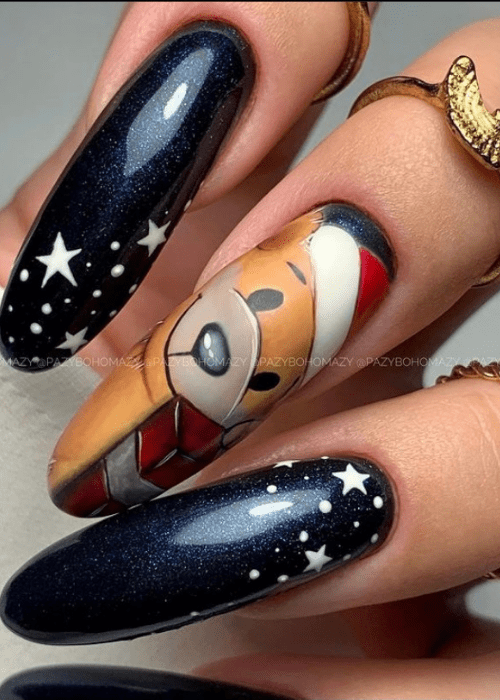 This design is so adorable with the joyful animated bear on an accent nail. It looks so cute with its Santa hat and Christmas gift. This design leaves all the focus on the smiling bear as the rest of the nails have snow falling on a starry Christmas night.
The artist used the staple winter/fall color brown as the background and white to highlight the design so it has a cartoon effect. These designs are all in a shade of red that compliments this brown color.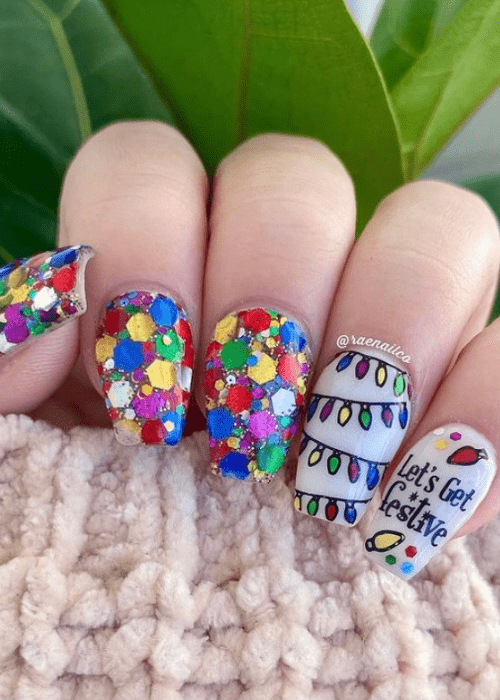 You don't always have to use the traditional red, green, and white to show your joy for Christmas. Like this Christmas nail design says "let's get festive" so enjoy the beautiful Christmas lights.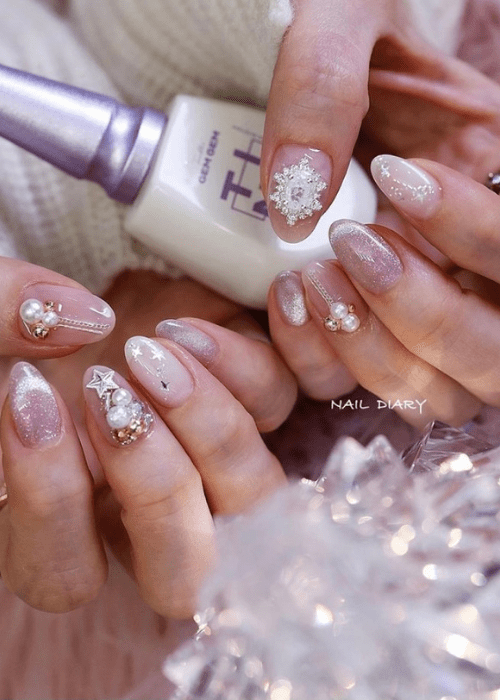 This design is simple but elegant. The use of the light pink color in the background makes the nails look clean and natural. Also, the use of a sparkle nail polish and different gems enhances the theme of elegance. Just look at the fancy Christmas tree nothing but rhinestones and gems were used to create it.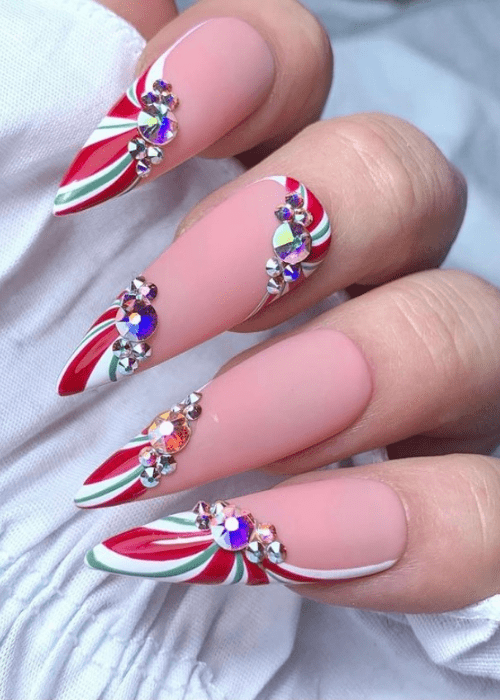 A candy cane French tip but with a twist to it. There is one nail that has both edges of the nail designed like a candy cane. As for the rest of the nails the candy cane French tip design is dragged to one side of the nail. Now, to make the design pop even more the artist topped them off with some rhinestones.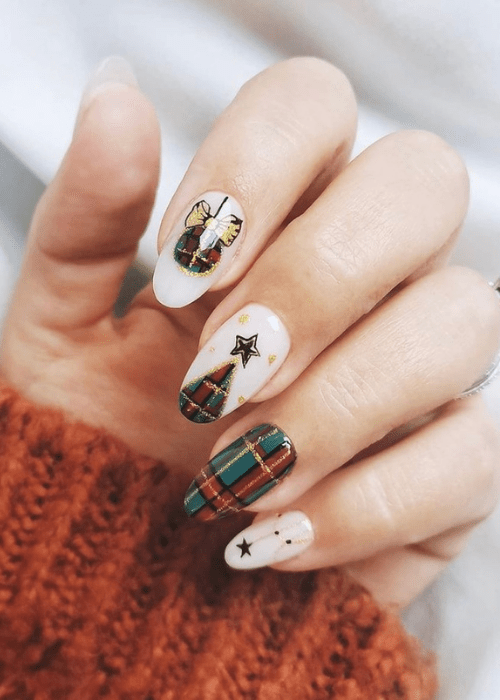 A Christmas nail design in plaid but with a creative twist. The Christmas ornament and the Christmas tree are in plaid with gold as an accent color. The gold adds a little sparkle to the cute design.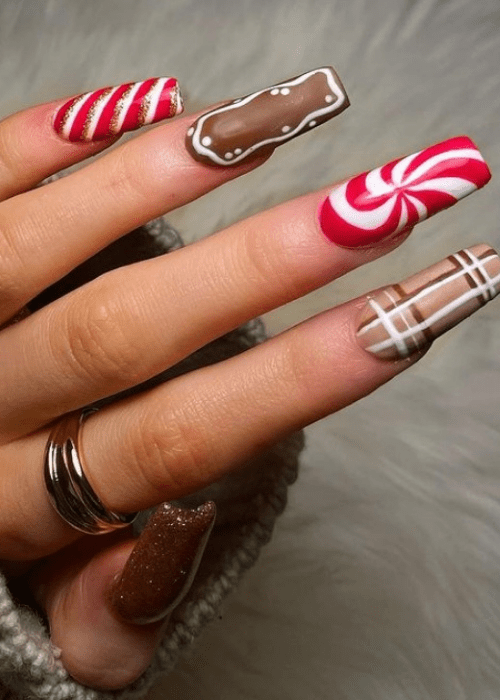 Two different colors and five different designs. The two red nails are similar but one is more like a sparkly candy cane and the other is a swirl. For the brown designs, you have something that looks like a dessert, a plaid nail, and a sparkly brown color.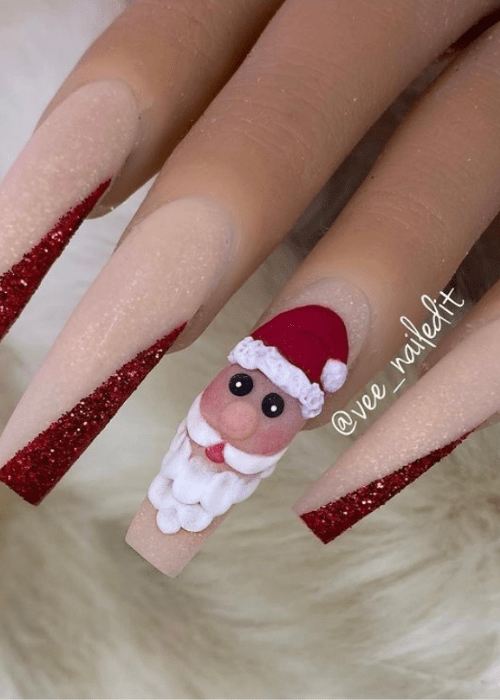 Another design with a special accent nail. This accent nail is none other than Santa Clause which brings so much Christmas joy to the design. This nail artist even added a little special touch in painting Santa Clause because you can notice his rosy cheeks.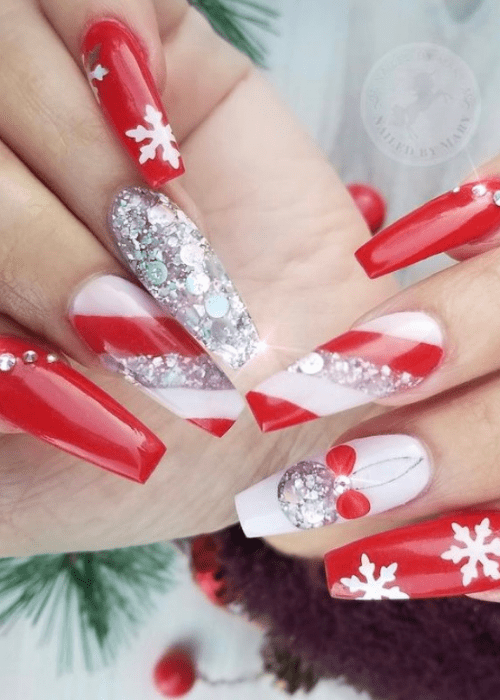 Red, white, and sparkles always go together during this festive season. That sparkly silver Christmas ornament is making that statement true.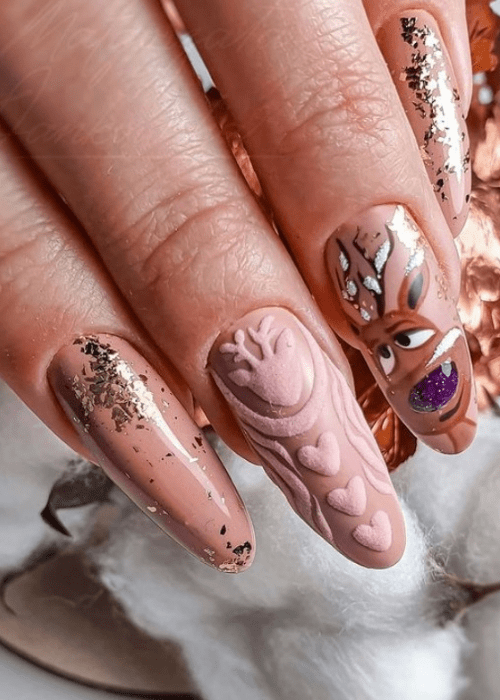 A nail design with two accent nails. The design of the reindeer has a lot of detail put into it. Can we take a moment to notice the snow on its antlers and its relaxed facial expression? On another nail the nail artist used acrylic to created a beautiful reindeer inspired design.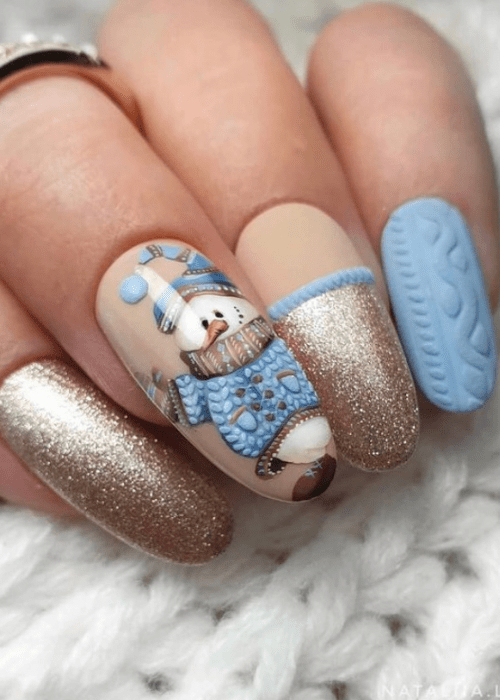 I love the mix of colors. The baby blue, tan, and gold colors go together so well and the well-dressed snowman is here to show that. Once again amazing detail to these characters. So many little lines and designs created such a realistic hat, scarf, and sweater combo.
17
Christmas to the Point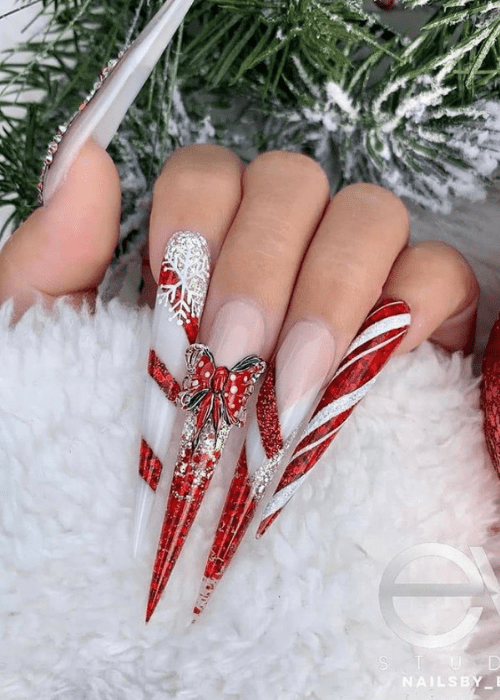 These long stiletto nails are beautifully designed in red and white colors. This design incorporated a candy cane design, a snowflake, and a pretty rhinestone bow.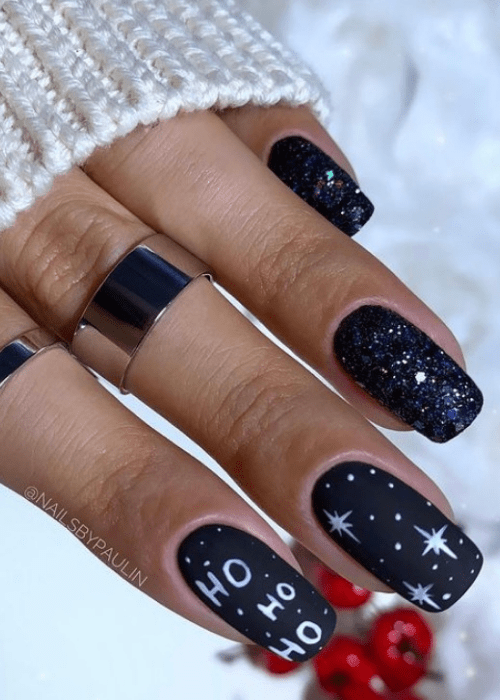 It's Christmas night and Santa is riding around giving all his toys away and as he takes a little break to look up at the night sky. At that moment he sees stars and he can't help but say ho ho ho to the amazing view.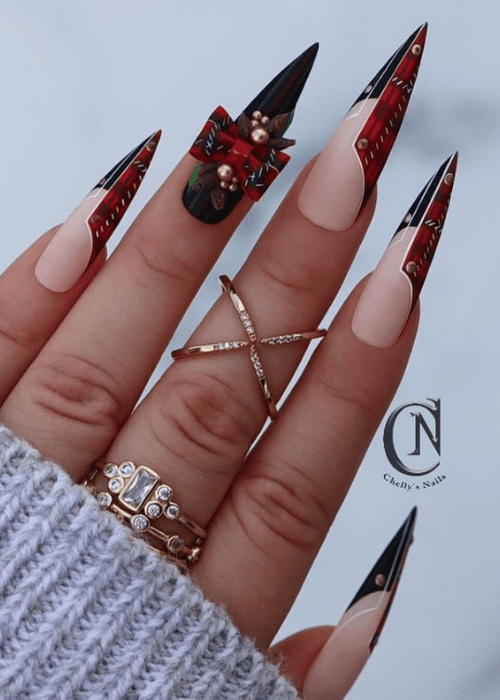 Another plaid nail design but with a French tip twist. So many perfect lines and the asymmetrical shape is perfect. To complete the look you have the tartan plaid bow to match.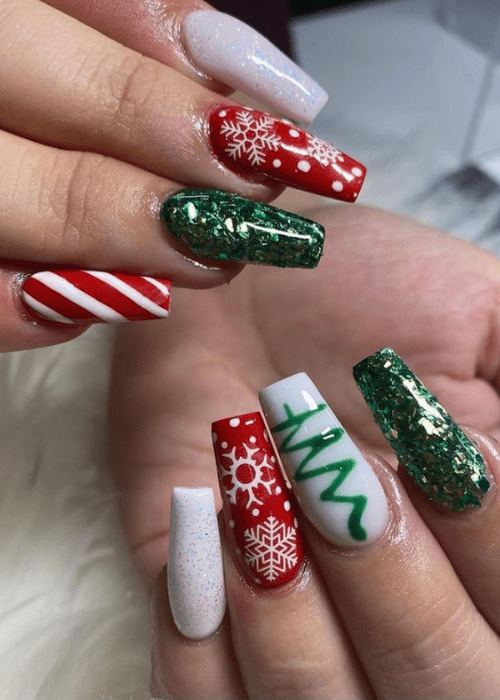 All the traditional Christmas colors on one set on nails and simple Christmas designs to add more of a Christmas feel.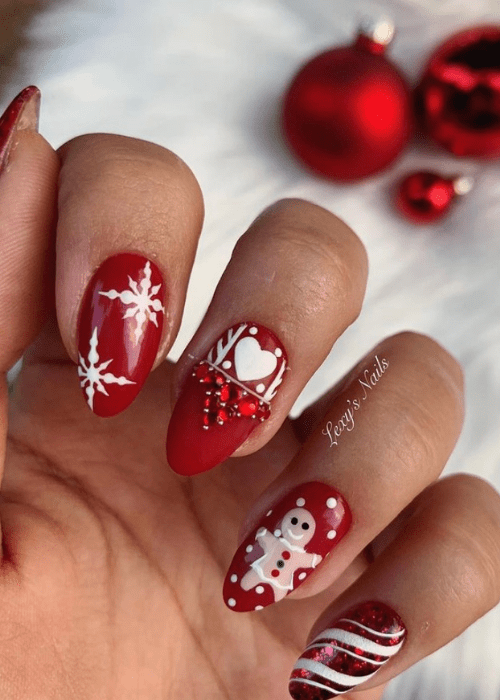 Using red nails to scream Christmas joy. With a few well known Christmas designs to show it.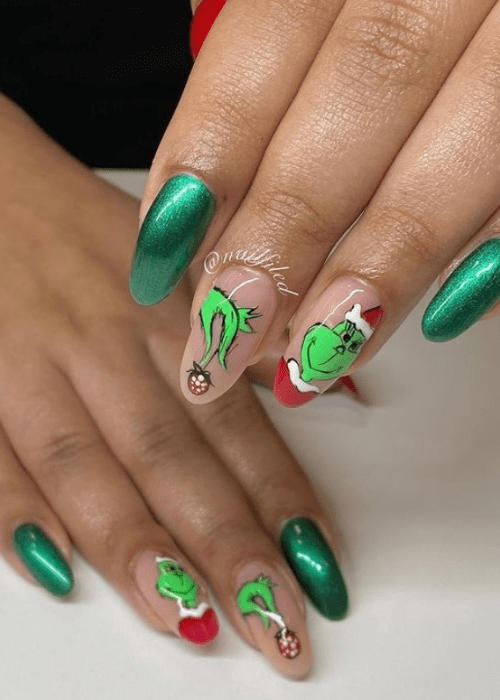 Now, what is Christmas without the Grinch to show you how powerful the joy of Christmas is?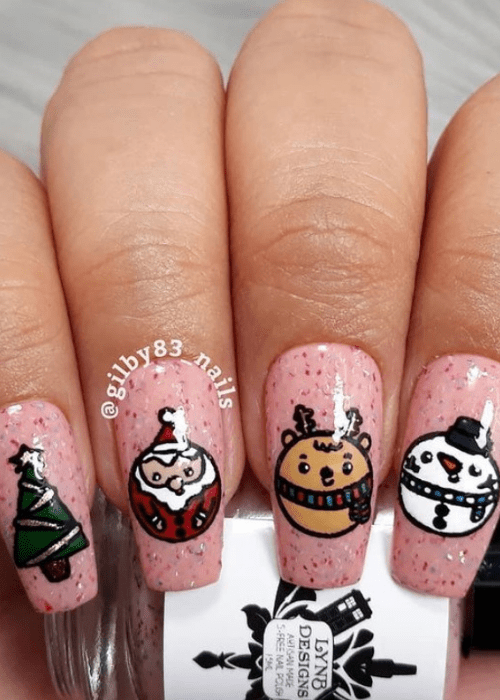 You have round Christmas figures with a Christmas tree. All I can say is that the roundness adds to the cuteness of this nail design.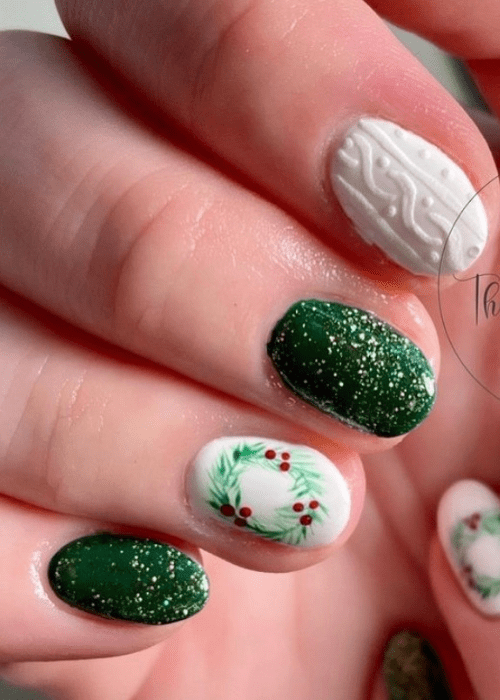 The wreath hanging on the door is a big Christmas staple and this design is here to show that. The beautiful sparkly green color adds to this cute design and you can't forget the sweater design.
25
The Cutest Gingerbread Man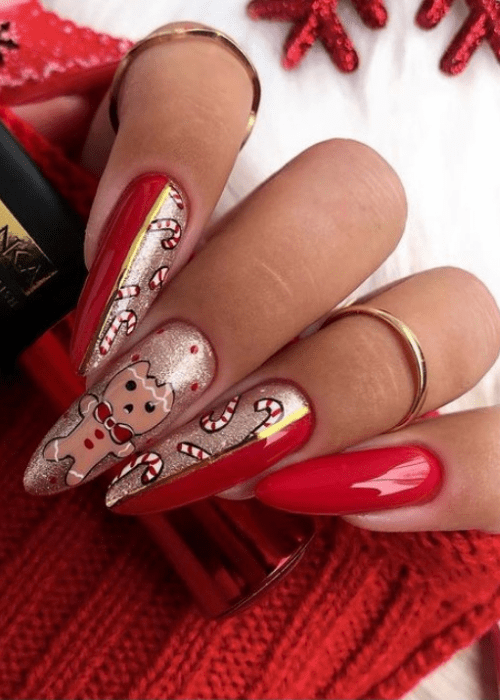 Just look at its face! It is either in a panic because somebody decided to eat him or because there are falling candy canes. All I can say is that this design will continuously put a smile on my face.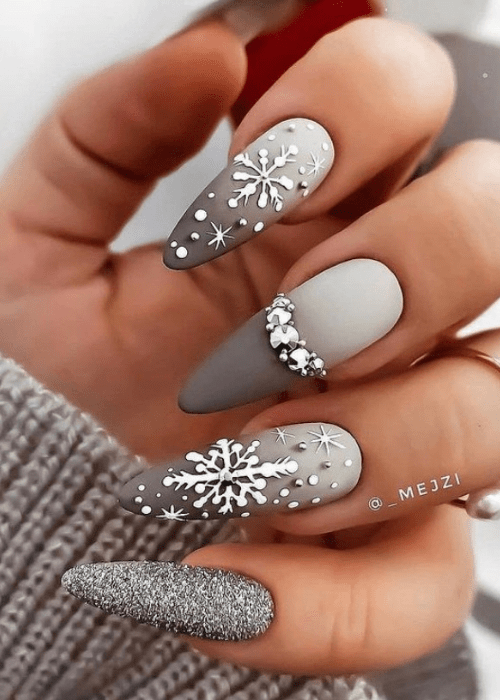 Such a pretty cool grey design. I like how it looks like it has more texture than it actually does because of the placement of the gems around the snowflakes. Also, all the different grey colors come together so beautifully.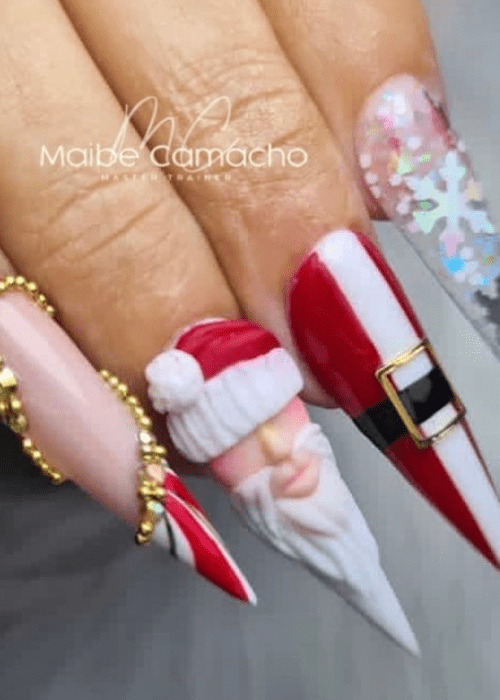 Can Santa see? Well, who knows but the acrylic work done to create this design looks fantastic. It's like a Santa figurine on your nail. What makes this work even better is that it has three different designs to complement Santa Claus.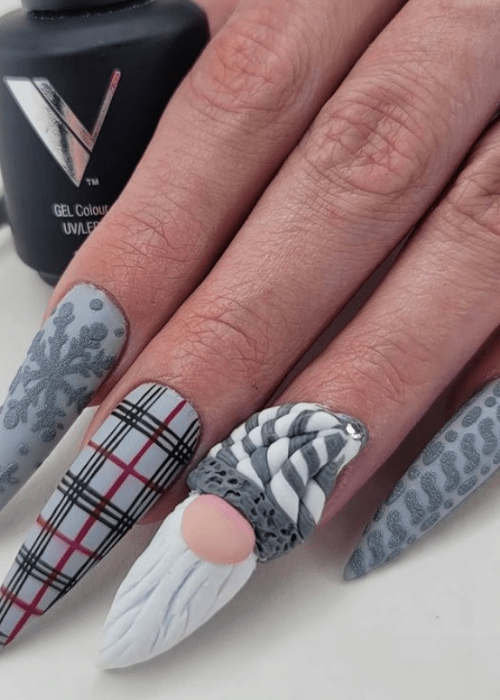 More amazing acrylic work done here to showcase this Christmas gnome. This grey inspired look has it all, snowflakes, plaid, and a sweater design.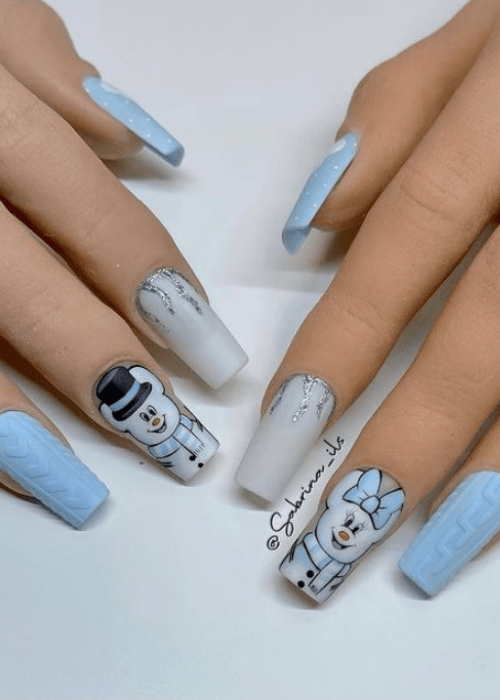 Now aren't these snowpeople the cutest with their matching attire. This design just looks amazing for the winter. You can say it's a his and hers set for your nails.
30
Snowflakes, Cheer, and Joy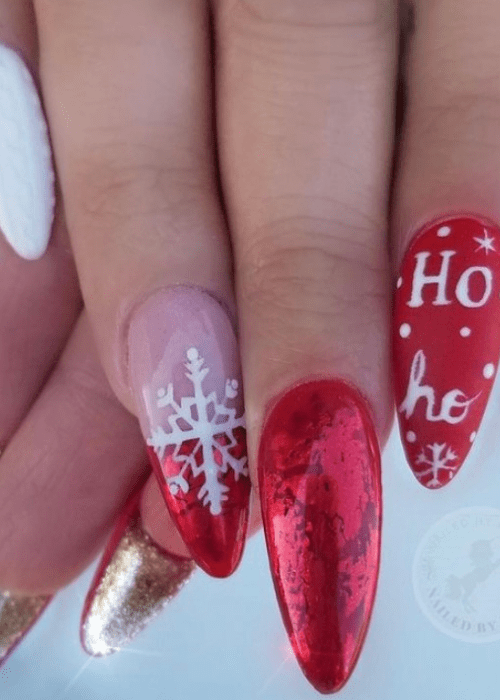 This design may seem like your simple Christmas nail design because all you see are a few snowflakes and the words ho ho, but there is more to see. Underneath the nail is a golden surprise!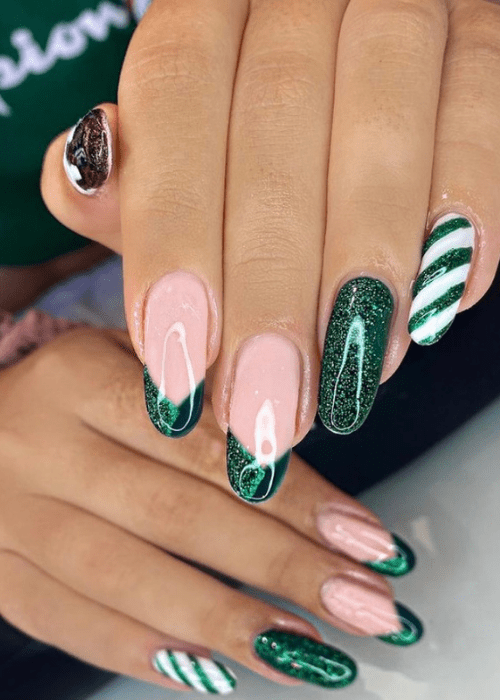 A simple green design with two green French tips and a green candy cane nail.
32
Little Gingerbread Men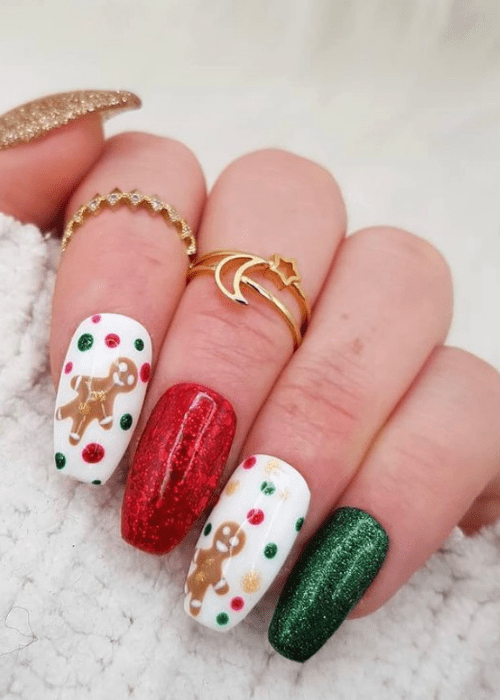 These gingerbread men are in Christmas heaven. Can't you tell by the big smile on their faces? They just love being surrounded by glittery red and green colors.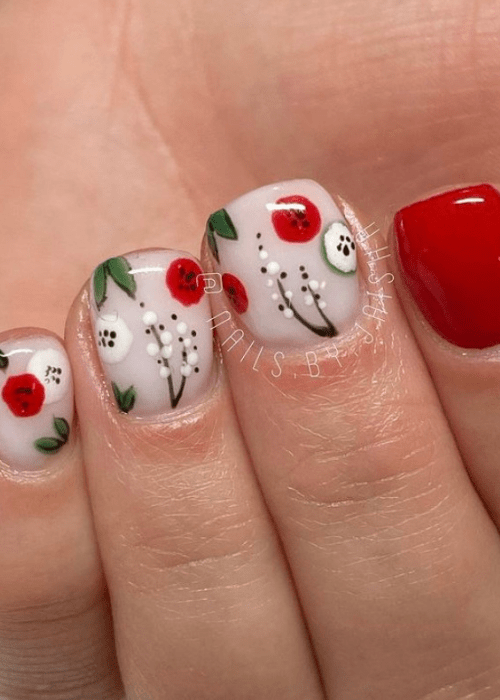 Red and white flowers may seem more Valentine's day but when you mix red white and green you can't help but think Christmas. These pretty little flowers are just so nice to look at.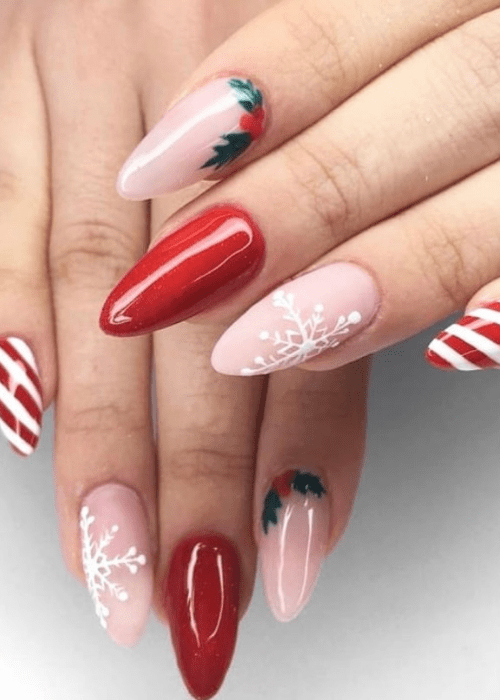 A beautiful red and pink design to resemble love as you see the mistletoe at the corner of the nails.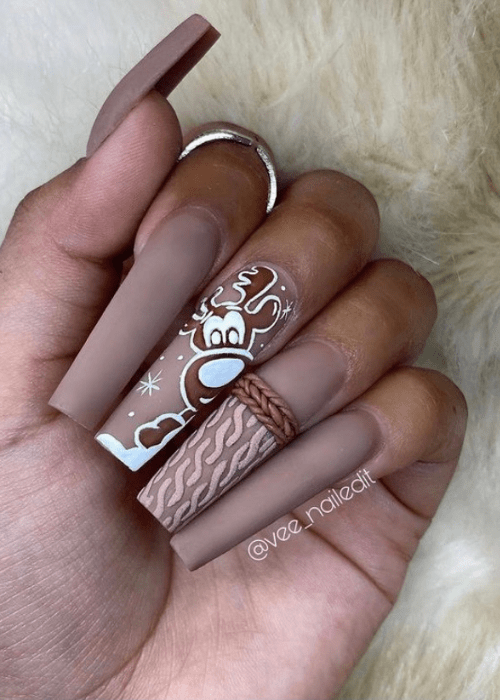 A color that is not your typical Christmas color but it gives off a sense of warmth. The beautiful color brown! You have the adorable reindeer in the snow on one nail and a 3D textured winter sweater on the another nail. This design screams winter warmth.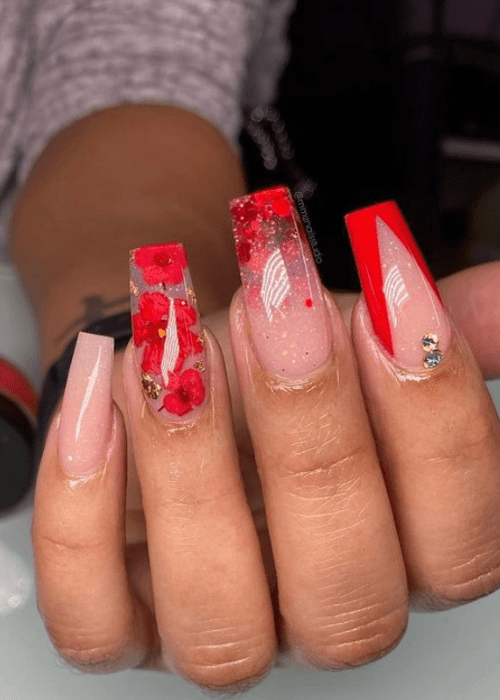 The well-known Christmas flower is showcased on this beautiful set of nails. The clear background lets the design shine giving everyone a look at these beautiful flowers.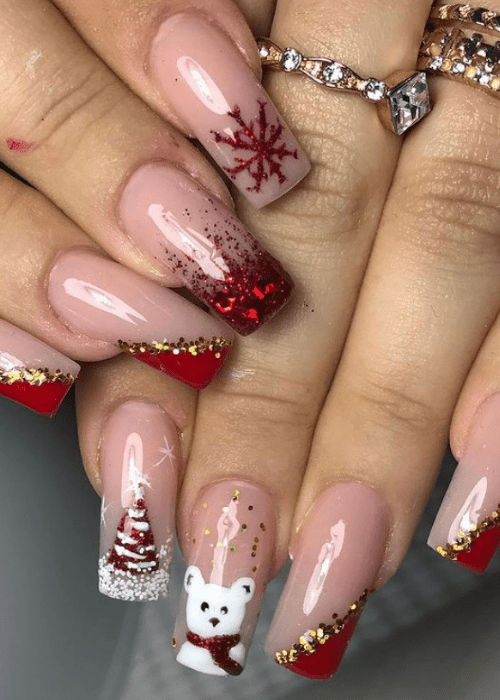 Red glitter is everywhere and it should be.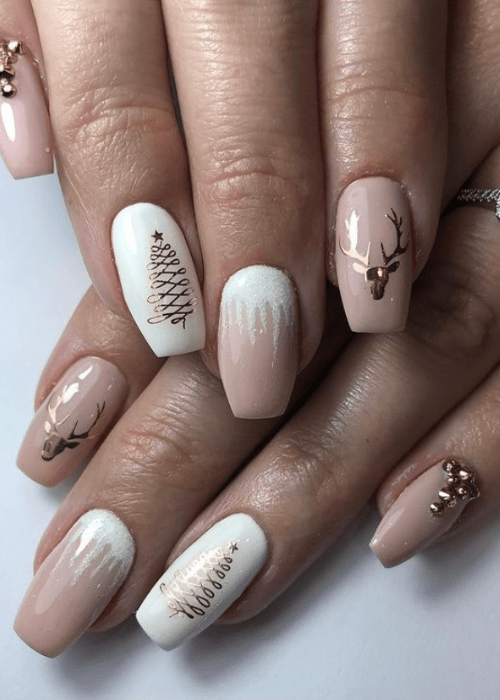 Pink, White, and gold are classic colors that go together beautifully. This nail design has a gold twisty Christmas tree and a gold reindeer. The icicles gives it that nice frozen feel.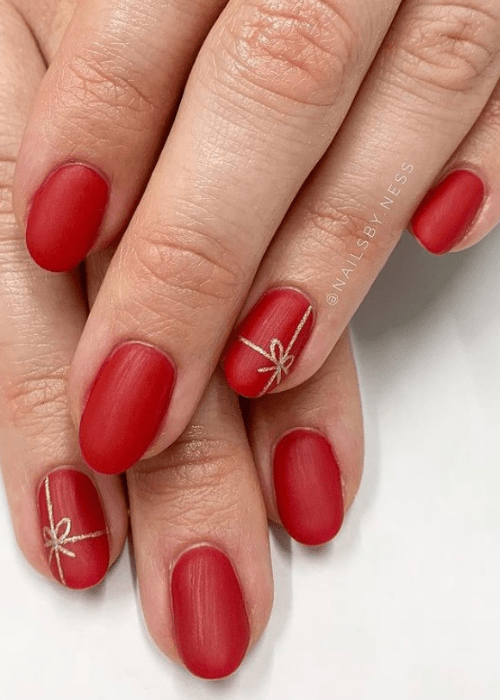 This nail design is clearly showing that these nails are a gift to you. They are so simple but very pretty.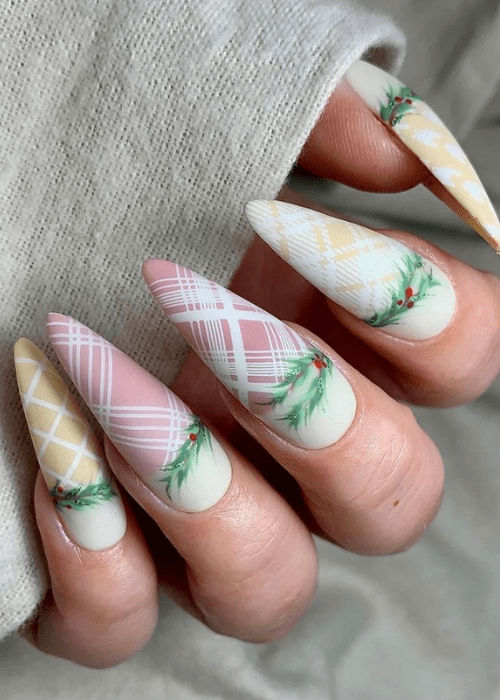 These light colors bring a light feel to Christmas. The mistletoe over the plaid pastel design is there to remind you that it is Christmas time.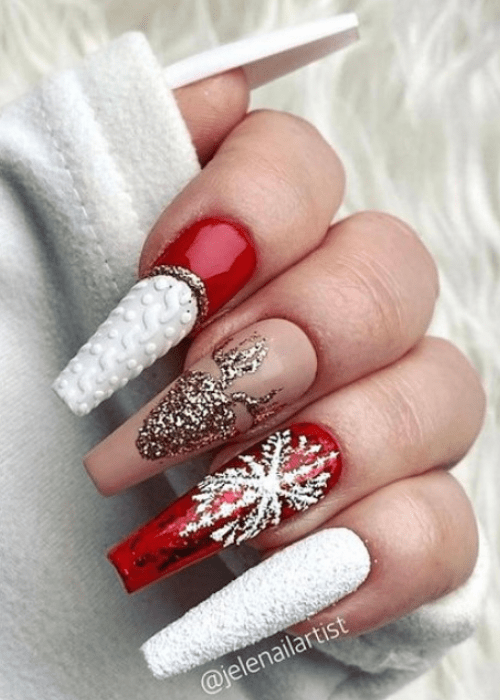 These nails seem to have a little bit of texture to them. The sweater design and the white pinky nail are standouts. The sparkled gold reindeer is there to make a statement too.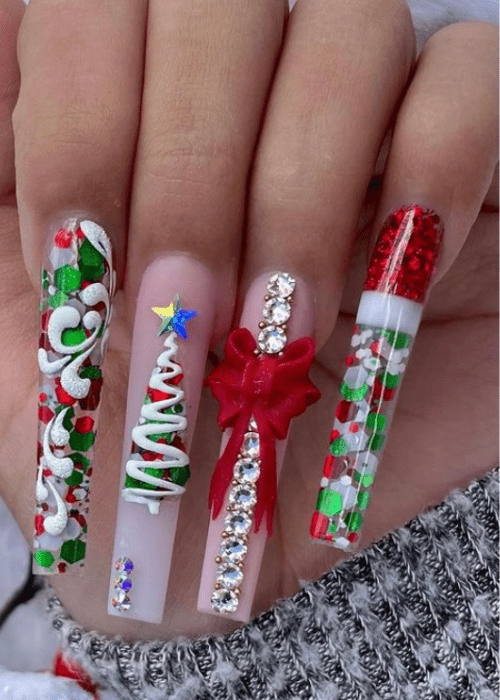 The design screams Christmas with red, white, and green everywhere. The pinky nail and the pointer are full of Christmas fun. Look at that amazing Christmas tree and next to it is the big bow we all love to see on a present.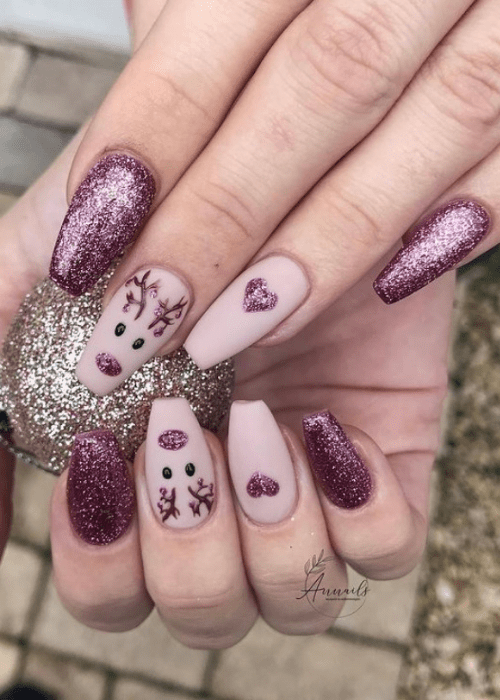 Pink is a year-round color and this nail design is here to prove it. On top of that, it has a glittery pink color to match the likeness of any girly girl. Now, to make it more Christmas themed the design has a cute reindeer.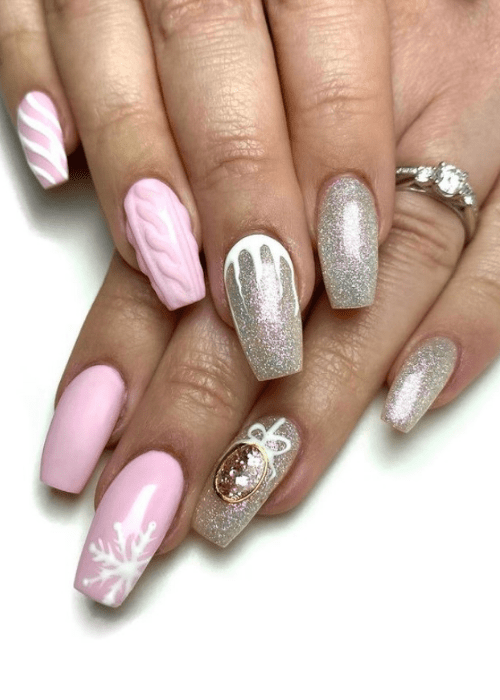 A grey and pink set for Christmas but you see the traditional Christmas designs to give you a Christmas feel.
45
Christmas Lights and Snowflakes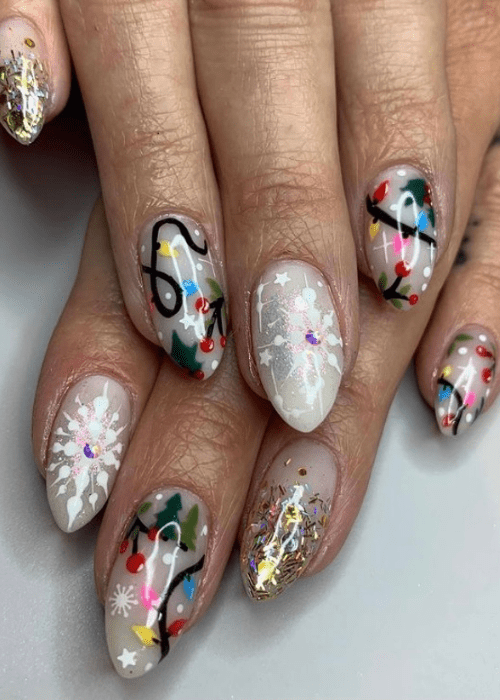 Is it really Christmas if you don't have Christmas lights to light up a home or a city? Also, snow on a Christmas day can really bring the holiday to a new level.
An argyle nail design with beautiful pink, red, and gold colors. Will go perfectly with a winter sweater.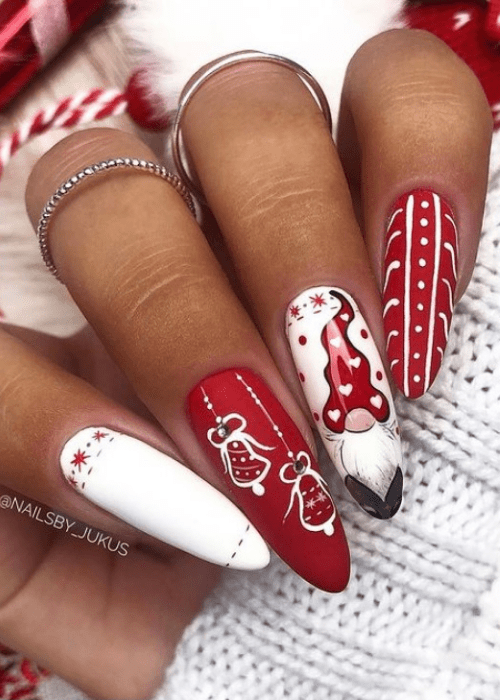 The Gnome has so much love for Christmas.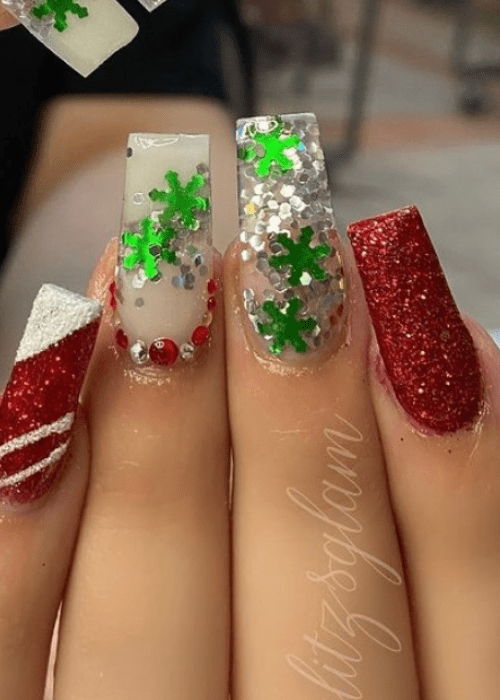 More glitter and sparkles and I am enjoying it. The use of green snowflakes makes the design a little different from the rest that used white snowflakes.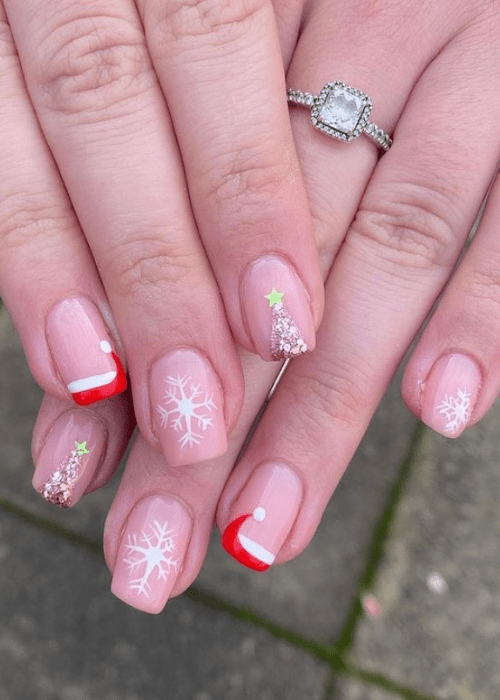 Who said that long nails get to have all the fun. This design is perfect for short nails and it is very easy. Santa hats on the tips of the nails, snowflakes, and you can't forget the sparkly Christmas tree.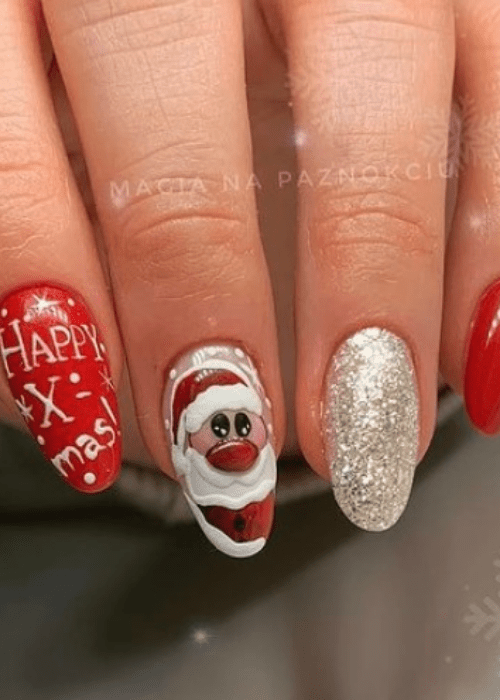 The perfect design to end on as we have Santa in all his Jolly to tell us to enjoy the holiday.
Latest Posts
Featured product