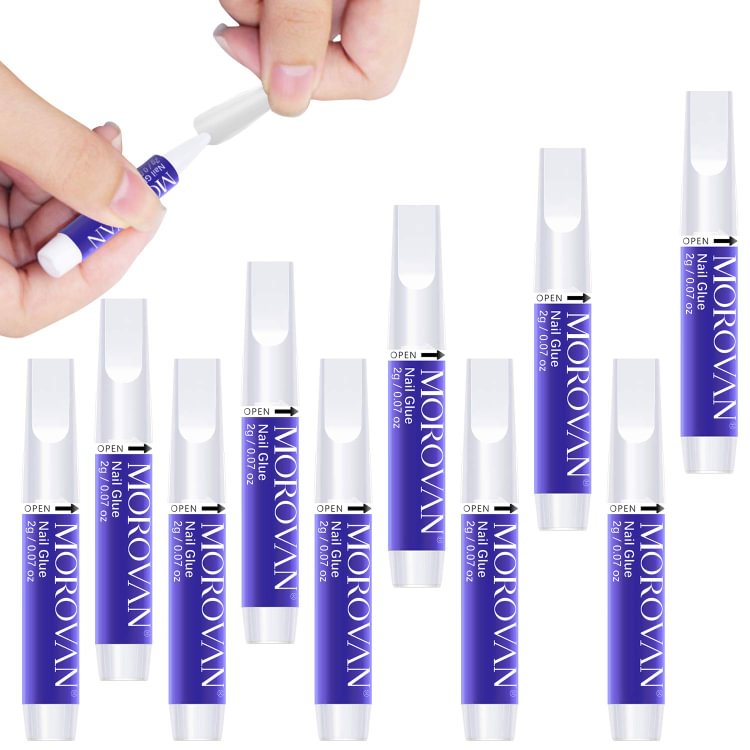 ---
Product Description
MOROVAN SUPER NAIL GLUE FOR ACRYLIC NAILS 10PCS FOR BEGINNERS --- USED BY PROFESSIONAL NAIL TECHNICIAN. SALON CHOICE.
Morovan nail glues for acrylic nails, designed with pointed tip nozzle for precise application, easy control and apply,
perfect viscosity, neither too thick nor too thin, fast setting, maximum adhesion, long-lasting, apply without messy.
SPECIFICATION:
MATERIAL

: natural resin

QUANTITY:

10 pieces

CAPACITY of EACH BOTTLE:

0.07 oz/ 0.2 g

WIDE COMPATIBILITY:

False Nail Tips, Coffin Nails, Acrylic Nails, Press-on Nails, Glue-on Nails, Artificial Nails, Nail Rhinestones Stick-up...
Please keep the nails dry at least one hour after gluing on nails, although the glues are waterproof.
Please take care when you do manual work.

For False Nails:
1. File the sides and cuticle area with a nail file for an accurate fit;

2. Wipe off the nail dust, and Clean the nails;

3. Choose the correct size of false nails for each finger;

4. Apply glue to the false nails;

5. Starting at cuticle, press on & hold for 5-10s to help the glue set and press out any bubbles.

6. Wipe away any excess glue around the edges of your nails with a cotton swab.

7. Done.
For Nail Rhinestones Stick-up Application:
1. Gently squeeze the bottle body to add some glue to the nail surface.

2. Stick the rhinestones or ornaments and wait for a few minutes.

3. Done