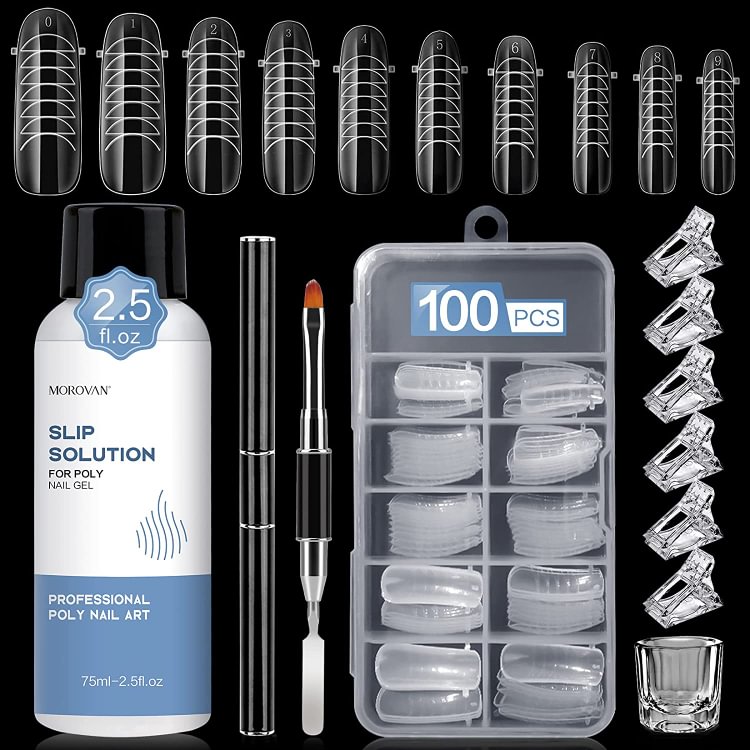 product description:


Morovan 75ML 2.5OZ POLY GEL SLIP SOLUTION w/Brush - As Liquid Cup Lid - Recipe Upgrade
The latest recipe upgrade. We are constantly upgrading and optimizing our products to serve our customers.
The lid can be used as a liquid cup. Apply the solution with a brush to apply the polygel.
A quick-apply poly-gel anti-slip fluid that can be used to remove glue, impurities and grease from the surface of nails (poly-gel, UV-gel, gel nail polish, acrylic, poly-gel).
Can be used on natural and artificial nails. Give your nails a wonderful natural look.
Safe, no pungent odor, no harm to nails or body.
Morovan 120ML Nail Art Poly Gel Slippery Fluid is great for DIY Poly Gel Nails, Nail Extensions, Sticky Gels, Nail Sculpting and more.

Tip:
1. All our nail polishes are tested and quality controlled.
2. Please do a skin test before each manicure.
3. When handling nails, make sure the temperature of the lamp is not too high.
4. Once you feel unwell, please stop using it immediately.
5. We offer exchange or refund service. If you have any questions, please feel free to let us know.

how to use:
1. Pour the appropriate synovial fluid into the container.
2. Squeeze an appropriate amount of polygel onto the dual mold.
3. Dip the brush in polygel synovial fluid.
4. Use a brush to carefully spread the polymer gel evenly.
5. Apply it to your natural nails. Press several times. Make sure to hit the nails.
6. Let the Glide solution and polynail gel dry for 1-2 minutes to cure. (Please make sure the temperature of the lamp is not too high)

How Does The 75ML/2.5oZ. Poly Gel Liquid Slip Solution Work?
1. Make the polygel at the tip of the mold smooth and clear and easy to spread over the entire mold.
2. Polyurethane may be too sticky and hard, Morovan Nail Liquid Slip Solution helps alleviate this for better shaping.
3. Helps the polymer gel stick to the nail surface without creating bubbles and cracks, ensuring longer lasting.
hint:
Please do not use too much or too little Poly Gel Slip Solution. The perfect effect comes from
appropriate dose.
Morovan Synovial Fluid works with all Morovan poly nail polishes and all brands of poly gel.