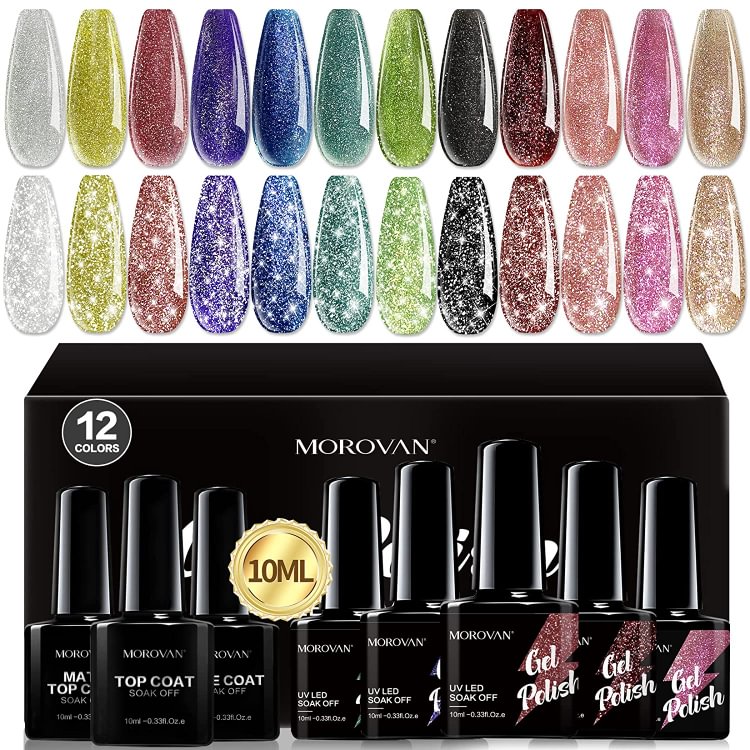 ---
Product Description
MOROVAN GLITTER GEL NAIL POLISH KIT FOR HOME SALON USE

MOROVAN 12 COLORS GLITTER GEL NAIL POLISH KIT FOR CREATING YOUR FANTASTIC OWN NAIL ART
WHAT YOU GET

Morovan 12 Colors Glitter Gel Nail Polish Kit comes with 12 shades of beautiful glitter gel nail polish set.

Including white gold reddish brown blue green glitter gel nail polish., dark brown amber peach pink glitter gel nail polish, 3 x base coat & glossy and matte top coat(10ml/0.33fl.oz each other).

SUITABLE FOR ALL SEASONS AND OCCASIONS

Morovan Glitter Gel Nail Polish Set can be worn with any style of clothing and is suitable for all skin tones, ages, and occasions.

You can create glam and glitter gel nail polish designs in professional nail salons and nail DIY with these vibrant glitter gel nail polish kits.

TOXIN-FREE INGREDIENTS

Morovan Glitter Gel Nail Polish Set is made from non-toxic ingredients which makes it safe and low odor. No harm to your skin or nails.

So you can use this glitter gel nail polish kit to give free rein to your imagination and create a glamorous, shiny finish gel polished design.

Morovan 12 Colors Glitter Gel Nail Polish Kit To Meet Your Various Nail Art Needs
Meet Your Various Nail Art Needs:

Morovan Glitter Gel Nail Polish Kit is available in a variety of Colors to Meet Your Diverse Needs.

Morovan Gorgeous color gel nail polish set with vibrant pigments and high-gloss shine, giving your nails a smooth appearance, and flawless coverage.

Lively and dazzling colors of Morovan Glitter Neon Gel Nail Polish Set can bring a unique experience to your nails.

Morovan Glitter Gel Nail Polish Set is suitable for daily use and DIY nail art.

Just let your imagination and creation go wild in nail art!

Some Tips:
Too Thick?
Applying every thin coat is the key, make sure the brush don't have too much on it before starting the strokes.
Not dry?
Please check the wattage of your lamp. Are you only curing for 30 seconds? We suggest: Base coat cured for 30 secs. Gel polish each coat - 60 secs. Top coat - 60 secs. Wipe with alcohol cotton ball.
Tips to avoid chipping
1. Before applying, please ensure your nails are completely dry, clean and oil-free.
2. Don't apply the gel on the skin or cuticle.
3. Apply the gel to the edge of each nail to seal the gel with the brush horizontally to avoid chipping.

WARNING:

Morovan pink purple gel nail polish set may cause an allergic reaction to skin contact.

Avoid contact with eyes, mouth, and skin.

Read directions for use carefully.

Rinse immediately with water In case of contact with them.

If there is any incident, contact the doctor immediately.

Stop using the product if redness and itching develop.

Keep out of the reach of children.
EASY APPLICATION

Morovan Glitter Gel Nail Polish Kit uses the highest quality natural ingredients, toxin-free, low odor, brightly colored gel nail polish kit for all seasons In your daily life.

Highly pigmented & with good tenacity.

Easy to apply and soak off, first choice for beginners.

Glossy Top Coat For Shiny Look

Morovan Glitter Gel Nail Polish Kit is compatible with all brand's soak-off gel nail polish.

Suitable for natural nails, nail lamp gel nails, artificial nails, acrylic nails, nail tips, etc.

Long-lasting for 21+ days with perfect shine

Matte Top Coat For Other Nail Effect

Matte top coat meets your various needs, you will have other 12 different nail effects. you can design any nail styles you want.

Morovan Matte Top Coat ensures a long-lasting manicure that seals in color and provides a gorgeous matte finish.
For any leaking, missing or empty items, please message Morovan Customer Services.