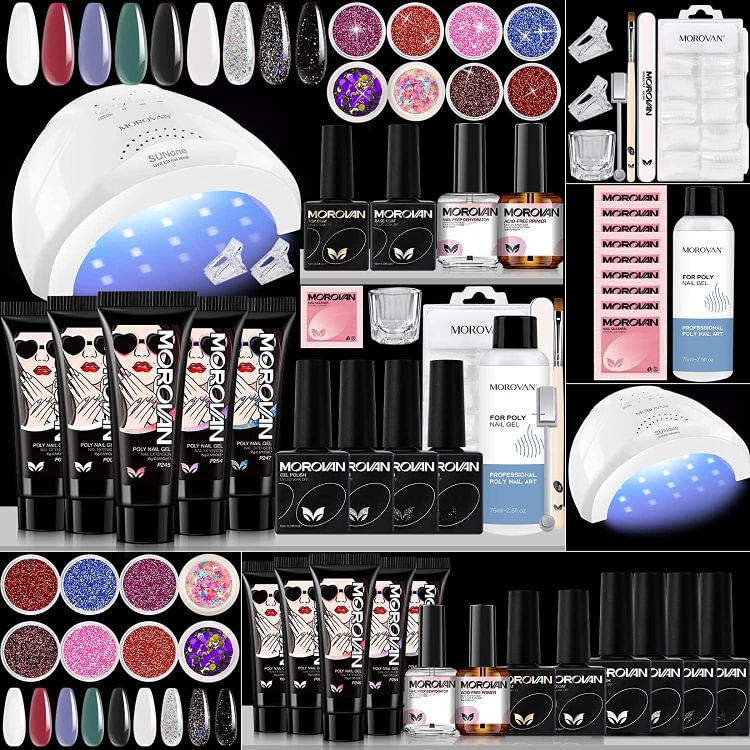 Morovan POLY GEL NAIL KIT WITH 48W NAIL LAMP - 8 COLORS NAIL GEL AND 8 COLORS GLITTER DECORATION POLY GEL KITS NAIL EXTENSION GEL SET

Morovan POLY GEL NAIL KIT WITH 48W NAIL LAMP FOR STARTERS, NAIL LOVERS OR TECHNICIAN SALON STUDIO HOME USE
WHY CHOOSE Morovan POLY GEL NAIL KIT:
We're both the manufacturer and user of Morovan products, controlling products' quality from the origin, committed to providing healthiest ingredients as well as best quality for our customers.
2-IN-ONE POLY NAIL GEL KIT:
This Morovan poly gel nail kit is included white, pure clear, pink, brown, khaki 5 colors nail extension gel, and 3 colors glitter gel nail polish.
Made of 9 toxin FREE gel formula. You can use the poly gel kits builder nail gel to extend your nails, and then apply the colors nail gel to get extension and color nails.

What's Included in this ALL-IN-ONE Poly Gel Nail Kit?
1x48W UV/LED Nail Lamp; 1x5 Colors Poly Gel; 1x3 Colors Gel Nail Polish;
1xPoly Gel Brush; 1xGlass Cup; 1x 10 Nail Cleaner;
1xNail Prep Dehydrator; 1xNail Primer; 1xBase Coat; 1xTop Coat;
1x6 Powder Glitters; 1xButterfly Sequins Glitters; 1xPurple Sequins Glitters
1x2 Nail Tip Clips; 1x2 Nail File;1x100pcs Nail Dual Forms;
How to Use Nail Light?
Clip your nail to an appropriate length. Cap the nail edge, file the surface of the nail, remove the cuticle, trim the edge.
Apply a thin layer of the Gel Polishes according to its usage instructions to the clean, dry nail without touching the cuticle or skin alongside the nails.
Connect the power cord to a secure outlet. Use the appropriate timer (5s/30s/60s) as per your gel polish's requirements.
Please note that curing time vary based on gel polish brand. Morovan UV LED nail lamp works well for all kinds of gel polishes
5 COLORS POLY NAIL EXTENSION GEL
For nail extension, sticking diamond, french manicure, or 3D nail decoration on natural nails and nail tips.
Nail extension gel for nail professionals and nail beginners to create nail art design.
The builder nail gel is easy to apply and long-lasting if used correctly.
The nail extension gel is strong, it won't chip, break, or peel off easily.
3 COLORS GEL NAIL POLISH AND BASE TOP COAT
3 colors white ,glitter silver,glitter black gel nail polish (10ml./each bottle). Solid and glitter nail designs can be freely finished with these color gel.
Morovan gel base and top coat lasts more than 21 days, perfect gloss. The flexible top coat prevents scratches, chips or stains.
Morovan NAIL PREP DEHYDRATOR & PRIMER SET IS COMPATIBLE WITH ALL GEL NAIL
For better adhesion effect, we add nail prep dehydrator and acid-free nail primer in this poly gel nail kit.
Nail prep dehydrator can get rid of the oil and dry up the whole cuticle in the nail bed area. And Nail primer works like double-sided tape to stick nail and product together.
75ML/2.5OZ FOR POLY GEL NAIL EXTENSION
The latest Formula is Upgraded. We have been constantly upgrading and optimizing our products to serve our customers.
Please dip it with the brush at each step to prevent the poly gel sticking to the brush or other nail extension gel tools.
100PCS 10 SIZES NAIL DUAL FORMS IN THIS POLY GEL NAIL KIT
(Numbered 0-9) please choose the form according to your nail shape.
If it still doesn't fit your nails, you can trim them according to the shape of your nails to fit your nails.
They are reusable, just remember to clean them after each use.
NAIL CLEANER PADS AND NAIL TIP CLIPS
Nail Cleaner Pads are provided for wiping off the (poly gel, UV gels, ect.) nail surface floating glue, impurities, and grease.
Poy Gel Nail Tip Clips are a helpful tool for fixing nail molds, which can help you quickly and easily shape false nails into the length and shape you want.
6 COLORS FINE AND SHINY, COLORFUL AND GORGEOUS GLITTER POWDER
Mixed Glitter together with poly gel to make colorful bling-bling poly gel nails effect, making you be the eye-catcher in every occasion.
2-IN-1 POLY NAIL GEL AND GEL NAIL KIT - IDEAL FOR EXTENSION NAIL,MAKING POLY , RHINESTONES NAILS, GLITTER NAILS, ETC.

Standard Delivery
Orders placed using our standard shipping will be processed within 1-2 business days.

How can enjoy a free shipping policy?
Free shipping on any orders paid over $29.99. If the order paid is less than $29.99, we will charge $6.99 for shipping on your order.

How soon will I receive my package after my order is placed?
There are two key factors that will decide when you will receive your package. Shipping time = Processing time + Delivery time.

1. Item Processing Time: The processing time is the time it takes for the seller to prepare the item(s) for shipment. There are different processing times for different items depending on product category and volume. Usually, it is around 1-2 business days to process.

2. Item Delivery Time: Delivery time varies with the shipping method. Time in transit varies depending on where you're located and where your package is coming from. The general shipping time is 2-4 business days, but in remote areas it will take 4-6 business days.

In addition, our products are all inclusive of tax-free.
Notice

If you want to return or refund, you can refer to our suggested steps:
Step1: Email us at [email protected] with your order ID or receipt of product with pictures of the product. Meanwhile, you need to detail why you want to return the item or refund. We will reply to your email within 12 to 36 business hours. In the email we will mention whether you are eligible for a return or refund.
Step2: If you are approved, you need to select the item you'd like to return or exchange, and send it to the address we provided in our email.
Step3: Package your items according to the emailed instructions, then go to the local courier point to fill in your personal information, and finally, pay your shipping fee. (Shipping costs to be borne by the buyer)


Fee Clause
If the return is caused by the consumer, consumer should be responsible for the shipping fee. The specific fee should be based on the express company you choose.
If due to our reasons, the goods received are damaged or not correct, and the consumer is not required to bear the shipping fee for this reason.


Returns & Refunds

Our policy is valid for 14 days from the date you receive your packages. If your order has been delivered over 14 days, unfortunately, we can not provide you with a return or refund. Please check all items as soon as you receive your package to avoid running out 14 days of our return policy. To complete your return, we require a receipt or proof of purchase. You must email us at [email protected] with your order ID and receipt of the product with pictures. Your items must be unused, identical to the items you received and does not affect our secondary sales. It must also be in the original packaging.
After receiving your returned product, we will review it within 1-3 business days. At the same time, We will notify you by email on the same day if you are approved or denied.
If you are approved, your refund will be processed and a credit limit will be automatically applied to your credit card or original payment method within 7 bussiness days.
Refunds (Package Not Received)
If your package has not been delivered over 5-8 days, please contact us by email [email protected] or check your package logistics through the link https://www.morovan.com/account/order-lookup. Here are some situations you may encounter:
1. If we have not shipped your package for some reason, you can contact us for a refund. Your refund will be processed and a credit limit will be automatically applied to your credit card or original payment method within 7 bussiness days.
2. If your address is far from our warehouse, the delivery time will be extended by 2-4 bussiness days, please refer to Shipping Policy.
3. If the package status shows that it has been delivered but you have not received it, unfortunately, we can not provide you with a refund. Please attach evidence of what you have not receipt (monitoring of your residence, etc.), contact the local logistics company to verify your package or apply for compensation.
Delayed or Lost Refunds

If you have not received your refund, please double check your bank account first. Then contact your credit card company and it may take some time for your refund to be officially released. Next, contact your bank. It usually takes some processing time before a refund is issued.
If you've done all of this and still haven't received your refund, please contact us at [email protected].


Exchanged
Your satisfaction is our top priority. However, due to the nature of our products, We do not currently offer exchanges on all items you received. We only replace defective or damaged items. To be eligible for a exchange, you must email us at [email protected] within 14 days of receipt of the product with pictures. Once your exchange has been received and reviewed, we will send you an email notifying you that we have approved your exchange. We will also notify you of the new logistics orders. We're sorry for the inconvenience.


Gifts
If your order includes a set, stickers and other items, which we give away for free, we consider it a gift, we do not currently offer refunds.


Down to $0.99 Limited Sale
If your order includes products of $0.99 Limited Sale, unfortunately, we can not provide you with a return or refund for products of $0.99 Limited Sale.
Transportation
To return your product, you should email [email protected] for a return address. You will be responsible for paying your own return shipping.


Refund Contact Information and Address
Contact phone: +1(415)216-3524 or +86-199 2748 8433
Contact address: Room 682, Building C5, No. 3, Huaxu Street, Tianhe District, Guangzhou City, Guangdong Province, China, 510000


Return / Exchange FAQs

1. How long will it take to receive a credit for my returned items?
Once we received your items, returns are processed within 7–10 business days. The time to post a credit to your account can vary and is determined by the issuing bank. Please contact the issuing bank/original payment method for details.

2. I received the wrong product. Can I return it?
If your online order is not as expected, please contact [email protected] for assistance. Our Service Team will be happy to assist you in processing your returns, for products in stock, we will send a correct to your address.

3.My item arrived damaged. What should I do?
If you received damaged merchandise, please retain the box, packaging and all contents and contact within 14 days at [email protected] for assistance.
When your order arrives, please inspect the carton for any damage that may have occurred during shipment. It is normal for the shipping carton to show some wear, however if damage occurred to the item(s) in your shipment, please retain the box, the packing materials and items inside, take some clear photos related and contact us as soon as possible.