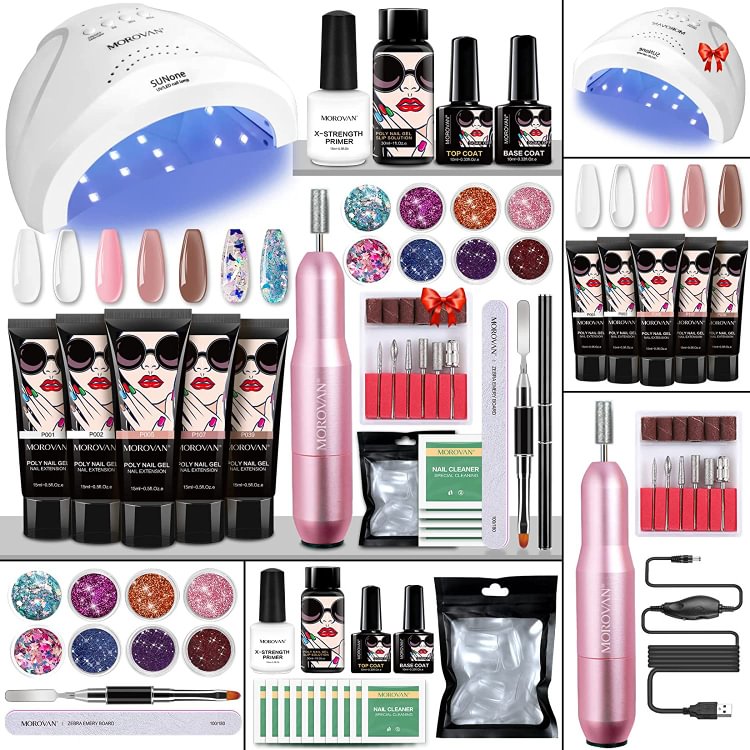 MOROVAN POLY GEL NAIL KIT WITH UV LAMP AND NAIL DRILL FOR BEGINNERS - SALON CHOICE.
Morovan poly gel nail kit with lamp and drill is a complete poly gel nail kit for beginners to create poly gel nails,
ideal to create unique, dreamy and long-lasting poly gel extension nails with a flawless finish,
or mixed with glitters, sequins, diamond gems or rhinestones for outstanding results.
5 COLORS POLY GEL NAIL KITS TO CREATE STUNNING POLY GEL NAILS
WHY CHOOSE MOROVAN POLY GEL NAIL KIT WITH LAMP AND DRILL?
FEATURES:
5 Bright Colors, No Dor, Fast Dry, Non-Toxic, Strong & Hard, Long-Lasting, Quick Extension within 5mins;
FULL POLY GEL NAIL KIT:
This poly gel nail kit comes with a lamp and nail drill to create poly gel nail extension nail art;
MULTIPLE APPLICATION:
To Create Solid Colors or Glitter Colors Poly Gel Nail Extension with Nail Forms or Dual Forms;

To Decorate Poly Gel Nails with Glitters, Diamonds or Rhinestones;
MOROVAN POLY GEL NAIL EXTENSION KIT WITH LIGHT AND DRILL FOR BEGINNERS: