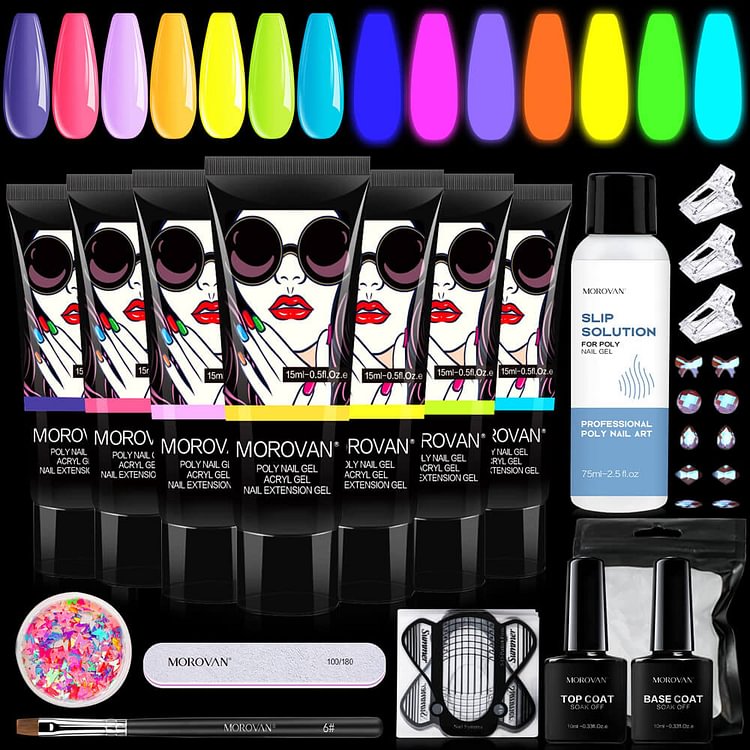 ---
Product Description
MOROVAN POLY NAIL GEL KIT - SALON CHOICE.
Morovan poly gel nail kit with light is a complete poly gel nail, can easily create beautiful extended nail art, gloss, and artistic sense for you, no matter what style of nails, no need With the hassle and expense of going to the salon, you can at home DIY your poly nail extension gel.
YOU WILL GET - 7*15ml glow in the dark poly gel,1*base coat and top coat,1*poly nail gel slip solution,20*dual for nail art,60pcs nail forms,3*nail tips clip, and nail art tools.
WHY CHOOSE MOROVAN CLEAR POLY GEL NAIL KIT
7 COLORS POLY GEL:

7 colors poly nails extension gel, allows you to DIY all kinds of nail art.
SLIP SOLUTION:

Slip Solution helps eliminate frictions and drag when shaping, bringing fantastic and super bright nails for you.

BASE COAT & TOP COAT:

Base and Top Coat can make your gel last for over 21 days with a proper application due to its wear-resistant feature.
20PCS Nail Forms:

Our nail forms are designed with a smooth glossy surface, it's moisture-proof and dust-proof, you can paint your nail polish multiple layers to your designed length under its Length Scale Guide.

60PCS NAIL FORM:

Different sizes of nails make it easy to choose the right nails. The transparent design can easily meet your DIY needs and create charming nails.
Express your imagination in the poly nail gel kit:
Q: How many colors of poly nail gel are there in this set?

A: 7 colors, they can glow in the dark.

Q: Is it provided with the lamp?

A: No, the nail lamp is not included in the set.

Q: Will curing dry quickly under a nail lamp?

A: The drying time depends on the thickness of the polymethyl methacrylate. After curing, the nail surface feels sticky after curing, don't worry, this is normal. You can wipe it with synovial fluid.

Q: Why does the nail glue peel off easily?

A: Please prepare the nail art first (dressing, cushioning, and cleaning), and then make the repairing gel to expand the nail art design. And apply top coat to maintain gloss and longer-lasting.