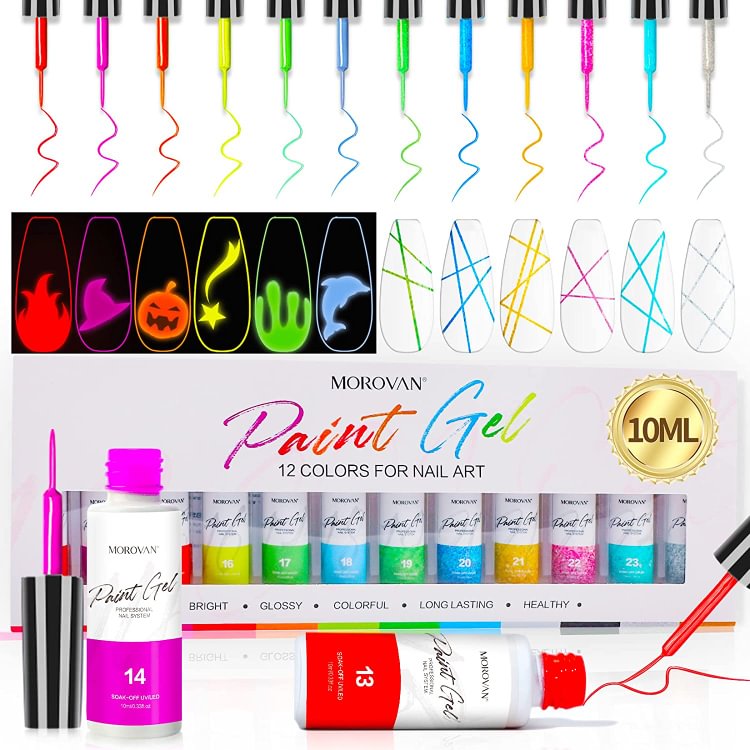 ---
Product Description
MOROVAN PAINTED GEL NAIL POLISH SET FOR SALON HOME USE

MOROVAN PAINTED GEL NAIL POLISH SET FOR NAIL BEGINNERS
WHAT YOU GET:

Morovan 12 colors Neon Red Green Painted Gel Nail Polish Set (0.33oz/10ml ), including 6 X classic nail art gel polish set and 6 X glow in the dark gel nail polish.

Lively and colorful brushing gel nails for painting flowers, butterflies, leaves, and other popular fashion wavy abstract paintings with various patterns and lines, giving you a super easy gel liner nail art experience and creating a unique nail DIY design.

GLOW IN THE DARK:

Morovan Neon Red Green Gel Liner Nail Polish Set has a glowing effect in the dark.

It can cast an eye-catching glow at night, brighten up parties, and gel polish liner nail art makes you the most attractive person in the crowd.

TOXIN-FREE INGREDIENTS:

Morovan Neon Luminous Gel Liner Nail Art Gel Polish Kit is made of toxin-free healthy formula, 9 non-toxic ingredients, low odor, and no harm to nails and skin.

Make it easy to create high-gloss, luxurious French, geometric manicures with instant results.
MOROVAN PAINTED GEL NAIL POLISH SET TO MEET YOUR VARIOUS NAIL ART NEEDS

ALLOW YOUR IMAGINATION AND CREATIVITY GO WILD IN NAIL ART
WIDE APPLICATION:

Morovan Neon Luminous Painting Gel Polish Nail Art Gel Liner Set can be used for any gel liner nail art, such as U V gel nails, gel nail polishes, acrylic nails, fake nails, nail tips, and more.

IDEAL GIFT FOR FAMILY FRIENDS

Morovan Bright Gel Polish Liner Nail Art is suitable for birthdays, parties, and daily events, it is an amazing painting gel liner nail art gift for your family, friends, or relatives on Valentine's Day, Easter, and Mother's Day, Thanksgiving, Christmas.

A variety of bright colors to meet your different nail art needs, free to play with your nail art creativity, no matter day or night is the most dazzling star.
MOROVAN PAINTED GEL NAIL POLISH SET GLOW IN THE DARK

SHOW OFF YOUR FANTASTIC NAIL ART SHINE IN THE DARK
Morovan Luminous Nail Gel looks elegant in the daytime, shines in the dark and casts extraordinary luminous color in the dark.

Your nails will light up parties and dance floors with this glowing neon in a dark gel nail polish set.
MOROVAN PAINTED GEL NAIL POLISH SET TO MEET YOUR VARIOUS NAIL ART NEEDS
The lively and colorful Morovan painting gel nail polish set can be used to draw gel manicures of popular fashionable wavy abstract paintings such as flowers, butterflies, leaves, etc., with various patterns and lines.

Provide you with a super simple gel eyeliner manicure experience to create unique nail art DIY designs.

Easy To Draw Stripes Dots Flowers

Morovan Gel Liner Nail Art Polish Set with built-in fine brush is easy to hold and paint any pattern, for painting flowers, plain, brushed, polka dots, stripes.

It casts a dazzling glow at night to grace a party, and a gel-polished eyeliner manicure makes you the most glamorous person in the crowd.

Desigh Gorgeous Luxurious Shapes

You can design a variety of gorgeous and luxurious looks and let your unique creativity play out.

Whether at home or in the salon, let your creativity burst out.
MOROVAN PAINTED GEL NAIL POLISH SET——EASY APPLICATION

EASY TO USE
WARNING:

Product may cause allergic reactions due to skin contact.

Read the instructions for use carefully.

For professional use only.

For nails only.

Avoid contact with eyes, mouth, and skin.

If the product comes into contact with them, rinse them immediately.

In the event of an accident, contact a doctor immediately.

Stop using this product if redness and itching occur.

Consult a doctor if symptoms persist.

Keep out of reach of children.

BRING YOUR CREATIVITY TO MAKE STUNNING GEL DESIGHTS
Morovan Painting Gel Nail Art Gel Polish Set contains 6 shades of bright and shiny nail gels,

For drawing flowers, plain, brushed, dots, stripes.

You can design and create your unique nail art.

Bring your creativity to make stunning gel liners and swirl nail designs using this gel liner nail art polish set.