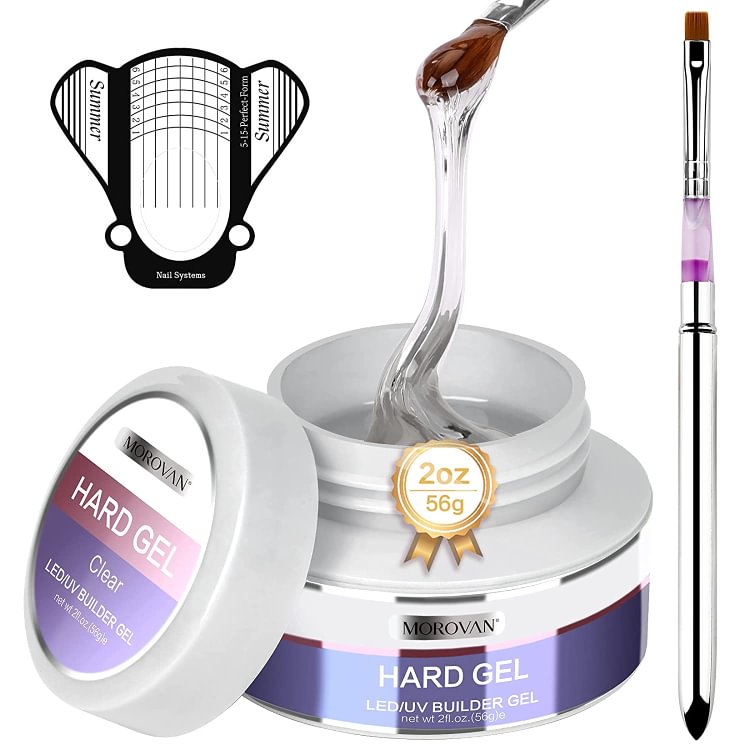 ❤【MOROVAN Thick Self-Leveling Formula Builder Gel】Not Stiff. Not Runny. Made of Healthy High Flow Formulation, the Nail Builder Gel is Easy to Spread, go on Smooth, Self-Level well with a Great Consistency.

❤【Glowing & Charming Luster Nail Gel】The Nail Builder Gel can extend and strengthen your nails, blending nails perfectly with easy application. It is incredibly transparent and has a long-lasting polished luster that will give you an easy way to shine.

❤【Durable and Odorless Nail Builder Gel AS A STRENGTHENER】 With Good Tenacity, Extra Strength and Low-odor, the Hard Nail gel UV gelis hard to be cracked or peeled, long-lasting and dependable enough to use. Use on weak natural nails, overlays, and tips.

❤【Professional & Personal Usage of Builder Gel】With Stylist's Approval, all Nail Pros, Amateurs, and Beginners can explore the creative usage of acrylic gel, such as Nail Extensions, Sculpting and Tip Overlays on various nails, such as UV gel nails, acrylic nails, and natural nails.

❤【Best Services of MOROVAN Builder Gel for Nails】We Offer Replacement Or Refund Service. All of our products have been tested and quality controlled. If have any problems, please let us know and we will try our best to help you. Thank you and enjoy your beauty journey.