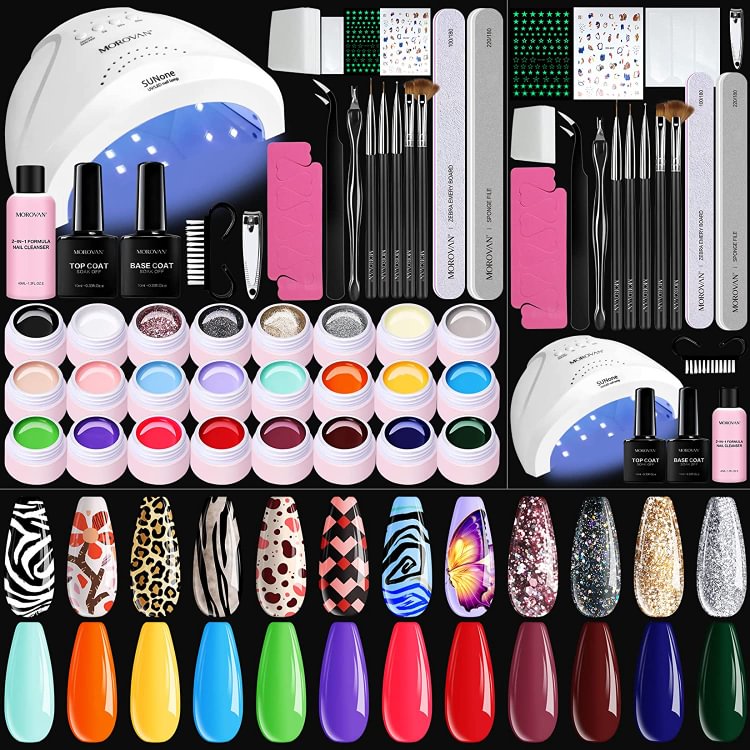 ---
Product Description
Morovan 24 Colors Gel Paint Nail Kit For Awesome Nail Home Salon Manicure

Morovan 24 Colors Gel Paint Nail Kit
Morovan 24 Colors Gel Paint Nail Kit

Easy to Use for Nail Art Beginners and Lovers:

You can DIY exquisite nail styles anytime.

Healthy and Cruelty-Free Ingredients:

Made of healthy ingredients, cruelty-free and low odor.

Suitable for natural nails, UV/LED gel nails, false nails, acrylic nails, nail tips etc.

A variety of colors can meet your diverse and creative needs for nail painting art.

Create Your Diverse and Unique Nail Art Designs:

You can use them to design and draw more amazing nail art such as painting flower, butterfly, leaves, line and so on.
Morovan Paint Gel Nail Polish Kit Suitable for All Seasons

Here are some important steps for Morovan Paint Gel Nail Polish Kit
Morovan 24 Colors Paint Gel Nail Polish Kit

Suitable for daily life and all seasons, tightly grasp the pulse of fashion sense.

So How to Use Nail Gel Paint?
Prepare your nails.

Apply a base coat and cure it under the nail lamp.

Apply a thin layer of color gel polish and cure it.

Dip a drawing pen in gel painting, paint on your nails and then cure it.

Apply the top coat and cure under the nail lamp for 60-120s.

Finish.
Morovan 24 Colors Gel Paint Nail Kit for Your Amazing DIY Nail Art——Application Guide

Morovan Paint Gel Nail Polish Kit With Various Painting Brushes

Here are a variety of paint brushes and its wide application for Paint Gel Nail Polish Kit
Doting Pen:

Made of high-quality stainless steel, durable and sturdy.

Proper size and lightweight for easy hold and grip.

Widely use for nail art, embossing, making dots, natural nails, false nails, acrylic nails shading and precision writing, etc.

Sector Pen Brushes/ Fan-shaped Pen Brushes:

Lightweight and comfortable, easy to hold and paint.

Help in creating long fluid strokes on the nails and used for creating one stroke patterns, blending and shading.

Drawing Pen Brushes:

Used to draw a variety of exquisite painted pattern, geometric pattern, plaid, flowers, ect.

Pull Line Pen Brushes:

Shorter Nail Liner Brush: To draw thin and short lines decorative petals, leaves petal,geometric patterns, other special patterns and etc.

Longer Nail Liner Brush: Suitable for the longest and finest lines, making your nails more charming.
Morovan 24 Colors Gel Nail Polish Kit DIY Nails Art Design At Home Salon
48W High Performance Nail Lamp

Quick Drying: Average curing time is shortened by 50% with this nail lamp.

3 Timer Settings: 5s, 30s and 60s and one automated setting at 99s.

Comfortable White Light Source: protect your delicate skin from darkening or burns.

Ideal for nail manicure at home and salon.

2PCS 10ML Toxin-Free Base Top Coat

Made of 9 Toxin-Free Ingredients,healthy and low odor. No harsh ingredients or adhesives lead to damaged nails.

Flexible top coat avoids nicks, chips, or smudges.

Long lasting for 21+ days with perfect shine

2-in 1 Professional Nail Gel Cleanser

Used for Extension polygel; remove nail polish; dehydration and cleans nails; remove sticky layer from the nail polish gel.

Our formula works quickly and effectively to remove the hardest nail polish and prepare your nails for the next manicure.
Morovan 24 Colors Gel Nail Polish Kit For Your Unique DIY Nail Art Design
Unique Attractive Graphic Nail Stickers

A variety of options to satisfy your rich imagination of nail DIY.

Each pattern has a unique design, attractive and creative, suitable for bringing you Nail Art DIY inspiration.

Suitable for home use and nail salons.

Adhesive Luminous Nail Stars Stickers

Luminous Nail Stickers will appear white during the day, and they will sparkle at night under natural light and light.

The luminous nail sticker is self-adhesive and can be directly pasted on the nail. It only takes a few minutes to complete the nail art design.

Essential Nail Art tools

Nail Files:

Easily help to trim and shape the nail with your desired shape or length.

Nail Tweezers:

Perfect for picking the stickers, nail foil, rhinestone gem for nail art.

Other essential tools for nail art:

For Better DIY Nail Art Preparations