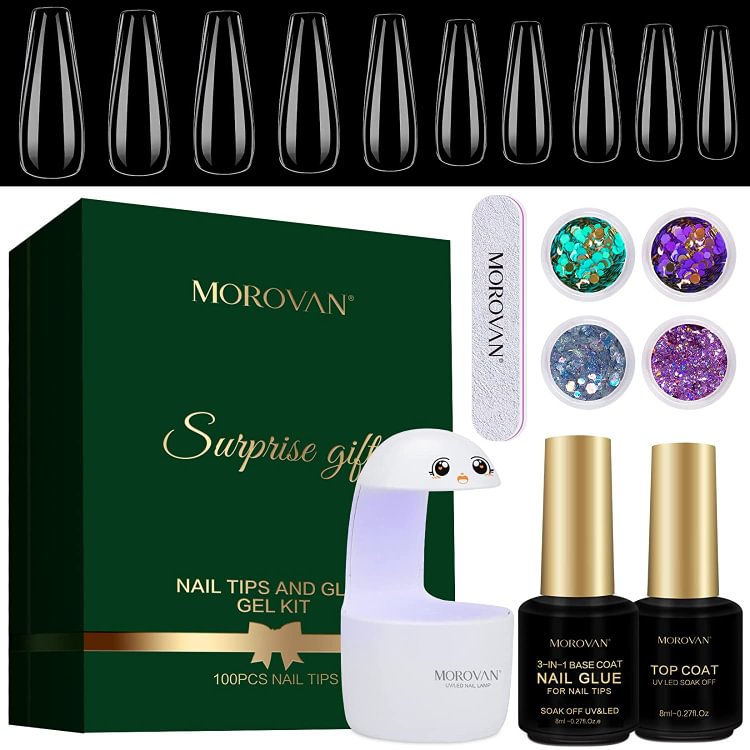 Product description
MOROVAN Gel Nail Art Head and Glue Gel Kit with Light - for your amazing nail art style!
Nail glue and nail sticker kit with 3-IN-1 GLUE GEL: natural resin, no odor, non-toxic, self-leveling, up to 21+ days;
NAIL EXTENSION: sturdy overlay with clear push-on coffin nail tips; glitter nail extensions through nail tips mixed with glitter powder;
Wide application: Ideal for beginners or manicurists at home or in the salon.
Ideal Gift: Birthday, Valentine's Day, Thanksgiving, Halloween, Christmas for friends, family...
notes:
1. A nail lamp is required for curing, please press the nail lightly with the tip of the nail when curing.
2. Make sure there are no air bubbles when sticking the nail tip on the nail bed, otherwise it will fall off easily.
Packing List of MOROVAN GEL NAIL TIPS and Glue Gel Kit with Light
Nail Sticker and Nail Gel Gel Kit with UV/LED Nail Lamp:
3 in 1 Nail Gel Brush - 8ml;
Gel Topcoat - 8ml
Mini UV LED Nail Lamp Dryer;
Clear Coffin Nail Tips - Full Coverage Fake Long Nail Tips 100pcs;
4 colors of glitter powder;
Nail file + cotton pad
Precautions
1. Prep the nails: file, polish and clean the nails.
2. The thinner the stronger: a thin coat of primer/topcoat/nail glue is sufficient. The curing time is 60s-90s.
3. Please apply glue on both the nail surface and the nail tip, so that the nail tip is strong enough.
4. Do not apply glue to skin and clothing.
5. Lasting 3-4 weeks
6. Stick the tip of the nail firmly on the nail
7. No longer pop up after curing
8. No harm to natural nails