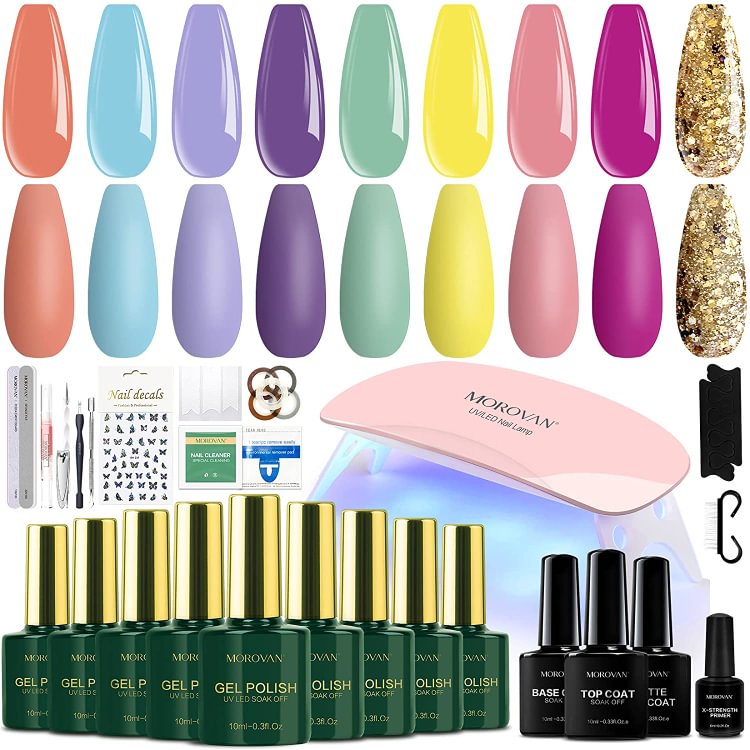 ---
Product Description
Morovan Professional Full Complete Gel Nail Polish Kit with UV Light Glossy & Matte Gel Base and Top Coat Manicure Kit for Beginners with Everything

What's Included in this ALL-IN-ONE Gel Nail Polish Set Manicure Starter Kit? (TIPS: Gel Nail Polish 8ML-0.27fl.OZ per bottle)
9 Colors Gel Nail Polish x 9 (8ML-0.27fl.OZ)
6W LED UV Nail Lamp x 1
Matte Top Coat Gel x 1
Glossy Top Coat Gel x 1
Base Coat Gel x 1
X-Strength Primer x 1
Nail Cleaner x 20
Nail Remover Wraps x 20
Nail Separator x 1
Dust Brush x 1, French Nail Tips Stickers x 2
Butterfly Stickers x 1, Nail Striping Tapes x 5
Nail File x 2, Nail Cuticle Oil Pen x 1
Cuticle Fork x 1, Cuticle Pusher x 1
Nail Dotting Pen x 1, Nail Clipper x 1

Why Choose this Gel Nail Polish Kit with Uv Light?
1. Enjoy 2 Kinds of Finish - One is Matte finish with the matte topcoat, the other is Glossy finish with the glossy top coat from this 9 elegant colors gel nail polish set.
2. 20pcs Nail Cleaner - Can be used to wipe off the (gel nail polish, poly gel, UV gel, acrylic) nail surface floating glue, impurities, and grease.
3. 20pcs Nail Remover Wraps - Work easier to take off nail gel, acrylic nails, UV gel etc. Moisturized and no harm to your skin after use.
4. Gel Nail Art Decorations - French Nail Tips Stickers, Butterfly Stickers, and Nail Striping Tape are provided for DIY beautiful gel nails.
5. High-Quality Super Smooth - 9 Colors Gel Nail Polish made from natural healthy ingredients, low odor. Long-lasting gel polish for up to 2 weeks with proper nail prep(filing, buffering, and cleaning).
6. We're both the manufacturer and user of Morovan gel nail polish kit, controlling products' quality from the origin.
Alt