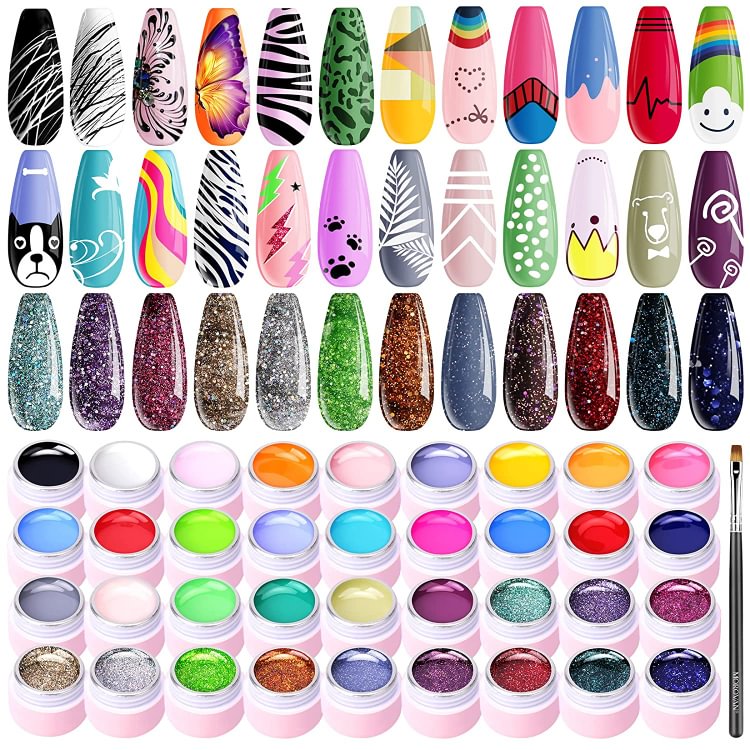 Morovan 24 Colors Gel Paint Nail Kit For Awesome Nail Home Salon Manicure
MOROVAN 36 COLORS GEL PAINT NAIL POLISH SET - GEL NAIL POLISH PROFESSIONAL PLOYMER
Morovan Gel Paint Nail Kit:

The gel paint for nails art contain 36 different colors nail polish and 1 nail art brush. You can combine them freely for your nail art needs.

Natural Resin:

The 36 colors gel nail polish set made with high quality materials, low-odor,safety and healthier, better protect natural nails nice.

Easy To Apply:

This Paint gel nail polish kit has good toughness, strong concealing power, smooth and easy to apply. Best option for nail beginners, nail art professionals and salons.

Wide Application:

Morovan gel paint nail art kit can use as gel nail polish, gel art paint, embossed gel. This nail polish set helps you create your own unique nail art.

Long Lasting Nail Art Polish Effect:

Morovan gel nail supplies has excellent adhesion. If proper application,it can keep the nail art shiny for 21-30 days.
Amazing Nail Arts Effect
Long Lasting:

The painting gel nail art kit offers super adhesion. If used correctly, this paint gel nail polish can last more than 4 weeks.

Low Smell:

This 36 colors paint nail art polish set is made from resin and healthy ingredients, low odor and safety, friendly to natural nails.

No Nicks:

This nail gel polish is made of high-quality materials, smooth and easy to apply. Provides a smooth, self-leveling surface effect.

Vivid Colors:

Our gel nail polish uses a high-gloss color formula and will not fade. Bright colors will make your paint nails stand out from the crowd.
MOROVAN GEL PAINT NAIL ART KIT - TROUBLESHOOTING GUIDE
Q: Does this 36 colors gel paint need to be cured under a lamp?
A: Yes, the gel paint needs to be cured under a nail lamp, otherwise it won't dry out.
Q: How long can these gel paint stay on nails?
A: If you use our product correctly, the paint gel can last more than 28 days on your nails.
Q: Does these gel nail polish smell?
A: The gel paint nail polish is made from resin and healthy ingredients, low odor and friendly to natural nails.