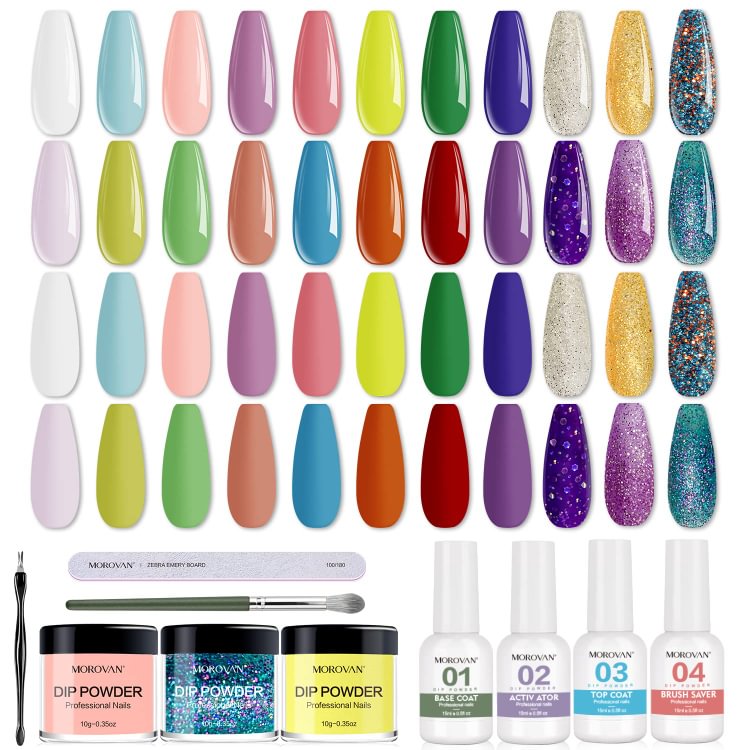 ---
Product Description
With professional 22Colors Dip Powder Nail Kit Starter are highly pigmented and vivid, popular in all the year round and suitable for all occasions
Dipping powder nail kit is surely safe and convenient It is an easier and faster way for you to do your nail art design.
Why Choose Morovan Dip Powder Nail Kit Starter ?
Healthy & Safe Ingredient:Morovan dipping powder nail kit is made from healthy ingredients and nail protection formula, with the advantage of lower odor, water resistant.

Easy to Apply: Morovan nail dip powder kit is no led nail lamp required for curing nail, which is better for your skin and nail, it's surely safe and easy to handle for both professionals and home users.

Long Lasting: The colorful and glitter dip nails powder starter kit is not scratch, chip, break or peel off easily.It can keep the nail art gorgeous and shiny for about 3weeks if proper application.

An Idea Gift:Morovan:dip nail kit comes in an exquisite gift box .It 's an ideal gift for Party, Birthday, Valentine's Day, Christmas,Mother's Day and Wedding Anniversary.An ideal choice for professional manicurists and nail starter.Come and DIY your own nail art style!
Morovan all-in-one colors dip powder nail kit includes everything you need to complete your nail.

Morovan dipping powder nail kit offer multiple Colors to complete your nail design.
Morovan dip nails powder starter kit looks natural, is lightweight, and has impeccable shine. Using the dip powder nail kit according to the correct steps can make your nails last for 21-30 days and still hold shiny and firm
Morova nail dip powder kit does no needed lamp to dry, the dip nail kit can not only save much your time but also prevent hands from turning black because of the lamp curing. It's gives you a more varied nail art experience, creating your own unique nail art.

The Morovan nail dip powder kit can create charming nail art for you.
❤ Morovan Dip Powder Nail Kit comes in a beautiful gift box. 22 popular and fashionable colors,suitable for all daily working or dating,
party or ceremony activity. It is a great idea gift for Christmas, Valentine's Day, Birthday, Mother's Day and Wedding Anniversary.
❤ As a new starter dip powder set,the acrylic dip nail kit is the perfect choice for beginners and professional manicurists.
you'll easily achieve a nail art salon at home with this dipping powder nail kit to complete all-in-one kit
About Dip Powder Nail Kit Starter

This nail dip powder color set is extra-fine, colorfast, much shinier and more long-lasting than other regular dipping powder.You can mix the different dip powder as you like freely to create your personal nail art!Smooth and easy to apply, suitable for all kinds of nails.

Warm Reminder:

The way for keep the manicure nails shinny: please try to apply top coat twice and apply the second time top coat when the first time top coat was half dry.

Before and After

Before :You nail easy to cracking and looks dull before use dip powder.

After:Nail dip powder is chip-resistant,The formula which had been improved could make the nails looks more shinny. The nails that made by this dip nail kit could be keep the effect for about 3 weeks.

How to Remove Dip Powder Nail Kit Starter?

1. Polish the nail surface with polishing files.

2. Soak the nails with nail remover wraps about 5-10 minutes. (Or apply nail polish remover on cotton and apply on nails.)

3. Remove the nail polish with cuticle pusher.

4. Clean the nail surface with a nail brush.

5. Wash your hands with soap and water.
How to use Morovan dip powder nail kit?

22 colors dipping powder nail kit make from healthy, natural resin to help nails grow stronger and healthier