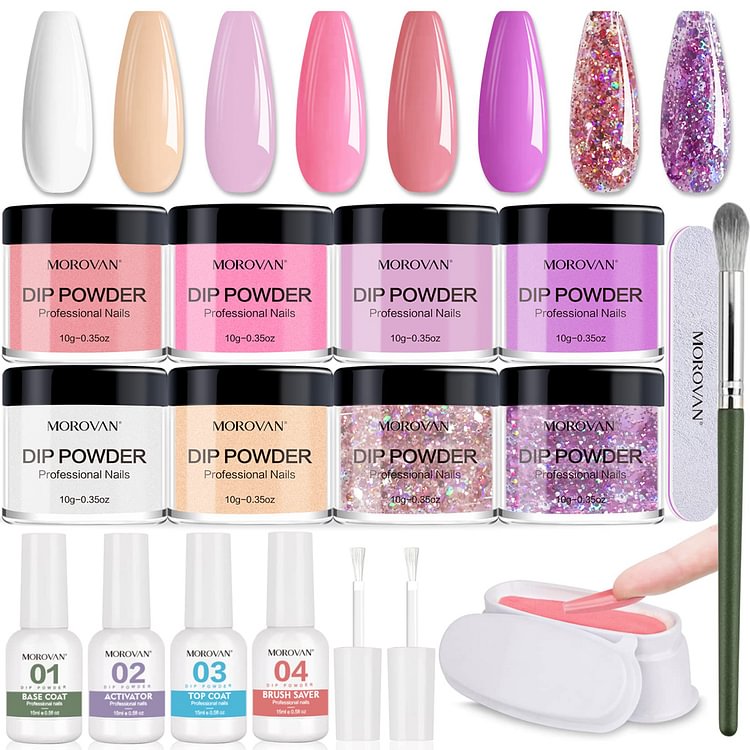 Product Description
MOROVAN 8 Color Dip Powder Nail Set - Premium Nail Dip Powder Professional Polymer

MOROVAN Dipping Powder Kit:
As an upgraded version of the primer set, it includes 8 shades of dipping powder, 4 bottles of primer, top coat,
activator, brush protector, 1 nail brush, 1 nail file, 1 dipping powder tray, 2 Dip Powder Gel Brush Replacement Powder Liquid.
Natural resin:
MOROVAN dipping powder nails are made of high quality materials, low odor, safe and healthy, and better protect natural nails.
Wide range of applications:
Our dip powder can be used not only for natural nails, but also for fake nails, nail tips, acrylic nails and more. You can DIY your nails anytime.
Easy DIY:
MOROVAN Nail Powder cures without a lamp, save money and time by doing your own manicures at home!
You can enjoy French manicures and extended manicures with this upgraded dipped powder manicure kit with nail tools.
Easy to apply:
Nail dipping powder does not require nail lamp curing, no damage to the nail bed, saving money and time.
lasting:
Using this nail powder with the right steps will keep your nails shiny for 21-30 days.
Not yellowing:
Our dipping powder is made with a healthy formula, non-yellowing, strong adhesion, bright color and no fading.
Compared to regular dipping powder, this nail dipping powder is lighter, more natural, and more durable.
No Nail Lights Required:
Dip powder cures without UV/LED light, saving manicure time without damaging your nail bed and hands.