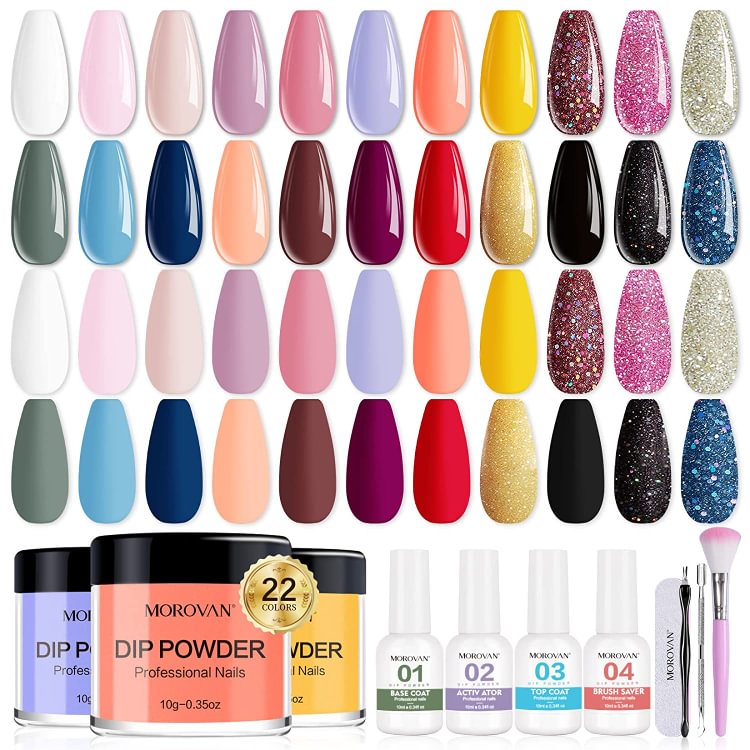 MOROVAN DIP POWDER NAIL KIT STARTER.
In this Morovan dip powder nail kit provides 22 colors dip powder, included 16 color pure dip powders and 6 color glitter dip powders.
With base coat, top coat, activator, and brush saver included, the kit has everything you need to create a stunning nail look that appears thin and natural.
A dreamy-looking manicure for an even, mess-free, long-lasting, runway-ready look without any UV/LED light curing, away from chipping, discoloring and lifting.
22 COLOR DIP NAIL POWDERS
❤ Dip Powder Primer: Has an optimum viscosity to ensure fast drying times as well as proper absorption and good attachment of
the dip powder to avoid unnecessary bumps and imperfections, thereby minimizing buffing.
❤ Dip powder activator: activate the dip powder to harden it, speed up the drying process, and make the dip powder solidify quickly.
Use before Top Coat for a glossy top.
❤ Dip Powder Finish: Holds everything together, provides a glass-like sheen, protects nails from the sun's harmful UV rays,
and prevents chipping, scratching or cracking.
❤ Dip Powder Brush Protector: Cleans and dissolves any dip powder residue that may harden the bristles, ensuring healthy brush reuse for effortless work.
Morovan Nail Dip Powder Kit
Morovan Dip Powder Kit:
Come with 22 color dip powders, dip powder liquid solutions, dust Brush, dust brush,cuticle pusher
Durability:
With a great durability, chip-resistant, the dip powder kit is a good way to get a manicure, lasting for 3-4weeks or more.
The dip powder nail kit suitable for all kinds of nails.An ideal choice for professional manicurists and nail starter.Come and DIY your own nail art style!
MOROVAN DIP POWDER NAIL KIT FOR NAIL BEGINNERS - TROUBLESHOOTING GUIDE
File and clean your nails to be free of dust particles so that the dip powders will stick well for even 3 weeks+.

Base Coat is fast dry, so please prepare the colored dip powder before application, quickly scatter the powder after finish applying Base Coat.
Tips to avoid Cracking / Expanding:
Brush Technique: Always brush parallel to the nail to ensure the bristle doesn't poke or indent the powder.

Dip Technique: Dip at a 45-degree angle and pull straight back out. Do not push the nail against the powder.
Other Tips:
Clean all the brushes and the bottleneck & rim properly. (Brush saver or nail gel polish remover will help to clean the brush.)

Tighten caps & store in a cool environment, and keep away from heat & direct sunlight.

In a cold weather, better to place them in warm water for a better nail art effect.