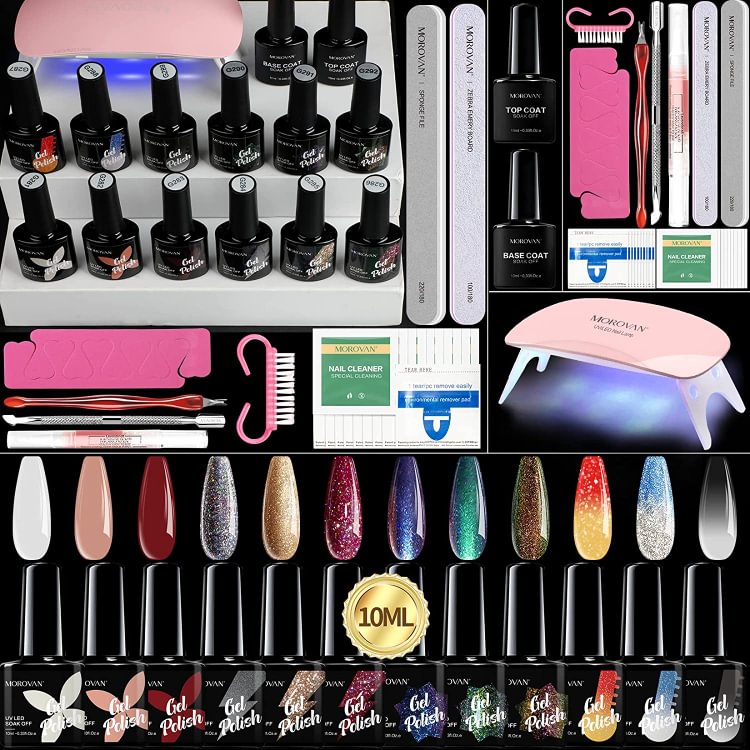 ---
Product Description
MOROVAN GLITTER GEL NAIL POLISH KIT WITH UV LIGHT FOR BEGINNERS. SALON CHOICE.
Morovan Gel Nail Polish Kit with UV light features 12 colors of glitter phantom chameleon gel polish, giving your nail a shinning effect like a starry sky of the galaxy.
You will be the most stunning one in the crowd wearing each color in this glitter phantom chameleon gel nail polish kit.

WHY CHOOSE MOROVAN MILKY WAY GEL NAIL POLISH KIT?
NATURAL RESIN: Non-Toxic, Cruelty-Free, No Odor, Fast Drying, Long Lasting, middle consistency, self-evenly, no-shrink and edge;
ALL-IN-ONE: comes with all necessary gel supplies to create holographic gel nail polish;
BEST OPTION for nail beginners startup nail tech professionals and salons; used on both natural nails and false nails.
IDEAL GIFT: a well-protected exquisite package, ideal for all friends on birthday, Valentine's Day, Thanksgiving Day, Halloween, Christmas...
For any leaking, missing or empty items, please message Morovan Customer Services.
12 Glitter Gel Nail Polish is ideal for those who love to change the color of their nails to match their different moods, outfits, and styles, making you look appealing in accordance with your mood and occasion.

Gel Base Coat & Top Coat Set preps a tough foundation sticking to your nails with a tacky finish, to fill in any uneven nail surface, drying into a smooth, gel-like layer, helps protect nails against chips and scratches.

Mini UV LED nail lamp dryer, travel pocket size, cures all kinds of builder gel, gel nail polish, poly nail gel from different brands.

Operation: short-press nail dryer ON/OFF button for curing 45s, long-press for 60s.

Basic Gel Nail Supplies Tools include everything needed in this gel nail polish kit to create gel nail polish, you have no need to buy them separately. Different colors of tools are sent randomly.
Color Changing Gel Nail Polish

Different temperatures, different colors.

The magic happens if your finger touches the ice, snow, or cold/warm water.

Solid Color Gel Nail Polish

The best color of French manicure.

Giving your nails a glossy and long-lasting finish.

Phantom Chameleon Nail Polish

Different angles, different colors.

The magic happens depends on the angel changing.

Glitter Rainbow Gel Nail Polish

Shining bright like the diamond on your nails.

MILKY WAY GEL NAIL POLISH
These holographic gel nail polish give your nail a shinning effect like a starry sky of a galaxy, giving your nail supper shinning, glittering effect, catching everyone's eyes.
PACKAGE LIST
12 Colors Gel Nail Polish - 10ml

Mini Nail Lamp Dryer

Base Coat 10ml

Top Coat 10ml

Nail Cleaner + Remover Pads

Nail File + Nail Buffer + Dust Brush

Nail Seperator + Cuticle Oil

Cuticle Pusher + Cuticle Trimmer Cutter

MOROVAN GLITTER GEL NAIL POLISH KIT WITH UV LIGHT - TROUBLESHOOTING GUIDE
1. Preparing nails: file, buff and clean your nails.
2. The thinner, the stronger: a thin layer of Base Coat / Top Coat / Gel Nail Polish is enough. Apply a 2-3 color gel nail polish if needed.
3. Paint the gel nail polish as close to the cuticle and sidewalls as possible without touching the skin, approximately leave a 1 mm gap.
4. Remember to cap/seal the free edge by applying the gel nail polish horizontally at the very edge before curing.
5. Free Margin: remove any excess gel nail polish product that popped out from the sidewalls.
Alt