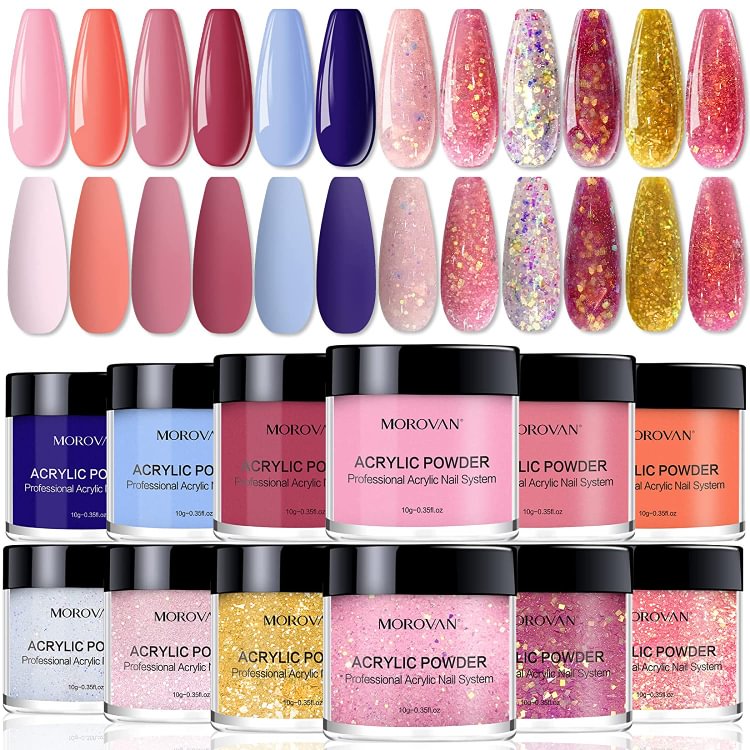 12 Colors Acrylic Powder Nail Set: Morovan 12 colors acrylic powder set can enhance your natural nails and offer a variety of style nails. This colored acrylic nail powder set contains pure colors and glitter acrylic powder, suitable for nail art design. The polymer nail powder kit can make your nail art attract more attention.

No need for nail lamp & saving time: Morovan acrylic powder set can be cured without nail lamp, which can prevent the nail lamp from darkening and damaging the skin. The acrylic powder kit can be used with all acrylic liquid monomers on the market. The acrylic powder can be used for french nails, nail carving flowers, 3D nail art, and nail extension.

Long-lasting & Easy to use: Morovan acrylic nail kit is long-lasting, easy to color, has strong adhesion, lasting for 2-3 weeks. The colored polymer nail powder provides a smooth, self-leveling surface effect. The acrylic powder set can be used for acrylic nail art, nail tips, French nail art, DIY, etc.

High quality and suitability: The acrylic nails powder set is a non-bubble polymer. Not easy to crack, easy to use, with Morovan acrylic nail liquid, This acrylic nail powder drying time is 6-12 minutes. It has the best adhesion to the natural nail plate, preventing it from turning yellow or darkening.

Quality Service: We promise to provide quality acrylic powder kits and services to all customers. If there is any problem with these acrylic powder nail sets, please feel free to contact us, we will try our best to help you solve the problem. Please continue to buy and be confident. We provide a replacement or refund service. happy shopping~