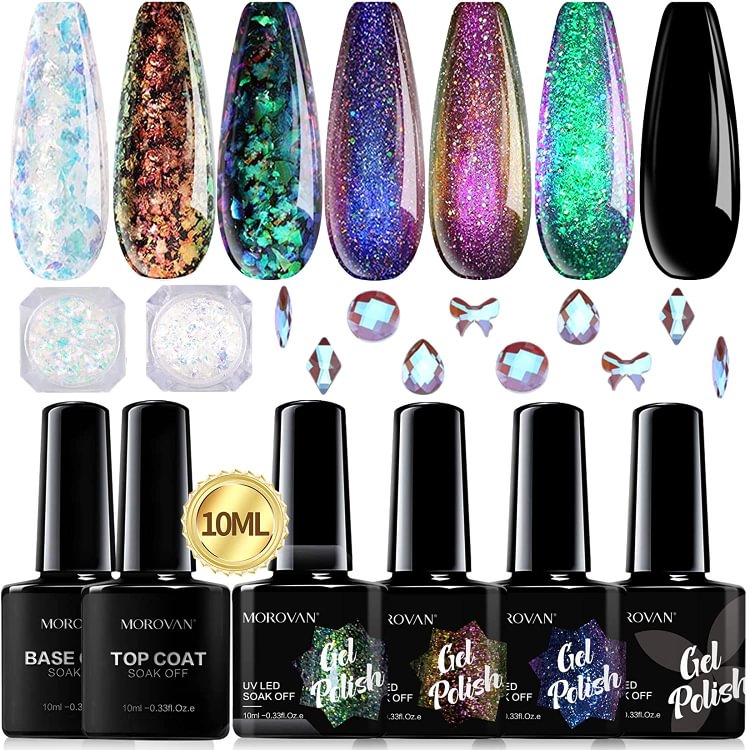 MOROVAN GLITTER GEL NAIL POLISH KIT FOR BEGINNERS. SALON CHOICE.
WHY CHOOSE MOROVAN GLITTER GEL NAIL POLISH KIT?
ALL-IN-1:

comes with everything needed to create a flawless gel manicure.

INGREDIENT:

Natural Resin, Non-Toxic, No Odor, Long Lasting, Self-Evenly, No-Shrink and Edge;

BEST OPTION

for nail beginners startup nail tech professionals and salons; used on both natural nails and false nails.

IDEAL GIFT:

a well-protected exquisite package, ideal for all friends on birthday, Valentine's Day, Thanksgiving Day, Halloween, Christmas...
CHAMELEON CHROME ON BLACK GEL NAIL POLISH
Morovan gel nail polish kit comes with 1 black color of gel polish and 3 colors of chameleon gel nail polish, green/purple/blue colors.
Charming Style: not only with glitter chameleon effect but also rhinestone style!
Tips:
1. Apply the black gel polish first, cure it for 60s, then apply Chameleon gel polish, you'll get an awesome effect!
2. (Optional) Apply the glitter Chameleon Powders on the top of the gel polish, sparkle glitter shimmer effect. !
MOROVAN GLITTER GEL NAIL POLISH KIT - TROUBLESHOOTING GUIDE
1. Preparing nails: file, buff and clean your nails.
2. The thinner, the stronger: a thin layer of Base Coat / Top Coat / Gel Nail Polish is enough. Apply a 2-3 color gel nail polish if needed.
3. Paint the gel nail polish as close to the cuticle and sidewalls as possible without touching the skin, approximately leave a 1 mm gap.
4. Remember to cap/seal the free edge by applying the gel nail polish horizontally at the very edge before curing.
5. Free Margin: remove any excess gel nail polish product that popped out from the sidewalls.