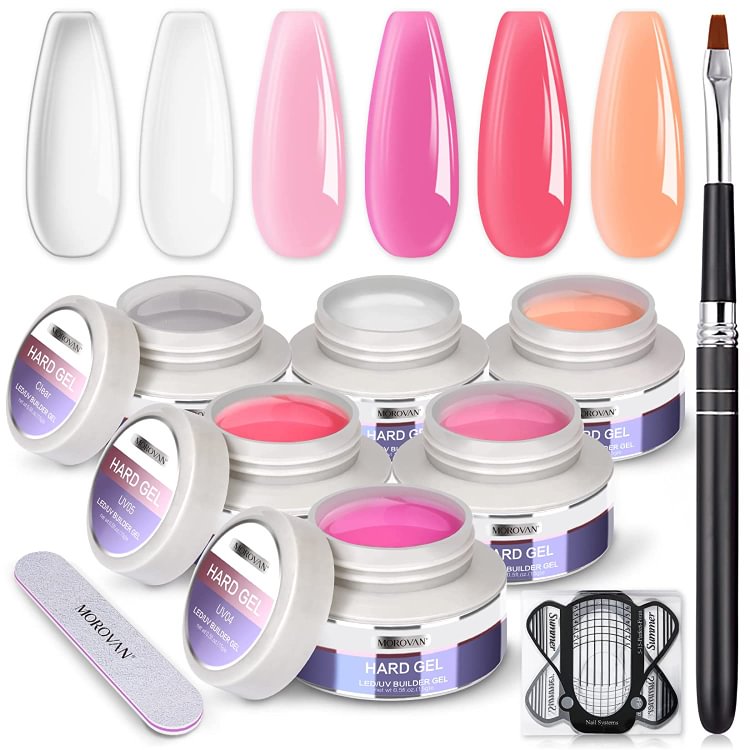 About this item
MOROVAN 6 COLORS BUILDER GEL FOR NAILS KIT - HARD GEL FOR NAILS - FOR GEL NAIL EXTENSION. SALON CHOICE.
Morovan builder gel nail kit features 6 different colors of builder gel for nails,

to create flawless gel overlay for nails, stunning and charming, brightening up your days.

MOROVAN BUILDER GEL FOR NAILS - HARD GEL FOR NAILS



COLORS: 6 colors
CAPACITY: 15g / 0.5fl.oz e
CURING: 120S-180S under UV LED lamp (over 48W)


For Nail Extension, Nail Strengthen, Carving or Sculpting, Rhinestones Stick-up, Butterfly Nails, Strong Overlays, etc.
Repair and Growth Treatment for Ridged Nails, Cracked, Split, Broken, Damaged, Short and Weak Nails
WHY CHOOSE MOROVAN 6 COLORS BUILDER GEL NAIL KIT?



Natural Ingredients: 100% vegan, Cruelty-Free, No Odor, Non-Toxic, thus Safer to Use;
Stunning Features: Bright Colors, Self-Leveling, Medium Viscosity, Long-Lasting up to 21+days;
Occasion: suitable for nail beginners, starters, technicians, salons, nail art school, artists, and personal DIY at home...
6 COLORS HARD BUILDER GEL NAIL KIT - GEL OVERLAY FOR NAILS
Medium Viscosity Builder Gel with Water-Like Clarity

Morovan hard builder gel features a self-thick formula and salon-grade finish,

ideal for tips overlays, nail extensions, and nail sculpting,

easier to make an arch or a C-curve with a spectacular mirror shine.