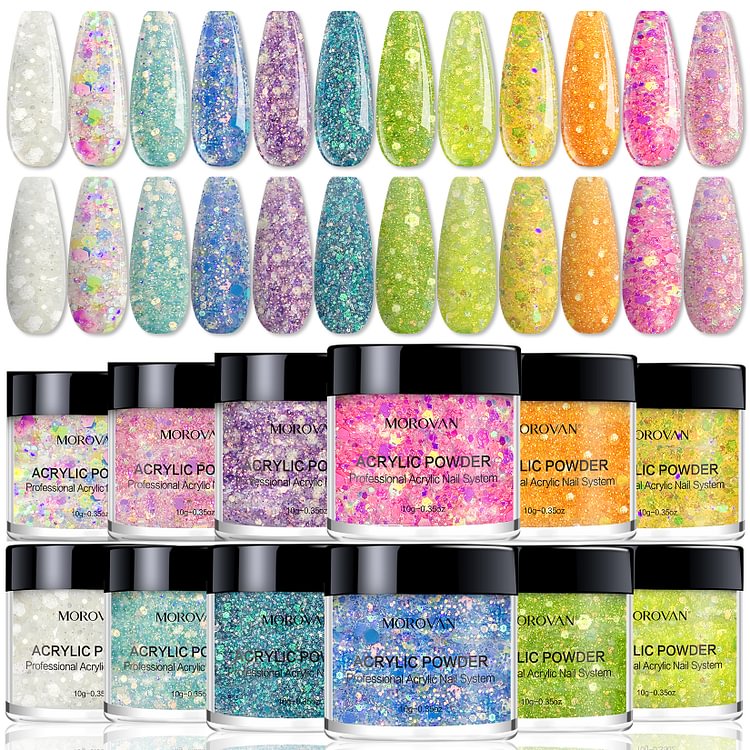 product description
MOROVAN Acrylic Powder Set - 12 Colored Acrylic Nail Powders for beginners in nail art. Salon selection.
Morovan 12 Colors Acrylic Powder Set is perfect for French manicures, acrylic manicures, sculpting, nail extensions, nail decorating.
You can use this multi-color set to mix different colors of acrylic powder to create your own acrylic nail art style. 12 Shades of Acrylic Nail Powder, Amazing Acrylic Nails Amazing Acrylic Nail Art
Acrylic Powder Set: 12 different colors for you to choose, according to your nail art needs
12 Shades of Acrylic Nail Powder: Acrylic powder forms a protective layer and strengthens your natural nails.
Long lasting: Colored polymer nail powders provide a smooth self-leveling finish, and acrylic nail powders have excellent adhesion that lasts 2-3 weeks.
Easy to use: The acrylic powder set does not require nail lamp curing, which can avoid the darkening and damage to the skin caused by the nail lamp, saving your time
Premium Acrylic Powder: Acrylic Nail Powder Set is a foam-free polymer with an advanced anti-yellowing formula that prevents discoloration