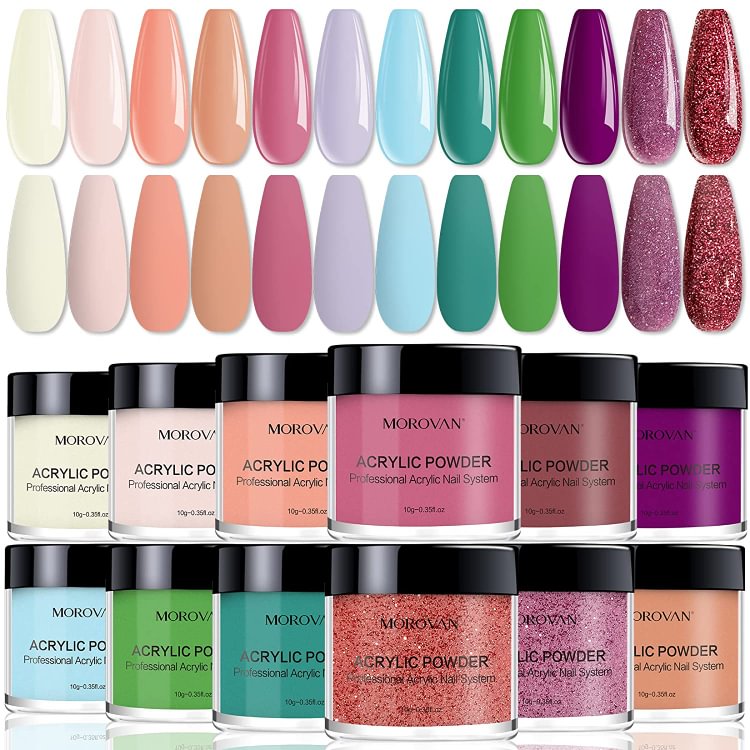 ---
Product Description
Morovan 12 Colors Acrylic Powder Set - Acrylic Powder Professional Polymer
HIGHLIGHTED POINTS:
The acrylic powder can be used on natural nails, false nails, nail tips, acrylic nails. And the acrylic powder can be for acrylic nails, nail extensions, french nails, carved flowers, nail decoration, DIY, etc.
Acrylic powder set: The 12 colors acrylic nail powder set contains pure colors and glitter acrylic powder, suitable for all kinds of the nail art design.
No curing: This acrylic powder nail set can be cured without UV/LED light, which can save the time of nail art and avoid skin darkening and damage caused by long-term lighting.
Long-lasting: The acrylic nail powder has excellent adhesion, and using this acrylic powder according to the correct steps can make your nails last for 2-3 weeks.
High-quality acrylic powder: The acrylic powder nail kit has fine powder quality, natural and healthy ingredients. And this acrylic powder is smooth and easy to apply.
PROFESSIONAL ACRYLIC POWDER SET - TROUBLESHOOTING GUIDE
Q: How long does it take for this acrylic powder to dry?

A: Generally, it can be dried within 5-8 minutes, which is mainly determined by the thickness of the acrylic powder.

Q: How long will this product last on nails?

A: Used properly, The acrylic powder can last for more than two weeks.

Q: Does this acrylic powder need UV/LED light to dry?

A: No nail lamp is needed.Just air dry