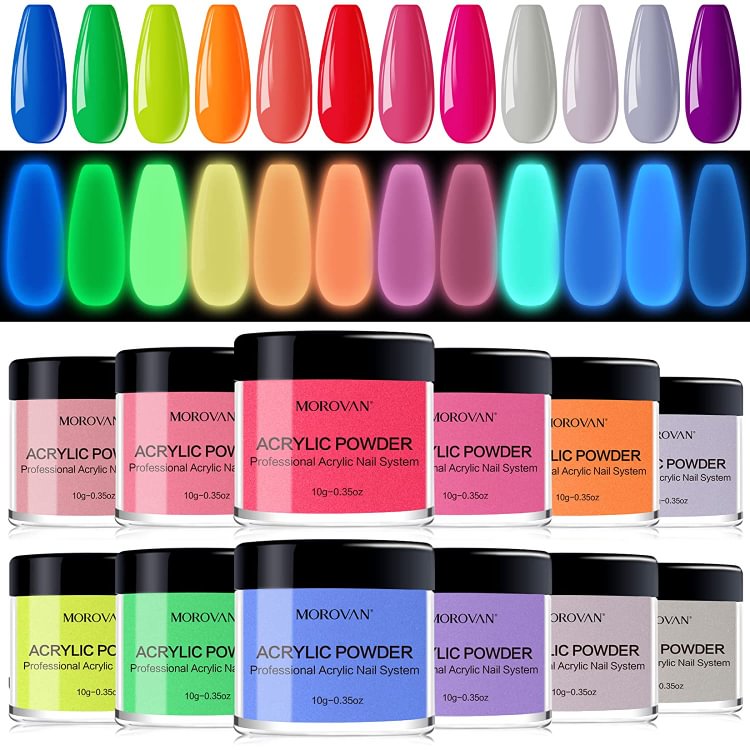 ---
Product Description
MOROVAN 12 COLORS ACRYLIC POWDER SET -GLOW COLLECTION
MOROVAN PROFESSIONAL ACRYLIC POWDER SET - 12 COLORS GLOW IN THE DARK ACRYLIC POWDERS. SALON CHOICE.
Morovan glow-in-the-dark acrylic powder set features 12 luminous colors polymer powder, glow-in-the-dark colored powders, giving spectacular light-up looks on your own nails.
IMPORTANT FEATURES:
Acrylic powders can glow in the dark after exposure to enough sunlight / UV light.

Mixe acrylic powders with monomer acrylic nail liquid to create acrylic nail extension, carving 3D flowers, French nails, and other nail art.

No UV LED lamp curing is needed.

Acrylic powders can be used on natural nails, nail tips, acrylic nails, or other false nails.

Acrylic nail powder is long-lasting for more than 28 days with proper application.
Glow-in-the-Dark Acrylic Manicures to Light Up Your Nails and Life!
Q: Can I apply this with clear nail tips?

A: Yes! The nail acrylic powder set can be used on natural nails, false nails, half cover nail tips.

Q: Should I use a nail lamp?

A: No nail lamp is needed. The drying time is determined by the thickness of the acrylic nails.

Q: How to enhance the luminous effect?

A: Glow in the dark acrylic nails work after absorbing enough UV light. The longer the absorption time, the better the effect.

Q: How long can nail art made with acrylic powder last?

A: It can last for more than 28 days. Make sure to file & clean the nail surface, apply nail prep dehydrator and nail primer before acrylic powder. Apply the top coat when finished.