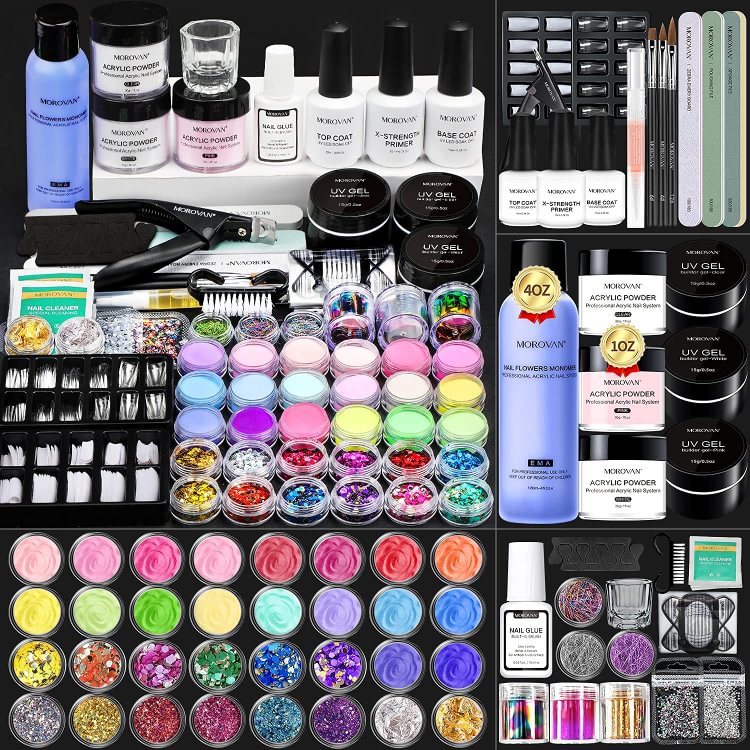 Morovan All-in-one Professional Acrylic Nail Kit with the gift box
Why Choose Morovan Acrylic Nail Kit?---------So Much Magic in Just One Set
IT'S YOUR TIME TO STAND OUT IN THE CROWD AND SPARKLE LIKE A STAR.
Professional Acrylic Powder And Liquid Set - Comes with everything needed to do acrylic nails,perfect for professional salon use or home DIY nail art.

Feature: Non-Yellowing, Self-Leveling, Lift Resistant, Superior Adhesion, Slow Drying and allows for corrections.

Ideal Gift - Morovan nails kit acrylic set comes with an exquisite package and detailed manual, ideal for all friends on birthday, Valentine Day, Thanksgiving Day, Halloween, Christmas...
Warm Tips:
1.Try not to use too much acrylic liquid versus the acrylic powder ratio, as extension nails would be hard to dry.
2.Apply the acrylic bead from the top coat of the nail(near the cuticle) to the tip. Sculpt the bead by pressing the brush flat to your nail and gently spread it out evenly.
3.Morovan is committed to providing our customers with the best service and products. If you have any questions about this acrylic nail kit, please feel free to tell us and we will do our best to help solve the problem.
Professional Nails Kit Acrylic Set with Everything
What's included in this Morovan Acrylic Nail Kit?
1 x Base coat, 1 x Top Coat, 1 x Nail Primer, 3 x UV Gel(clear,pink,white), 3 x Acrylic powder (Clear, Pink, White,15g)
1 x Nail Liquid Monomer(120ml), 3 x Acrylic brush, 18 x Acrylic powder colors, 12 x Glitter Powder/Sequins
3 x Nail Art Transfer Stickers, 3 x Glitter Strip, 2 x Nail Foils, 20 x Nail Cleanser, 20 x Nail Forms
1 x Nail Glue, 2 x Nail Rhinestones, 2 x False Nail Tips(Clear/White), 1 x Nail Cutter, 1 x Nail Sanding File&Spong Set
1 x Nail Dust brush,1 x , 2 x Toe Separators, 1 x Clear glass cup,1 x Cuticle Oil Pen
Acrylic Nail Supplies------Colored Acrylic Powder&Glitter/Hexagon Sequins
18 Colors Acrylic Powder

High pigment concentration for ultra-thin patterns. Easy to control the shape of the sculpture, easy to operate.

A variety of colors to meet a variety of creative needs

Small Hexagon Sequins Mixed with Glitter

Mixed colors of the glitter together with small hexagon sequins,the attractive luster and sparkling fascination, making your nails bling bling and sparkle like a star.

Big Hexagon Sequins

It has shiny sequins as well as beautiful colors, with a little surprise in simplicity, this decoration can unique and reinvent yourself. Sequins elements, which people love deeply, make your nails looks more gorgeous.
Acrylic Nail Supplies------Nail Brush&Nail File/Spong&French Nail Tips
Nail Brush

#4 Acrylic Nail Brush(Sculpting)

#6 Gel Nail Brush(UV Gel)

#12 Acrylic Nail Brush(Extension)

Manicure Nail Tools

Nail Dust Brush

Nail Cleanser Pad

Nail Separator

Nail File & Spong Set

Cuticle Oil Pen

French Nail Tips

Half Cover French Nail Tips(Clear/White)

Nail Glue
Morovan Professional Acrylic Nail Kit-------Your Nails,Your Way!