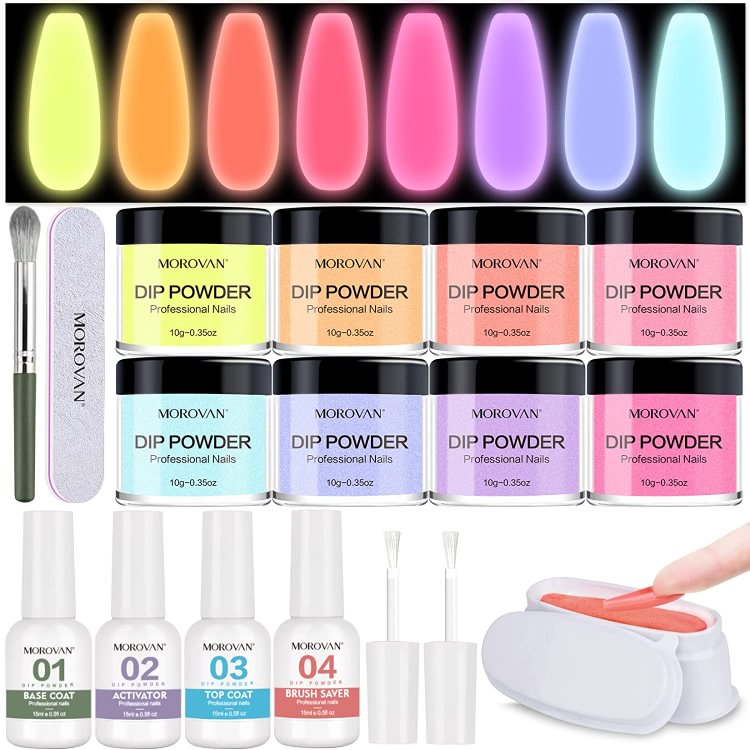 ---
Product Description
MOROVAN 8 COLORS GLOW IN THE DARK DIP POWDER NAIL KIT FOR STARTER - DIP POWDER LIQUID SET. SALON CHOICE.
Morovan dip powder nail kit features 8 colors glow dip powders, daily color collection for any outfit on any occasions, brighten up your special days!
WHY CHOOSE MOROVAN 8 COLORS DIP POWDER NAIL KIT?
8 Colors Dip Powder Nail Kit:

solid colors dip powder + glitter colors dip powder, stunning and gorgeous;

Features of Dip Powders:

Vivid Colors,

Non-Yellowing, Strong Adhesion, Quick Dry, Long-Lasting for up to 4 weeks;

No Curing Need:

No need for a nail lamp; just let dip powders air dry for 5 mins around;

High-Quality Dip Powder:

Made of high-quality natural formulas, fine powder and vivid colors, bringing you an elegant image and temperament.

Wide application:

For natural nails, false nails, nail tips, acrylic nails, etc.

8 COLORS DIP POWDERS FOR YOUR NAILS TO CREATE PRETTY DIP NAILS

MOROVAN 8 COLORS GLOW IN THE DARK DIP POWDER NAIL KIT - QUALITY NAIL DIP POWDER PROFESSIONAL PLOYMER
WHAT CAN YOU GET IN THIS DIP POWDER NAIL KIT:
8 Colors Glow in the Dark Dip Powder 10g/0.35oz;

Dip Powder Liquid Set: Base Coat, Activator, Top Coat, Brush Saver

2 Replacement Brushes

Dip Powder Recycling Tray

Dust Brush

Nail File
For external use only. For any Missing, Leaking, Empty or Damaged, please email Morovan Customer Services.
Dip Powder Base Coat

With an optimal viscosity, ensures a fast drying time as well as proper absorption and good connection of the Dip Powder to avoid unnecessary bumps and blemishes for minimal buffing.

Dip Powder Activator

Activates the dipping powder to harden it, speeding up the drying process to allow dip powder to set quickly. To be used before Top Coat to make the top shiny.

Dip Powder Top Coat

Secures everything together, delivers glass-like shine, and protects nails from the sun's harmful UV rays, preventing from chipping, scratching, or cracking.

Dip Powder Brush Saver

cleans and dissolves any dip powder residue that may harden bristles, ensuring a healthy re-usage of your brushes for easy work ability.
AN IDEAL CHOICE FOR PROFESSIONAL MANICURISTS AND NAIL STARTERS.DIY YOU OWN NAIL ART STYLE!