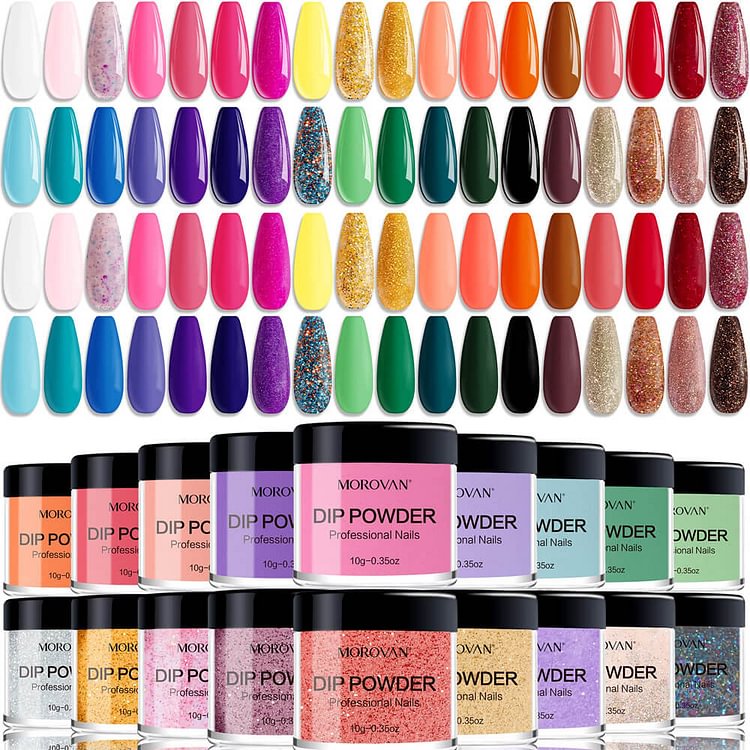 Product Description
MOROVAN 36 COLORS DIP POWDER NAIL KIT - QUALITY NAIL DIP POWDER PROFESSIONAL PLOYMER
Our Dip Powder can be used on natural nails, false nails, nail tips, and so on. The powder dip colors nail kit can creates dreamy,
perfect and long-lasting nails design.You can use this multi-color suit to mix different colors of nail dip powder to create your own style.
HIGHLIGHTED POINTS:
❤ 36 Colors Dip Powder Nail Kit: 36 different colors contain 24 pure color and 12 glitter nail dip powder.
You can combine them freely for your nail art needs.
❤ Dip Powder's Features: The dipping powder made of healthy formula, non-yellowing, strong adhesion, bright in color and does not fade.
Compared with ordinary dip powder, this quick-dry dipping nail powder is lighter, more natural, more wear-resistant.
❤ No Nail Lamp Need: This dip powder nail kit starter is easy to use and it can be cured without UV/LED light,
which can save the time of nail art and would not damage your nail bed and hands.
❤ Long Lasting Dip Powder Effect: Morovan nail boo dipping powder kit has excellent adhesion. If proper application,
it can keep the nail art shiny for over 21-30 days.Just use a few minutes to dip into the powder, you will get your amazing dip powder art nail.
❤ Exquisite Gift Box: 36 color quick dipping powder kit, rich in colors, which is an ideal gift for girlfriends,
mothers and friends on anniversary, Christmas, birthday, Valentine's Day, Mother's Day.
PROFESSIONAL DIP POWDER SET - TROUBLESHOOTING GUIDE
Q: How long will this dip nail kit last on nails?
A: Used properly, The dip powder can last for more than three weeks.
Q: Does this 36 colors quick drying dipping powder set need UV/LED light to dry?
A: No nail lamp is needed.Just air dry, which can save nail time and avoid skin darkening and damage caused by long-term light.
Q:How is the airtightness of this dip powder set?
A:This nail dip powder is very tightly sealed, and the packaging is very beautiful. Generally, there is no phenomenon of powder leakage.