Unveiling Wedding Nail Designs for Your Big Day
Aug 25, 2023 by MOROVAN
In a romantic wedding, every detail matters, including the exquisite world of Wedding Nail Designs. As a part of the overall look, nails play an essential role in expressing your style. Whether you're a bride-to-be stepping into marital bliss or looking to add a touch of elegance to a friend's wedding, these 12 stunning wedding nail designs will provide you with endless inspiration.
1. Classic Styles Wedding Nail Designs: Timeless classics like French manicures, with their clean white tips and soft pink bases, bring a touch of traditional elegance that is perfect for any wedding theme.
Among the captivating Wedding Nail Designs, the timeless French manicure stands out as a symbol of classic elegance.
2. Floral Elements Wedding Nail Designs: Incorporating delicate floral patterns into your nail design can evoke the romantic essence of a garden in full bloom, lending a whimsical charm to your fingertips.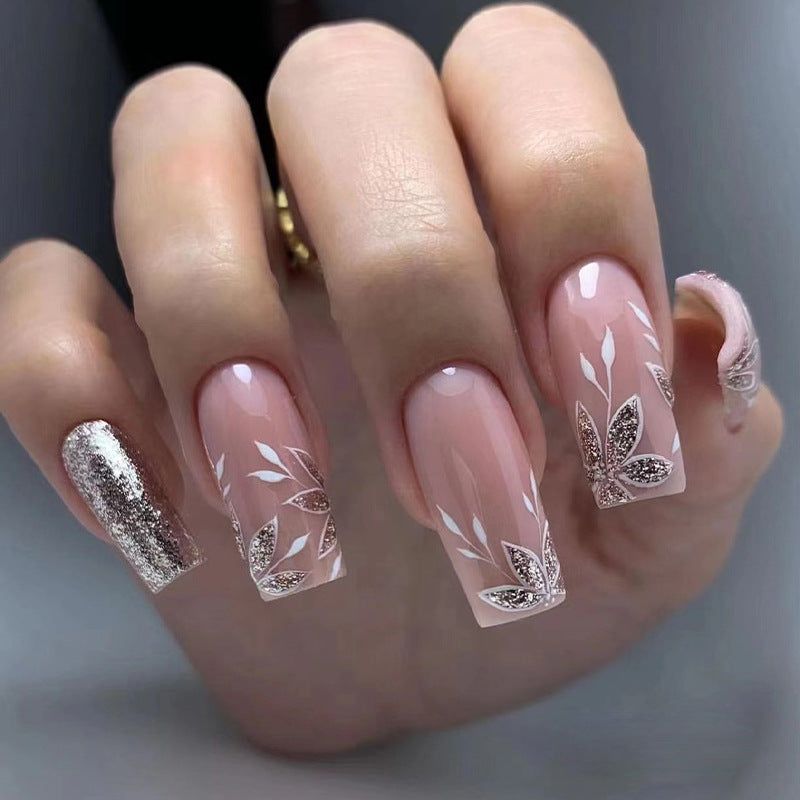 3. Pearl Embellishments Wedding Nail Designs: Embrace opulence with pearl embellishments, Whether you opt for actual pearls or nail polish with a pearly finish, your nails will exude sophistication and luxury.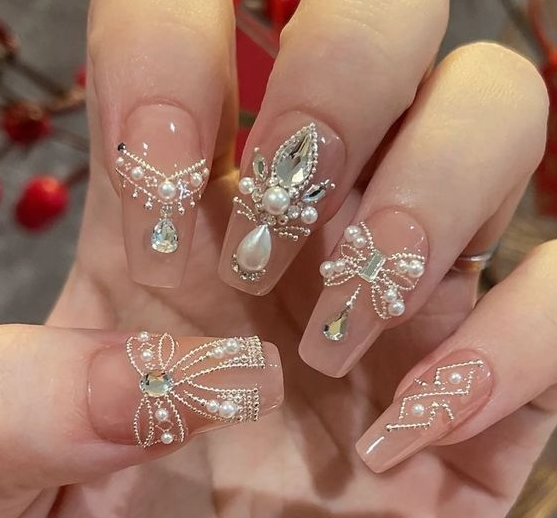 4. Metallic Accents: Adding a dash of metallic nail polish, be it gold, silver, or rose gold, will infuse your nails with a contemporary flair, capturing the light and attention.
5. Creative Personalization: Unleash your inner creativity by personalizing your nail art. From subtle symbols of sentiment to bold depictions of favorite motifs, your nails can tell your unique story.
6. Glitter and Sparkle Wedding Nail Designs: Elevate your nails with a touch of glitter and sparkle, like stars scattered across the night sky, adding a magical touch to your wedding ensemble.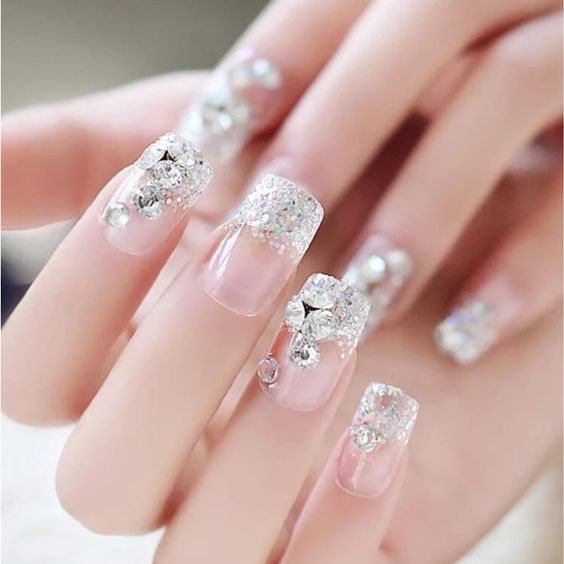 7. Lace Wedding Nail Designs: Incorporating lace patterns into your nail design brings an air of delicate femininity, much like the intricate lacework found in a wedding dress.
8. Short Wedding Nail Designs: Even with shorter nails, you can achieve elegance. Simple designs in muted tones accentuate the beauty of your nails without overpowering them.
9. Long Wedding Nail Designs: Flaunt the canvas of your long nails by embracing intricate nail art. Consider gemstones, detailed patterns, and playful designs that captivate attention.
10. Natural Elegance Wedding Nail Designs: Embrace a natural aesthetic with soft colors and minimalist patterns, allowing your nails to radiate a gentle beauty that complements the wedding's ambiance.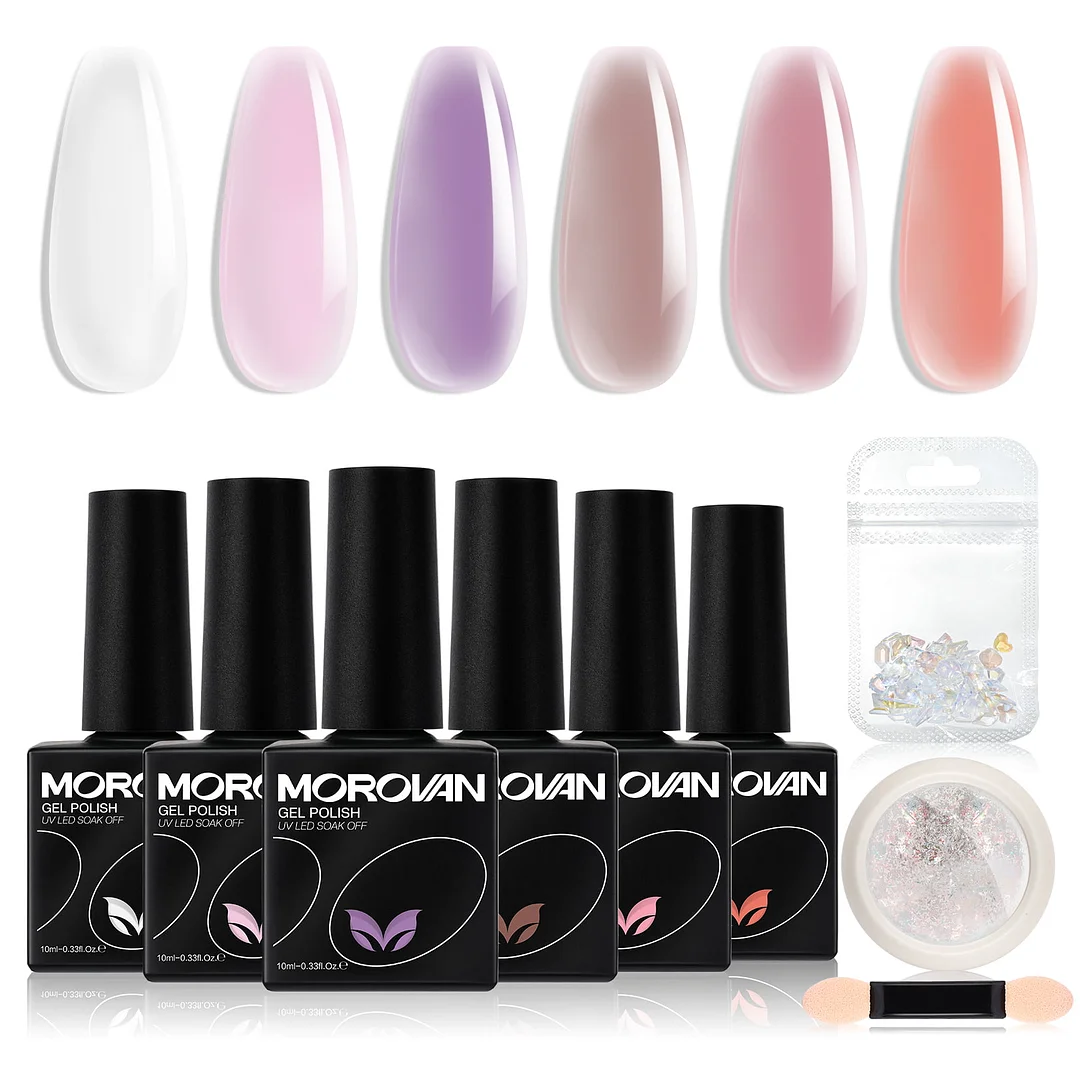 Within the realm of Wedding Nail Designs, the choice of nail polish becomes an artistic expression, reflecting the bride's individual style and the wedding's theme.

A wedding marks a significant life chapter, and your nails are a canvas for self-expression during this unforgettable journey. Regardless of your style preference, these 10 Wedding Nail Designs offer a diverse array of choices, enabling you to leave an indelible mark on your big day. So, as you step into the spotlight, may your nails shimmer with your personal flair and the promise of new beginnings.
Latest Posts
Featured product