Summer glitter nails design for 2023
Apr 21, 2023 by MOROVAN
Summer is a season full of vitality and color, and we can try various styles and colors on our nails. Among them, shiny nail styles have always been popular. Summer glitter nails designs are a popular nail style that features shiny glitter, adding a touch of dazzling color to the hot summer.
Summer glitter nails design is very diverse and can be designed according to different themes and occasions. For example, you can display summer fruits, oceans, flowers, sun, and other elements on your nails, or create unique patterns and images through different colors, shapes, and arrangements. In addition, different combinations of base colors and glitter colors can present different effects and styles, such as fresh and elegant, stunning and eye-catching, romantic and warm, etc.
How to make a Summer glitter nails design by using poly gel?
The main feature of summer glitter nails design is the use of glitter. Glitter can form different shapes, sizes, and colors on nails, creating a fresh, warm, and vibrant atmosphere of summer. In addition, glitter can be combined with other elements, such as rainbows, stars, oceans, water droplets, etc., making summer glitter nails more vivid and interesting.
Here are some recommended Summer glitter nails designs:
1.Summer glitter nails design: Clear Green Glitter Nails
This Summer glitter nails design uses a clear base color and green glitter, which is fresh, vibrant, and dazzling, making it perfect for the hot summer weather~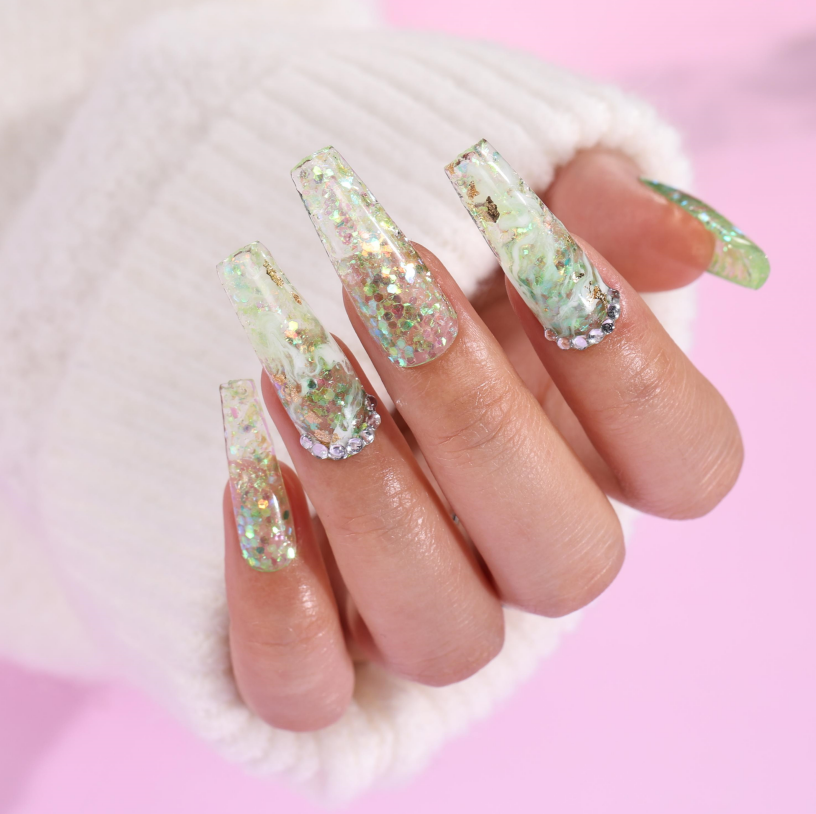 This Summer glitter nails design is very fashionable.
2.Summer glitter nails design:Light Blue Glitter Floral Nails
This Summer glitter nails design features a light blue and white color scheme, with sparkling glitter and rhinestones embellished on top. The design also includes white acrylic powder formed into the shape of flowers and petals as decorations. The overall look is cool and refreshing, perfect for summer.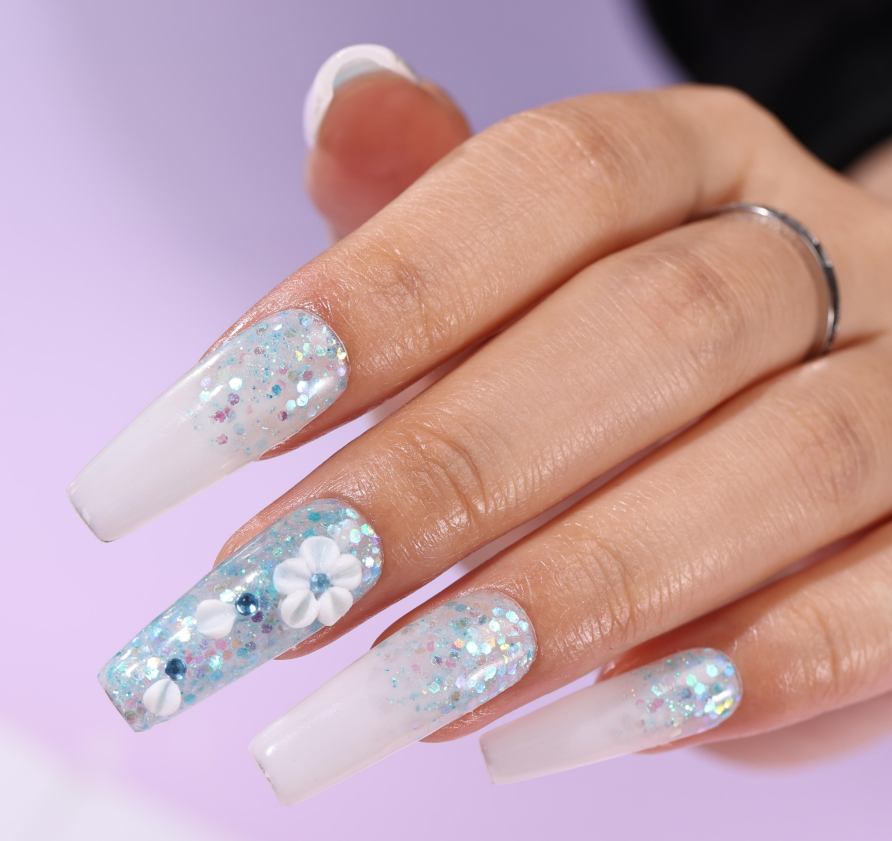 Recommend this pretty Summer glitter nails design for you!
3.Summer glitter nails design: Gentle Purple Glitter Nails
This Summer glitter nails design features a gentle purple tone with rich layering and sparkling glitter, making it dazzling and eye-catching. It exudes a gentle, elegant and graceful temperament, perfect for showcasing a woman's elegance and confidence in summer occasions.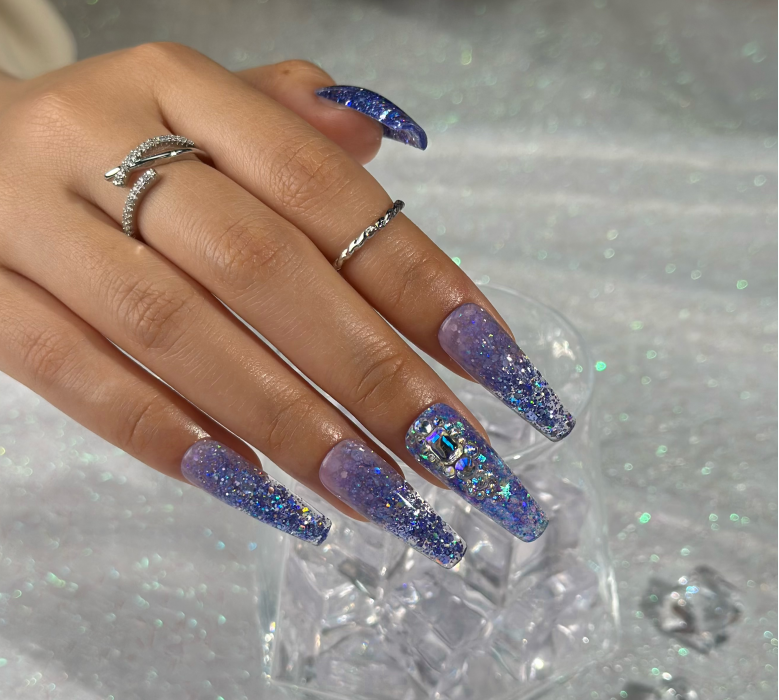 This Summer glitter nails design is so cute!
Summer glitter nails design is charming because they can enhance a woman's personality and temperament. Glitter itself is a shiny and dazzling element that evokes a bright and glamorous image, so summer glitter nails design can make a woman's fingertips more eye-catching and charming. At the same time, the diversity of styles in summer glitter nails design allows people to showcase their unique personalities and styles through design and matching, adding confidence and charm.
Summer glitter nails design is a creative and personalized nail art style with diverse styles, prominent features, and endless charm. This summer, why not take a sparkling journey on your fingertips and try a summer glitter nails design to showcase your unique summer style.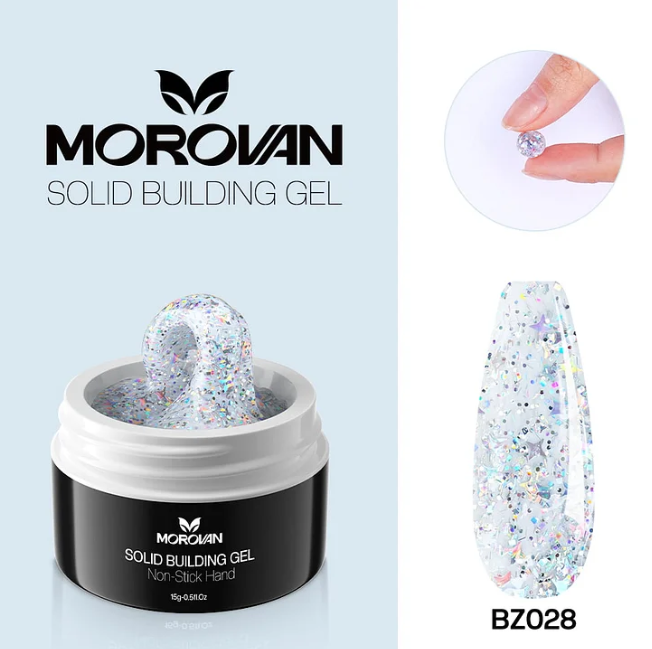 Summer glitter nails design product recommendation
Latest Posts
Featured product