Summer Baby Blue Nail Designs in 2023
May 10, 2023 by MOROVAN
Baby blue is a light blue shade that exudes a soft and delicate feeling. When it comes to baby blue nails designs, they are often paired with fresh and elegant patterns or decorations to enhance its gentle nature. Floral designs, shimmering accents, and rhinestones are commonly chosen to complement the baby blue color and highlight its softness. Since the tone of baby blue is well-suited for the summer season, baby blue nails are often combined with elements associated with vacations and sunny days, such as waves, suns, seagulls, and more. This style of manicure evokes thoughts of beaches and oceans, creating a sense of relaxation and joy.
How to make a glitter blue nail design by using the poly nail gel?
The following are recommended baby blue nail designs for the year 2023:
1.Baby blue nail design: Glittery baby blue nail
Adding glitter elements to baby blue nails can make them more elegant and luxurious. You can use silver or gold rhinestones to embellish the nails. Additionally, you can also mix and match baby blue with other colors such as purple, gold, and more to create a varied and layered look for the entire baby blue nail design.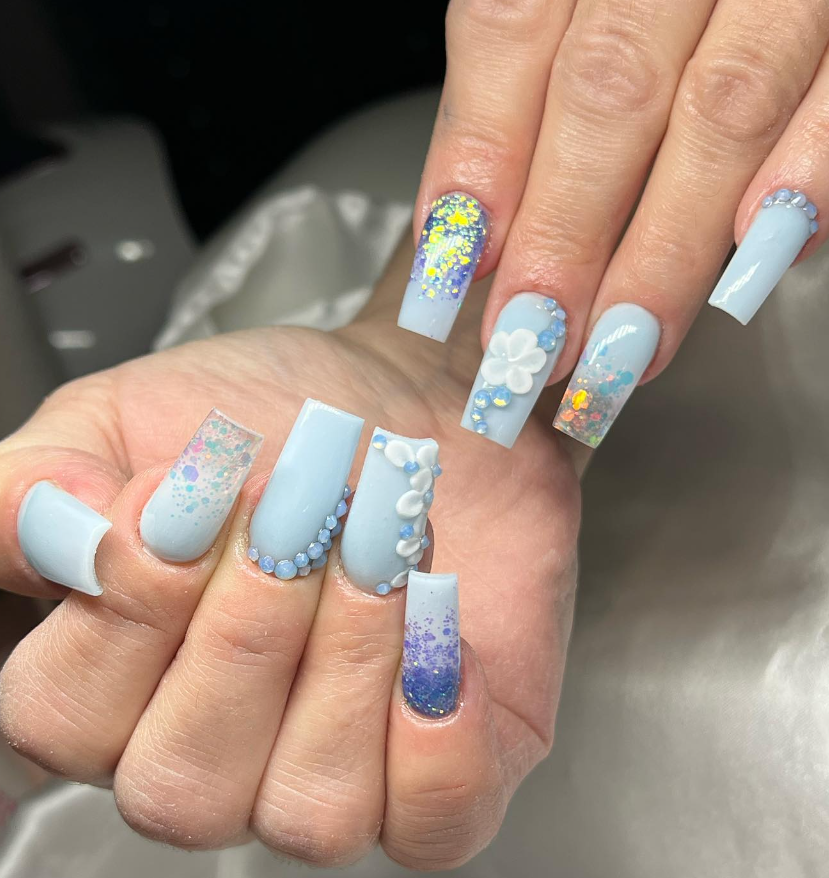 This baby blue nail design is so pretty!
@ruthys.nails/Instagram
2.Baby blue nail design:French baby blue manicure
This baby blue nail design divides the nails into two parts. The upper half is painted with baby blue to create a French tip style, and purple lines are used to outline the design. The lower half is done in a nude shade to accentuate the graceful curve of the nails, adding to the overall aesthetic appeal of the manicure.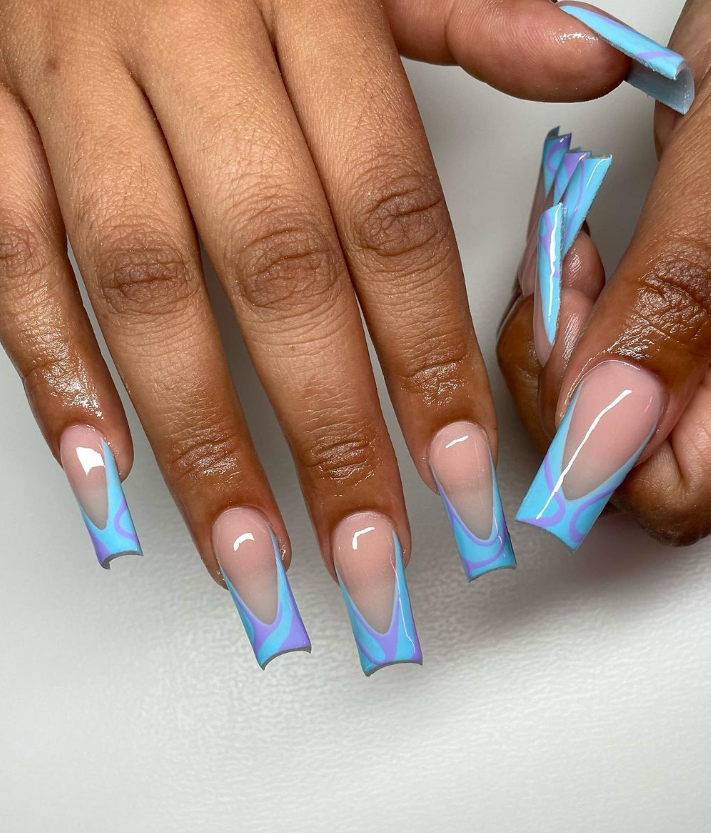 Beautiful baby blue nail design for you~
@beautybyzayraa/Instagram
3.Baby blue nail design: Rose flower baby blue manicure
Baby blue shade is perfect for floral patterns. Start by using baby blue as the base color on the nails, then use white to outline the shape of the flowers. Fill in the petals with different colors to create a vibrant look. If you want to add dimension to the flowers, you can add shading effects to the petals. By adorning the entire finger with flowers, it not only adds richness to the color palette but also gives the nails a three-dimensional and textured appearance.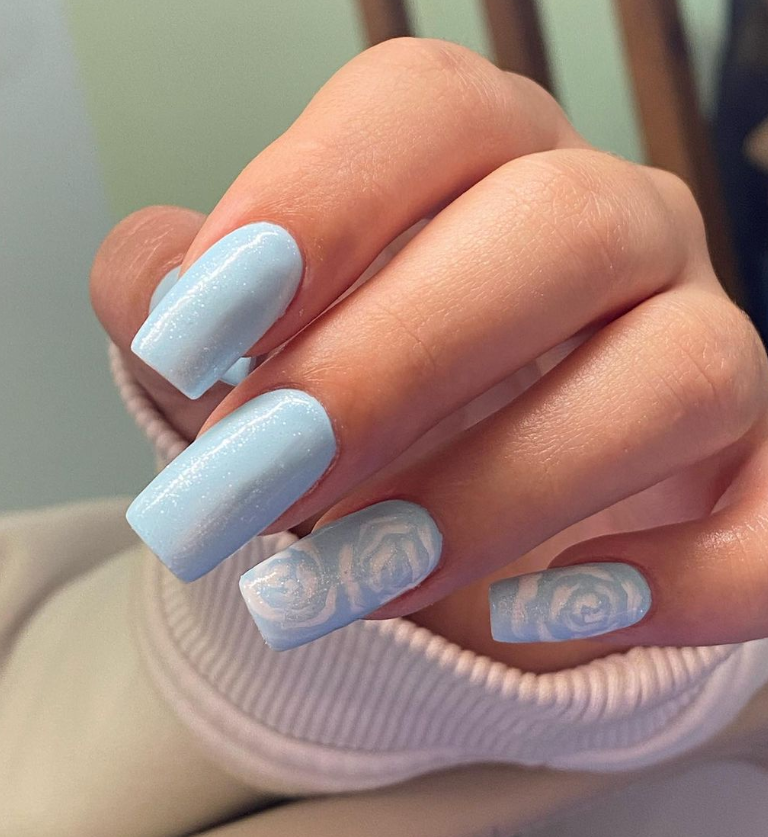 Come and try this baby blue nail design!
@theklas_nails/Instagram
Baby blue manicures often incorporate various decorative elements to enhance their richness and personalized touch. Elements such as rhinestones, glitter, stickers, and patterns are commonly used to make the overall manicure more lively and interesting. The choice of these decorative elements often depends on personal preferences and the occasion, allowing for customization according to individual needs.
Due to the soft and fresh characteristics of baby blue manicures, they can harmonize well with different styles. Whether it's cute, vintage, trendy, or minimalistic, various decorative elements and designs can be utilized to achieve the desired style. This versatility allows baby blue manicures to be widely embraced in different occasions and styles.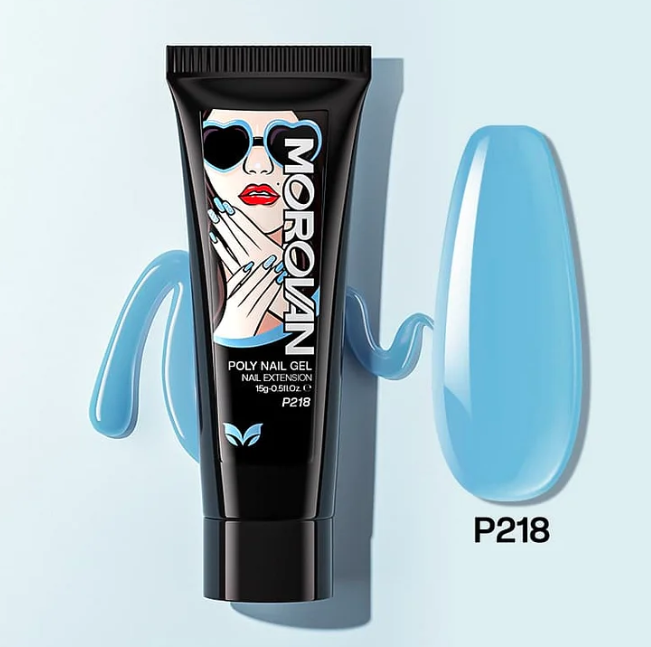 Baby blue nail design product recommendation
Latest Posts
Featured product