Get Trendy with Gorgeous Short White Nail Designs
Aug 26, 2023 by MOROVAN
Tired of grappling with long nails that always seem to be in the way? Or maybe you're a dedicated fan of short nails but are on the hunt for fresh and stylish designs. No matter where you stand, you've landed in the right spot. Today, we're unveiling 8 of the most stunning short white nail designs that are bound to captivate your imagination. These designs are not only easy to sport and effortlessly stylish, but they also cater to a wide range of tastes. From simple elegance to daring nail art with a splash of color, you're in for a treat. So, let's dive in and discover the beauty of short white nail designs!
1. Embrace Elegance with Simple Short White Nail Designs
Let's kick things off with a true classic – the simple short white nail designs. Short, natural nails take center stage, adorned with a layer of vibrant white polish. This timeless look is not only easy to carry but is also universally flattering. You can either recreate this exact style or opt for a slightly longer nail length. Perfect for the carefree vibes of summer, this manicure is bound to become your warm-weather go-to.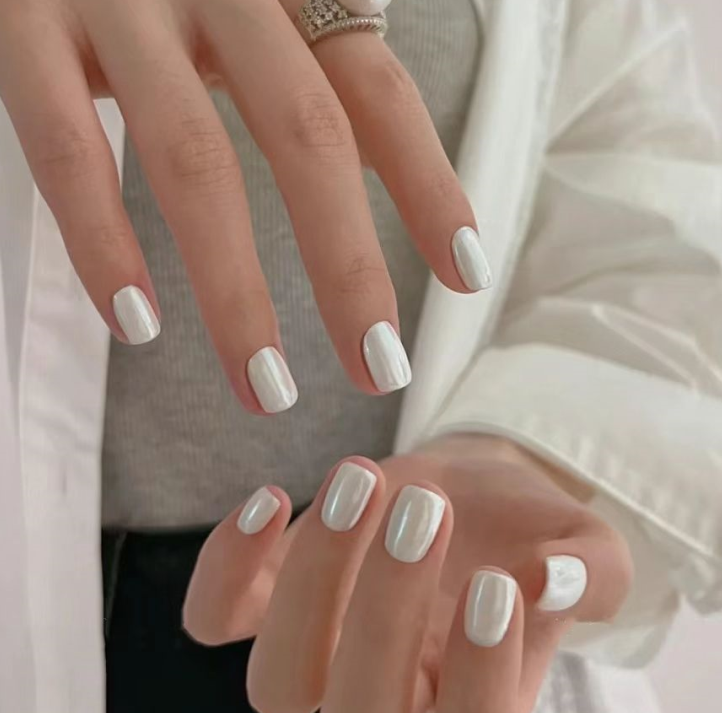 Timeless Short White Nail Designs That Never Go Out of Style
2. Making a Statement with Nude and White Nail Designs
Prepare to be dazzled by a design that effortlessly grabs attention. On one hand, you'll find a collection of short white nail designs, while the other hand flaunts the elegance of botanical white art set against a backdrop of nude nails. This striking contrast is both daring and sophisticated, offering a chic look that's versatile and easy to flaunt. Feel free to reverse the roles, opting for short white nail designs on both hands with the nude shade making a guest appearance as an accent.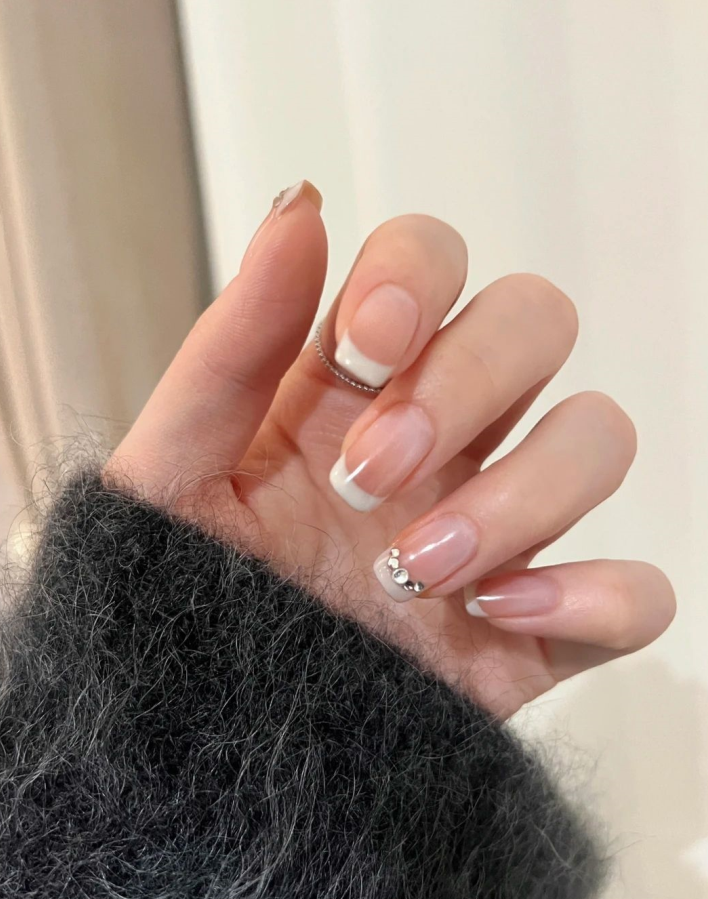 3. Whimsical White and Gold Glitter
Elevate your nail game with a touch of glamour! Most nails flaunt the purity of white, while two nails take a different route. One nail is embellished with captivating gold art, while its partner boasts a mesmerizing gradient of gold glitter. This stunning fusion of white and gold creates a luxurious combination that's ideal for any occasion.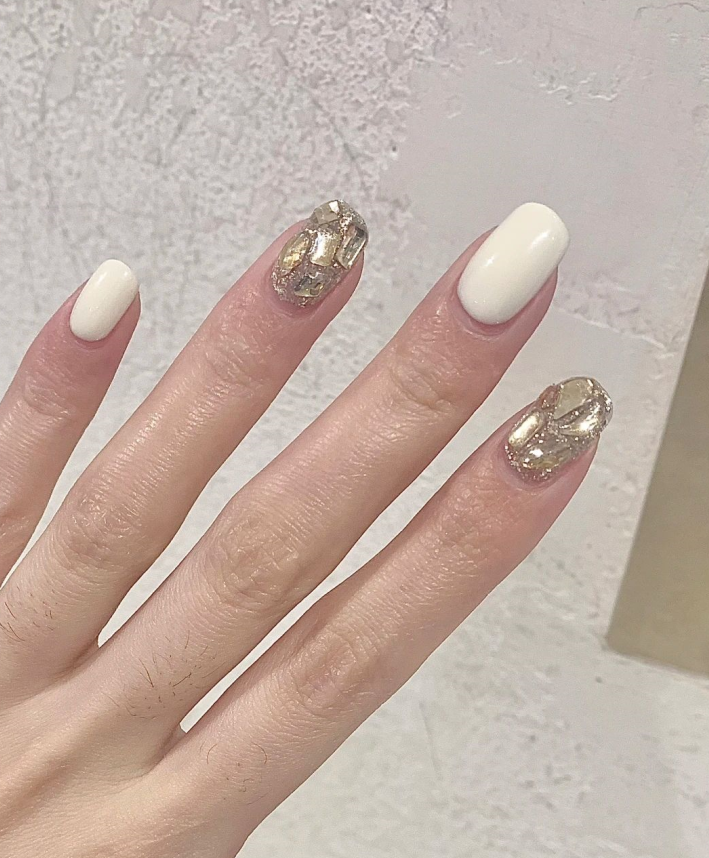 4. Effortlessly Trendy with White Stripes
If you're a fan of trendy and chic nail art, look no further. Picture nails alternating between pure white and sleek silver stripes. The white perfectly complements the silver, resulting in an undeniably gorgeous nail design. To achieve those pristine silver stripes, consider using silver nail tape – simply cut, apply, and seal with a top coat for a flawless finish.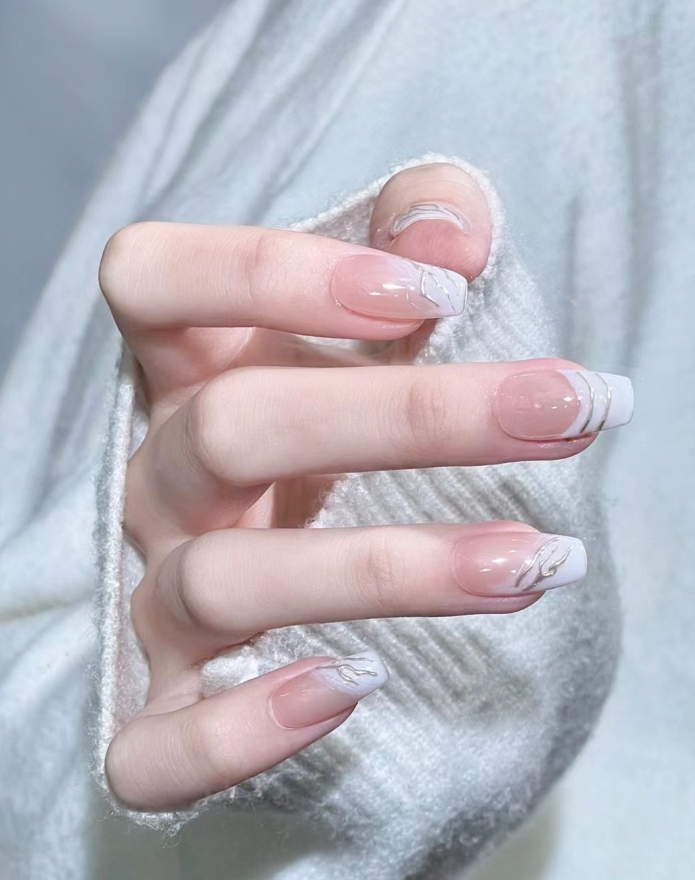 5. Blossoming Beauty with Floral Accents
Floral nail art continues to make waves, and it's easy to see why with designs like these. Imagine short white nail designs adorned with delicate accent designs. The accent nails are graced with elegant flowers paired with bold black stripes. The contrast between the delicate floral elements and the trendy stripes creates a captivating aesthetic. Feel free to either hand-paint the flowers or opt for the convenience of nail stickers.

6. Ombre Allure in Pink and White
If you're torn between the allure of short white nail designs and the vibrancy of bold colors, why not embrace both? Create an ombre masterpiece by blending pink and white shades. Begin with a bold pink hue at the nail base, gradually transitioning to a crisp white tone at the tips. If you're unsure about the technique, online tutorials can guide you. Don't hesitate to experiment with various vibrant colors paired with white for a custom look.

From elegance to playfulness, these short white nail designs offer a spectrum of possibilities. Whether you're drawn to timeless classics or you're ready to experiment with bold and vibrant styles, these designs are here to inspire. Embark on a nail art journey that's uniquely yours, and let your nails reflect your personal style with these captivating short white nail designs.
Latest Posts
Featured product