Short Press On Nails Ideas in 2023
May 11, 2023 by MOROVAN
Short press on nails, also known as "nail stickers" or "fake nails," are beauty tools that can quickly change the appearance of nails. The installation process of short press on nails is simple and convenient, requiring no professional skills, and can be easily done at home. They are usually applied using adhesives or adhesive patches, allowing them to be easily attached to natural nails, saving time and cost of going to a nail salon.
How to use the nail tips or press on nails?
There is a wide variety of styles and designs available for short press on nails, allowing individuals to choose different styles based on personal preferences and occasions. These include different colors, patterns, and decorations. Whether it's a simple solid color design or an extravagant pattern with jewel embellishments, they can cater to personal preferences and style requirements.
Short press on nails are interchangeable. If a nail piece is damaged or no longer needed, it can be easily replaced with a new style. This flexibility makes short press on nails highly versatile, allowing adjustments to be made according to different occasions and moods.
1.Short press on nail:Pink rhinestone French manicure
This short press on nail features a pink base color with a mint green French tip design. Each nail piece is adorned with a large rhinestone, creating a luxurious, sophisticated, and charming look.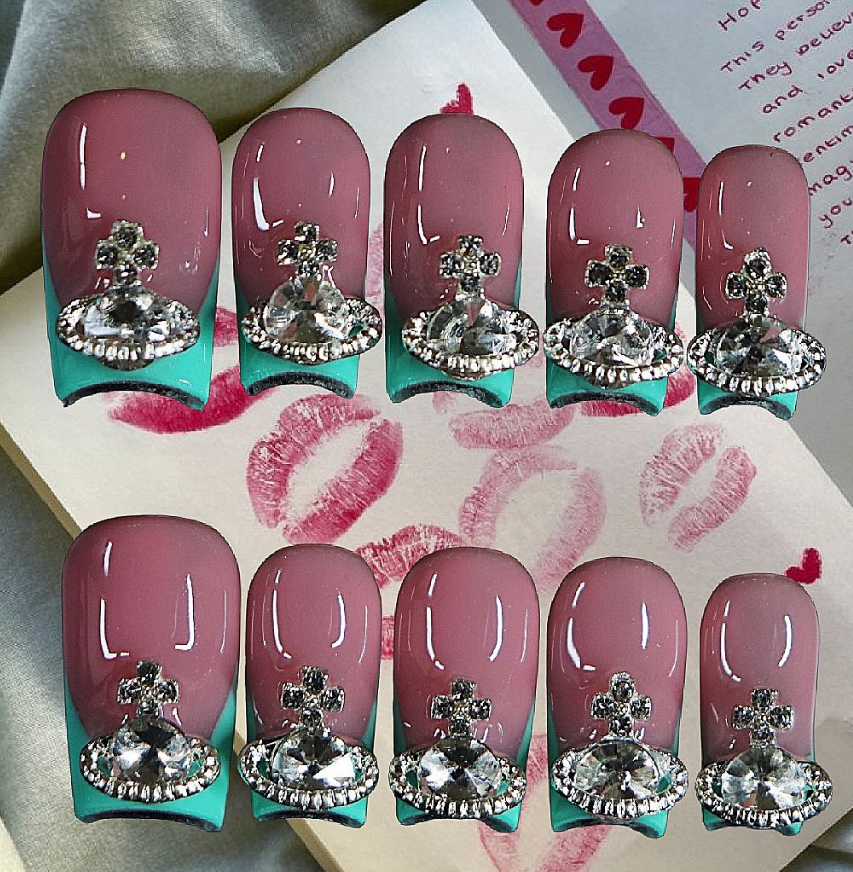 This short press on nail is so pretty!
@shawtylowenails/ Instagram
2.Short press on nail:Creative patterned nail art
This short press on nail art features earthy tones, exuding a unique personality and a sense of creativity and fashion. Different patterns are outlined on the nails, satisfying various style preferences, such as marble textures, gradient colors, and more.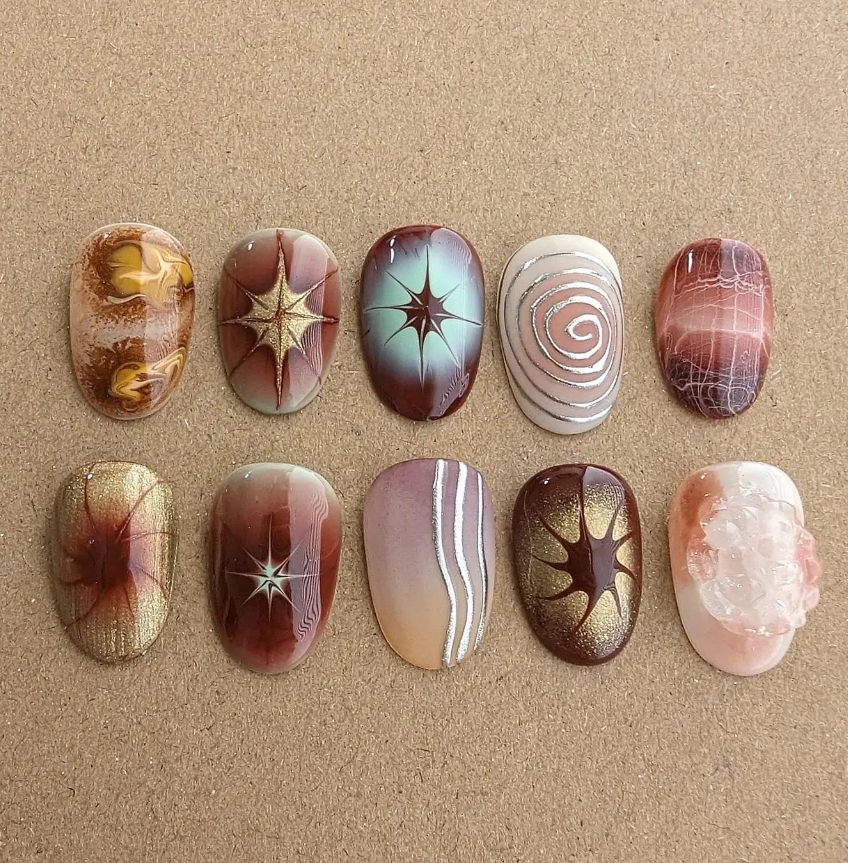 Stylish short press on nail for you!
@astro_nail_tips/ Instagram
3.Short press on nail:Cute light-colored manicure
This short press on nail uses light colors such as white and light green. Golden glitter is delicately applied to create a 3D effect resembling flowers, bringing a sense of spring and summer. It is adorable and petite, perfect for capturing the essence of the seasons!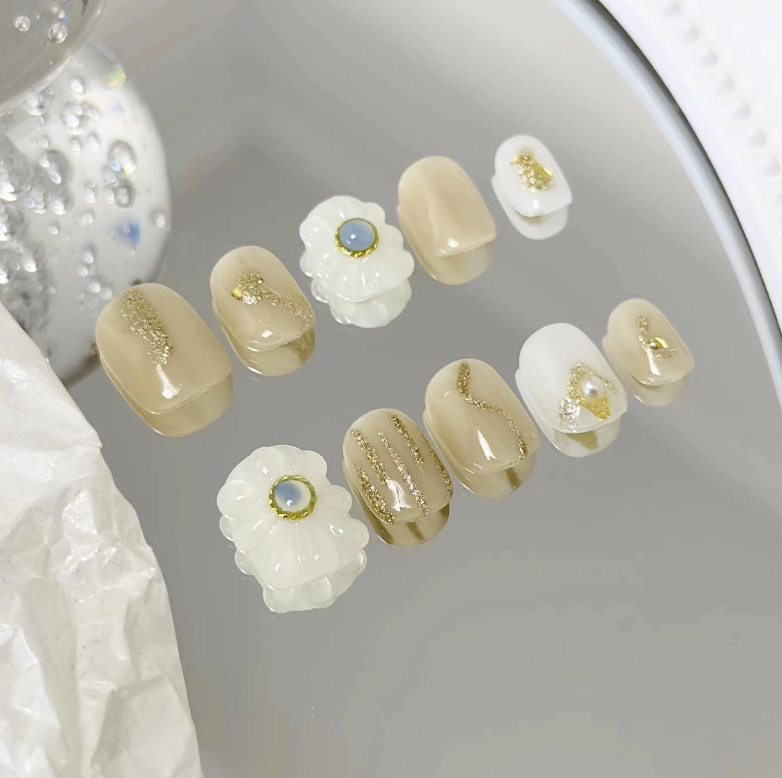 Come and try this short press on nail!
@enzukki/ Instagram
In addition, short press on nails provide an extra layer of protection, keeping natural nails shielded from the wear and tear of the external environment and daily activities. They can help prevent nail breakage, chipping, and deterioration while maintaining nail health and strength. Short press on nails offer the advantage of customization, allowing for trimming, painting, and decorating according to personal preferences. You can adjust the length, shape, and width of the nail pieces and apply your favorite nail polish colors or add personalized decorations, achieving a unique nail art effect.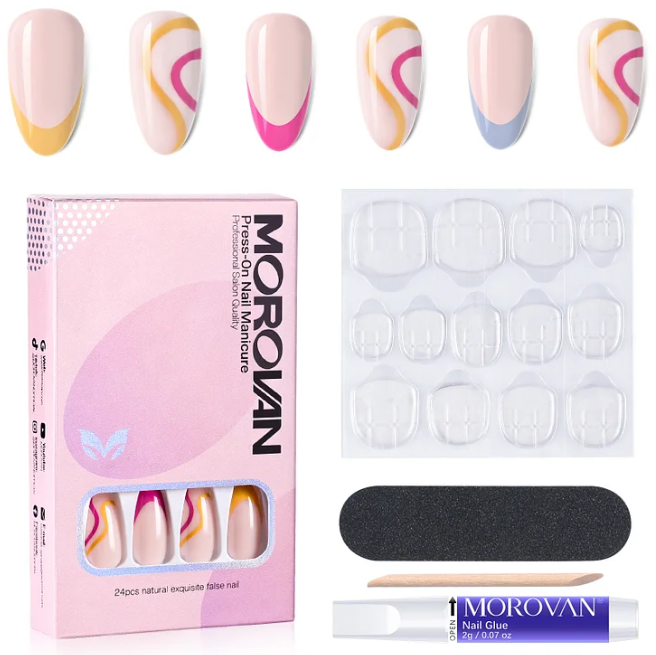 Short press on nail product recommendation
Latest Posts
Featured product