Shiny blue nails in summer Shiny blue nails desgin steps
Apr 04, 2023 by MOROVAN
Add a touch of sparkle to your summer manicure with rhinestones! This type of nail art is a special nail style that combines transparent materials with nail art. It uses transparent glue, crystal texture stickers, and sparkling rhinestones to create a shiny and transparent effect. A light pink or transparent base color, paired with rhinestones, creates a fresh and elegant feeling and a sense of luxury. Crystal patches choose a bright blue and purple color to highlight the clarity and flavor of summer~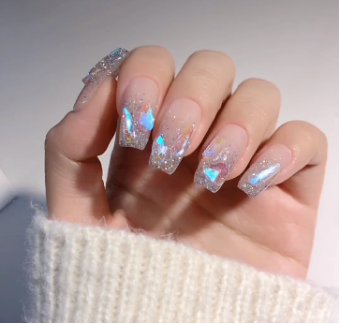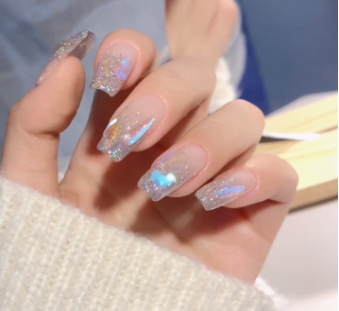 This rhinestone manicure is very popular in the summer, especially for evening events and weddings, where it can add glamour to your fingers and make you feel confident and beautiful.

Shiny blue nails design steps:
Cleaning and polishing: First, clean the nails to ensure a smooth and flawless surface. Use Morovan's nail file to polish the surface for better adhesion of the crystal texture sticker.
Applying base color: Apply a coat of transparent or light blue nail polish gel on the nails and dry it with a UV nail lamp.
Sticking the texture sticker: Stick the crystal texture sticker on the nail to create a crystal effect. Different sticker patterns can be used to create unique effects.
Decorating with rhinestones: Add rhinestones on the surface of the transparent gel to create a sparkling crystal effect. Different rhinestone patterns and sizes can be selected according to personal preferences and occasions.
Applying transparent top coat: Cover the entire nail surface with Morovan's transparent top coat to secure the sticker onto the nail. During the process of applying the top coat, ensure the gel is evenly applied.
It is important to ensure that each step in making the crystal nails is completely dry before proceeding to the next step. Additionally, when applying the transparent gel and decorating with rhinestones, it is important to ensure that the gel is evenly applied to avoid affecting the appearance and durability.
Product link:
Top coat and base coat:https://www.morovan.com/collections/nail-basics/products/morovan-top-base-coat-bs15
Latest Posts
Featured product