Pretty Green Nail Designs for 2023
Apr 27, 2023 by MOROVAN
As a natural, healthy, and peaceful color, green has always been favored by many people. In nail design, green is also a commonly used color, and its fresh, natural, and elegant characteristics can bring a sense of joy and relaxation. Let's take a look at some green nail designs.
The style of green nail designs is diverse and can be matched and designed according to different occasions, seasons, and personal styles. For example, in the spring, light green and pale yellow can be used together to create a fresh and warm feeling. In the summer, bright grass green or olive green can be chosen to create a cool and natural atmosphere. In the fall, deep green and brown can be paired to present a steady and elegant feeling. In the winter, light green and white can be used together to create a pure and fresh atmosphere.
How to make a green nail design by using the gel nail polish?
Green nail designs are characterized by their versatility. They can be a solid single-color design in pure green, or a mixed pattern design with other colors. Moreover, in terms of nail materials, green can also be combined with different decorations, such as glitter, beads, small flowers, and so on.
With its fresh, natural, and elegant characteristics, green nail design has become an ideal choice in many people's minds.
Here are some recommended green nail designs for 2023:
1.Green nail design: Gradient Butterfly Nail Art
This nail design features a gradient effect using green and light yellow colors, with butterfly stickers placed on top to add liveliness and vibrancy to the nails!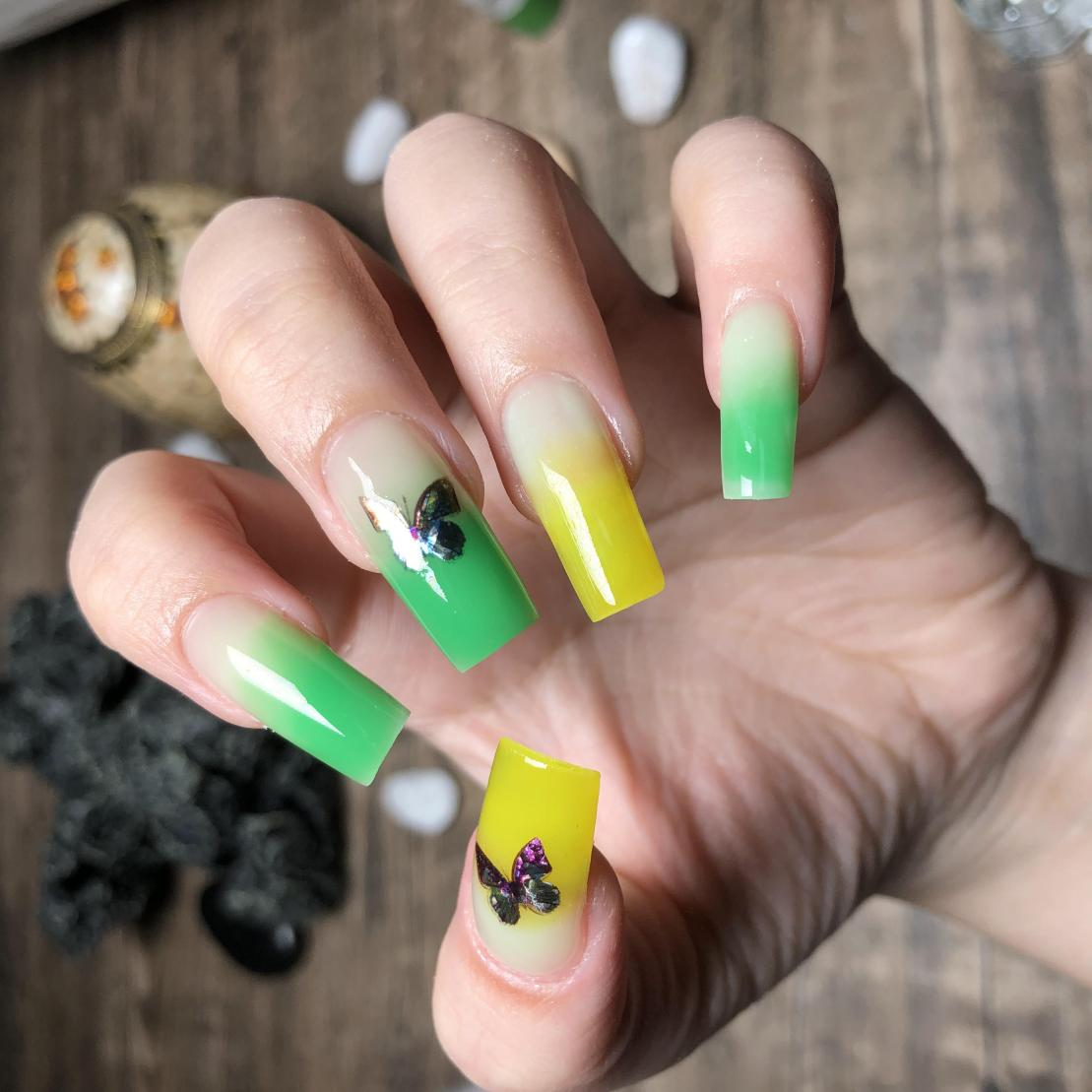 Come and try this green nail design!
2.Green nail design:Green Glitter Nail Art
This green nail design uses nude pink as the base color and fills the top of the nails with green glitter, creating a natural and fresh look.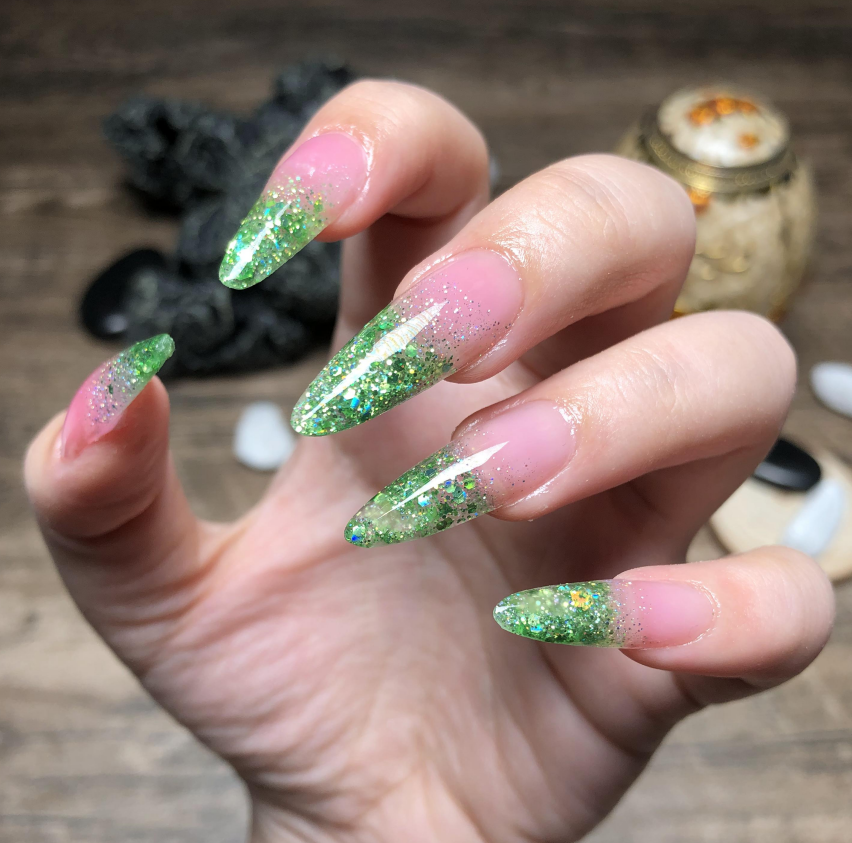 Stylish green nail design for you!
3.Green nail design: Green French Butterfly Nail Art
This green nail design features a green French tip and butterfly stickers on the nail surface, making the whole nail cute and lively.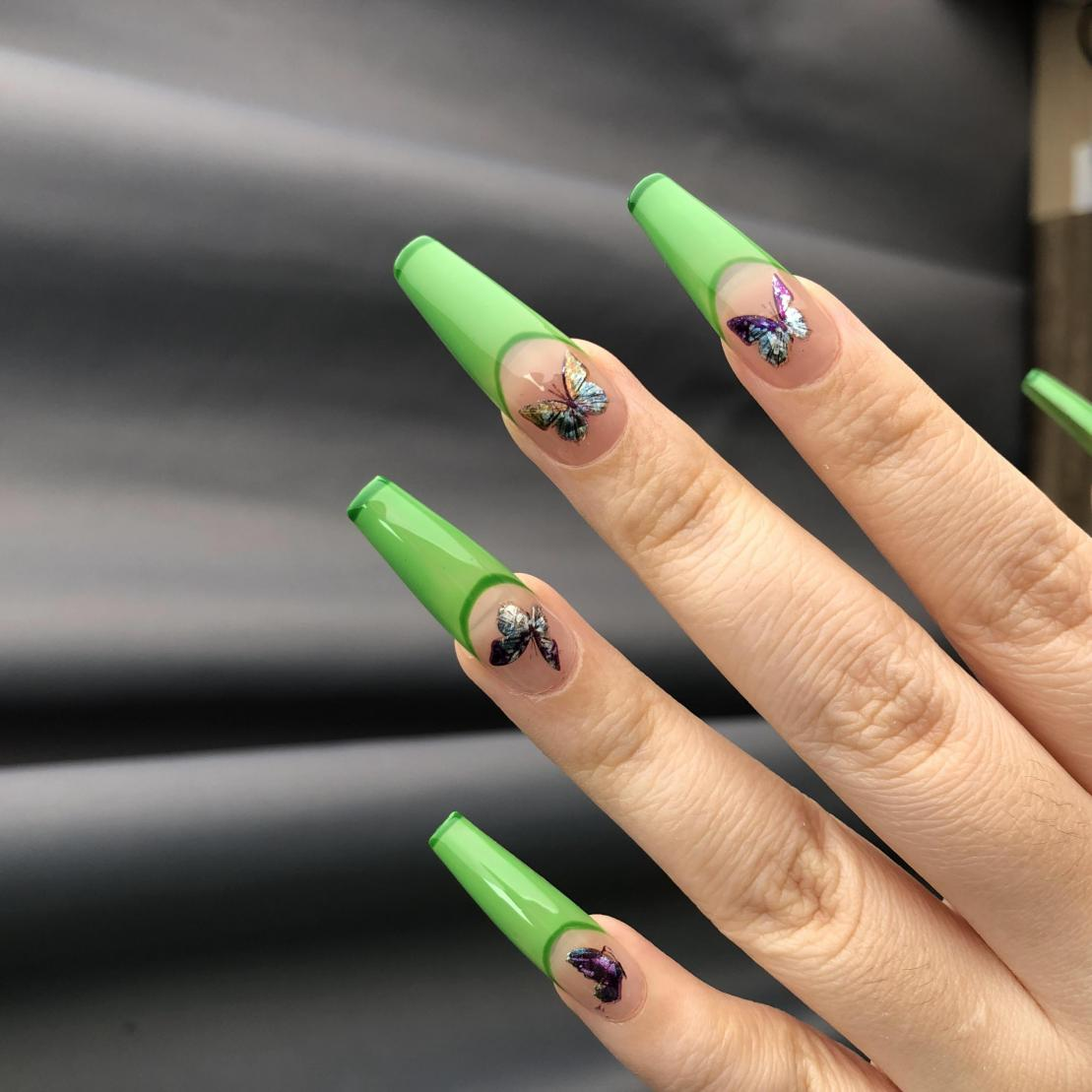 This green nail design is very unique!
The charm of green nail design lies mainly in its fresh, natural, and comfortable feeling. Green represents life and growth, bringing hope and warmth to people. It can also bring a sense of peace and tranquility, allowing people to relax and let go of fatigue, and enjoy life. In addition, the charm of green nail design also lies in its fashion and individuality. By mixing and matching with other colors, patterns, and materials, unique and distinctive manicure designs can be created, showcasing individuality and taste.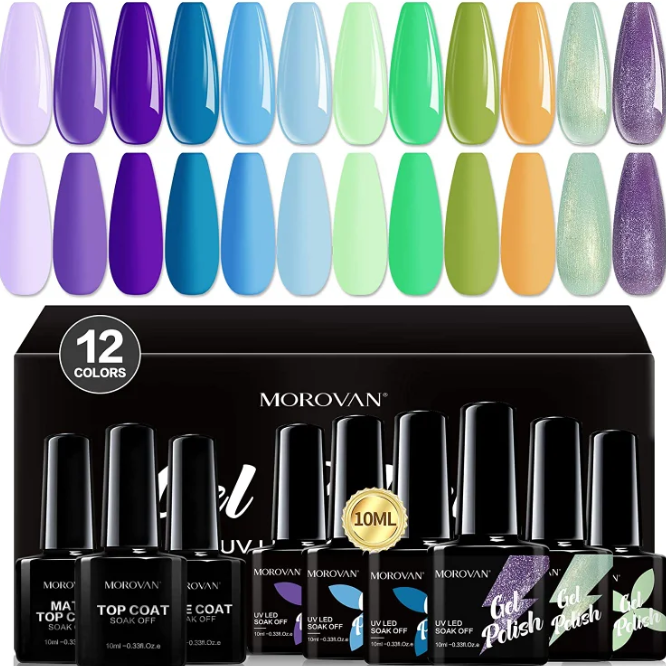 Green Nail Designs Product Recommendation
Latest Posts
Featured product