Pink Acrylic Nails Design For 2023 Spring
Apr 10, 2023 by MOROVAN
Acrylic Nails in spring 2023 is undoubtedly one of the latest nail trends, and this nail style is famous for its unique charm and diversity. Acrylic Nails refer to fake nails made with acrylic acid materials. In the spring of 2023, Acrylic Nails have received a lot of attention for their various color and shape options, as well as creative designs. The characteristic of Acrylic Nails style in this season is diversity, including various shapes and lengths of nails.
One of the most popular shapes for Acrylic Nails is square and round. These two shapes can bring a delicate look to your fingers, and no matter which shape you choose, they are both very durable and practical.
In terms of color, pink is a particularly popular choice. Pink can enhance the temperament and elegance of your fingers, and it is also very suitable for spring, making you feel fresh and full of vitality. In addition, prints are also a highlight of Acrylic Nails. Various prints such as floral patterns, stripes, and geometric patterns can make your fingers more unique.
1.Pink Acrylic Nails Design: Nude pink with rhinestone nails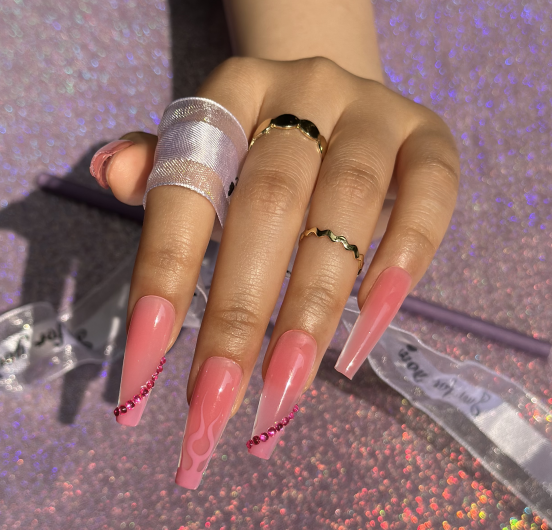 This Pink Acrylic Nails Design uses nude pink as the base color, paired with rose pink diamond decorations, very elegant and stylish!
2.Pink Acrylic Nails Design: Light Pink Flower Nails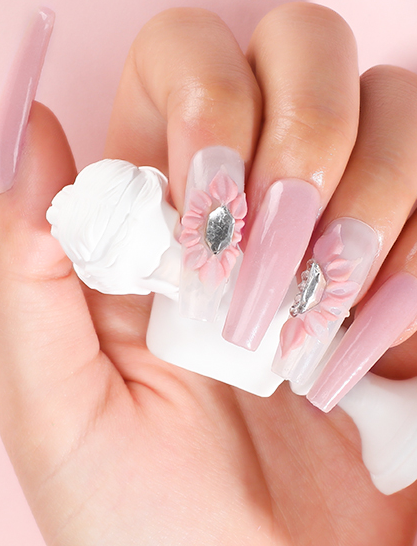 This Pink Acrylic Nails Design features a combination of light pink and white, which blend together naturally. The addition of floral elements creates a gentle and elegant look.
3.Pink Acrylic Nails Design: French Floral Nails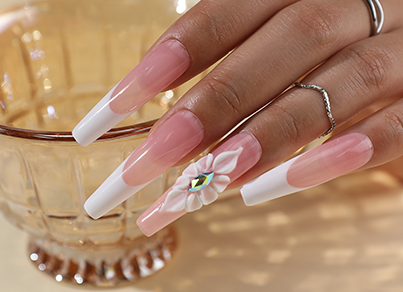 This Pink Acrylic Nails Design features a French tip in white color, with a nude pink base and white flower accents, which is both fashionable and elegant.
Acrylic Nails also offer the advantage of versatility and creativity compared to traditional nail polish. They provide more options in terms of colors and shapes, allowing you to create a unique nail style that reflects your preferences and personality. In addition, durability is another attraction of Acrylic Nails. They can last for weeks without chipping or peeling, which is convenient for those who need to maintain beautiful nails for an extended period of time.
In summary, the Pink Acrylic Nails style for Spring 2023 is a symbol of diversity and creativity. They offer a variety of shape and color combinations, allowing you to create according to your own preferences and personality. Additionally, their durability is also very appealing. If you are looking for a new nail style, why not try Pink Acrylic Nails.
Acrylic Nails Design Video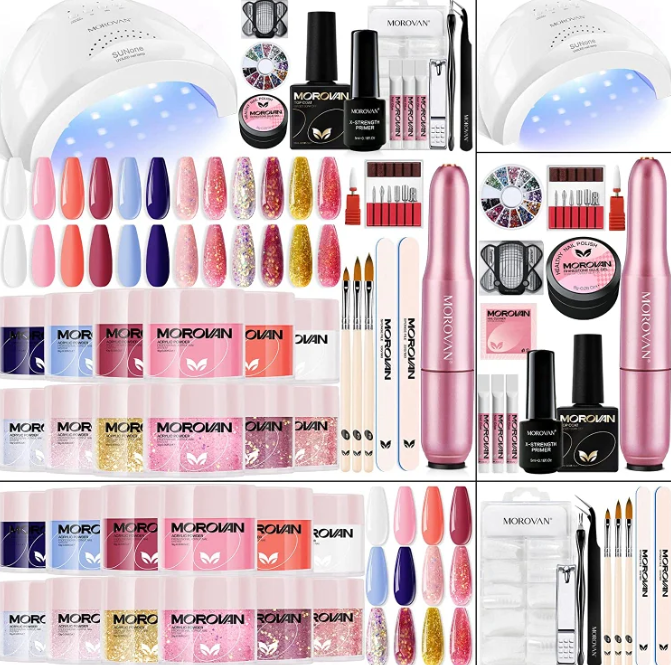 Pink Acrylic Nails Design Product Recommendation
Latest Posts
Featured product