Glitter French Nail Designs for Summer 2023
May 17, 2023 by MOROVAN
When it comes to nail trends, the classic French manicure never goes out of style. This summer, elevate the timeless French nail design with a touch of glamour and sparkle. Glitter French nails are all the rage for Summer 2023, adding a chic and dazzling twist to your fingertips. From subtle hints of shimmer to bold and statement-making glitter accents, let's explore some irresistible glitter French nail designs that will make your summer shine.
How to make a glitter French nail design by using the poly nail gel?
Here are some recommended glitter French nail designs for 2023:
1.Glitter French nail design:Subtle Sparkle
For a refined and elegant look, opt for a subtle sparkle on your French manicure. Keep the base color of the nail neutral, such as a soft pink or beige, and add a delicate line of glitter along the tip of each nail. Choose a fine glitter in a complementing shade or opt for a translucent glitter for a touch of understated glam.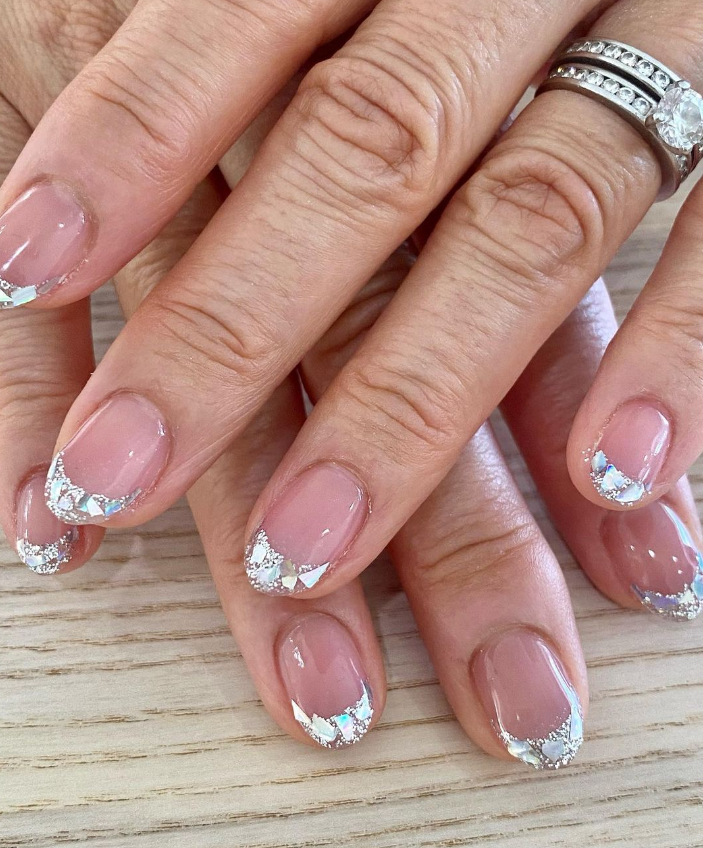 Beautiful glitter French nail design for you~
@nailartby_yoco/Instagram
2.Glitter French nail design:Black Bow Glam
For a dramatic and sophisticated look, opt for a black French manicure with glitter accents. Paint the tips of your nails in glossy black polish and add a thin line of silver or gold glitter just above the black tip. This design exudes an air of elegance and is perfect for formal events or evenings out.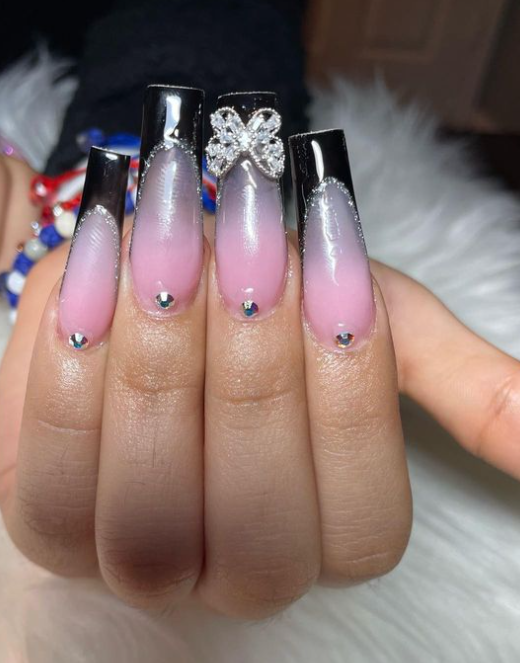 This glitter French nail design is very unique!
@exoticnailed_plug/Instagram
3.Glitter French nail design:Gold Glamour
Embrace the golden warmth of summer with a glamorous twist on the French manicure. Use a nude or blush pink as the base color and replace the classic white tip with a striking line of gold glitter. The contrast between the soft base and the sparkling gold will create a luxurious and eye-catching look, perfect for any special occasion.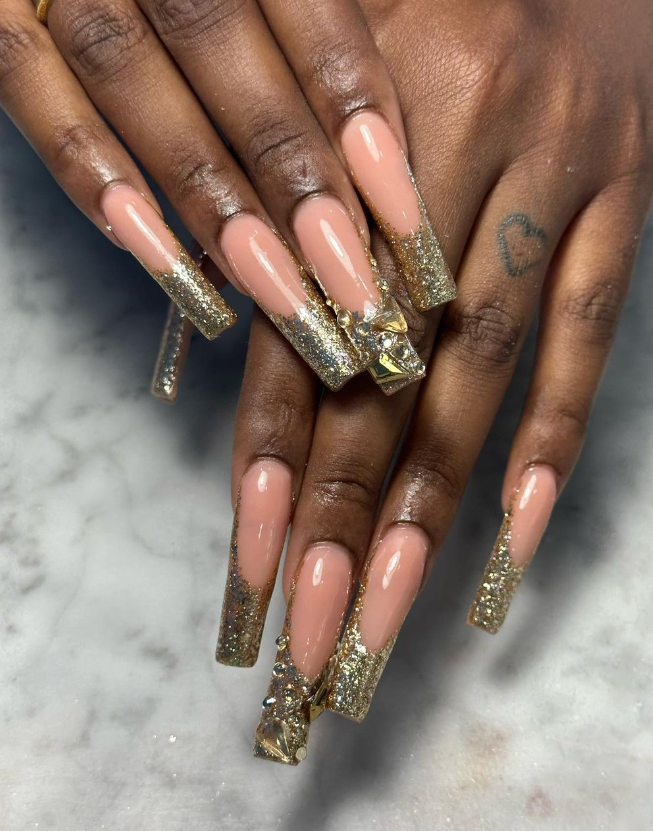 This glitter French nail design is very luxurious!
@nailsbynelley/Instagram
4.Glitter French nail design:Ombre Sparkle
Combine the popular ombre trend with glitter for a stunning effect. Choose a soft and subtle color palette, such as pastel shades or nude tones. Start with a light base color and gradually add glitter toward the tip of the nail, creating a seamless transition from the solid color to the sparkling finish. The result is a mesmerizing and sophisticated French manicure with a modern twist.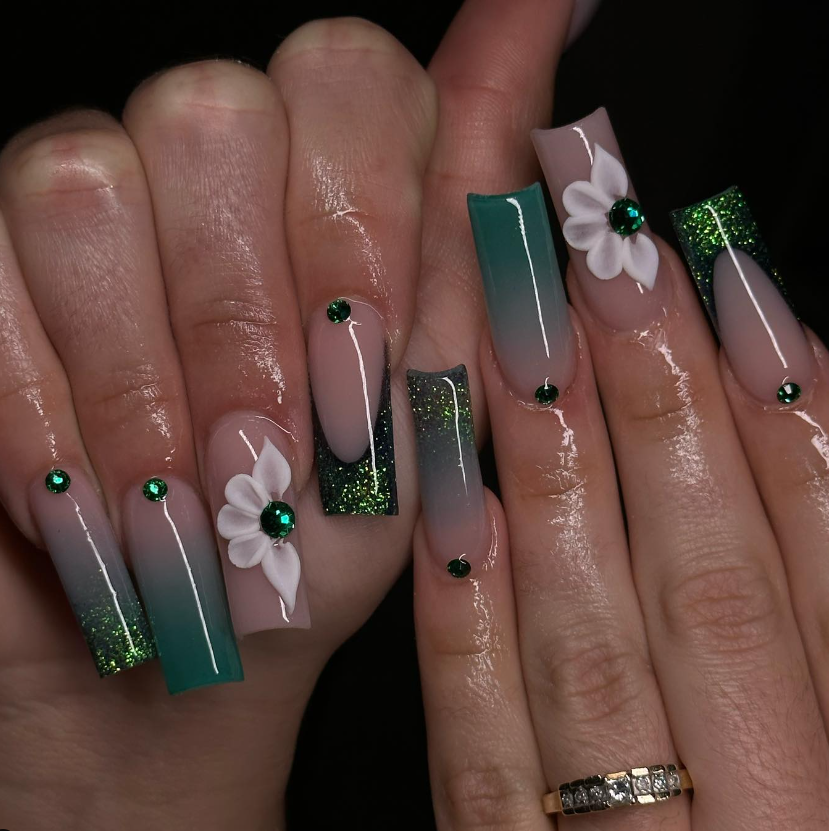 The glitter French nail design is very eye-catching.
@naildbyalondra2/Instagram
Get ready to add a touch of glamour and shine to your summer nails with glitter French nail designs. From subtle sparkle to vibrant rainbow gradients, there are endless possibilities to explore. Embrace the chic and dazzling side of summer with these glamorous glitter French nail designs and let your fingertips steal the spotlight wherever you go.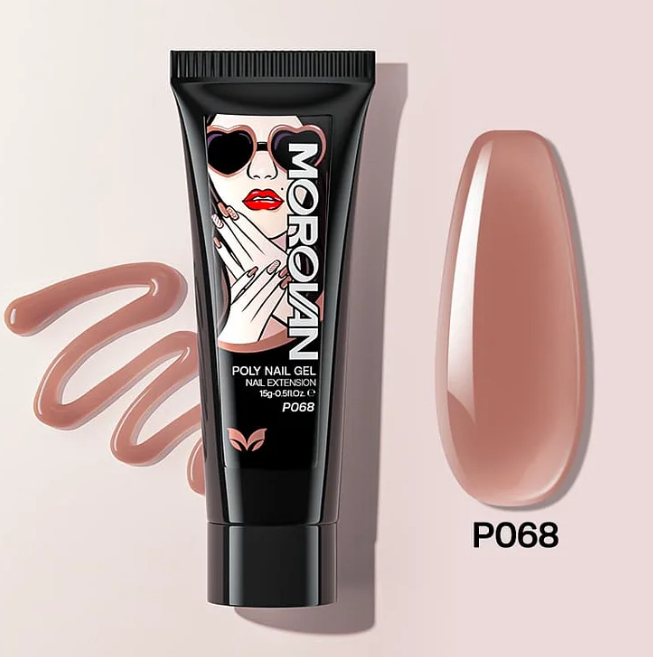 Glitter Grench nail design product recommendation
Latest Posts
Featured product