Clear Coffin Nail Designs for Summer 2023
May 30, 2023 by MOROVAN
When it comes to nail art, there's nothing quite as chic and sophisticated as clear coffin nails. This timeless and versatile nail shape is a favorite among fashion-forward individuals. Clear coffin nails not only elongate your fingers but also provide a blank canvas for endless creative possibilities. In this blog post, we'll explore some stunning clear coffin nail designs that will elevate your style and keep you on-trend throughout Summer 2023.
How to make a clear coffin nail design by using poly nail gel?
Here are some recommended clear coffin nail designs for 2023:
1. Clear coffin nail design: Jeweled Sophistication
Elevate your clear coffin nails with the opulence of jewels and embellishments. Apply small rhinestones or pearls along the edges of your nails for a touch of glamour. Alternatively, create intricate patterns using larger gems for a luxurious and extravagant look. The combination of clear nails and sparkling jewels will undoubtedly make your manicure a show-stopper at any event.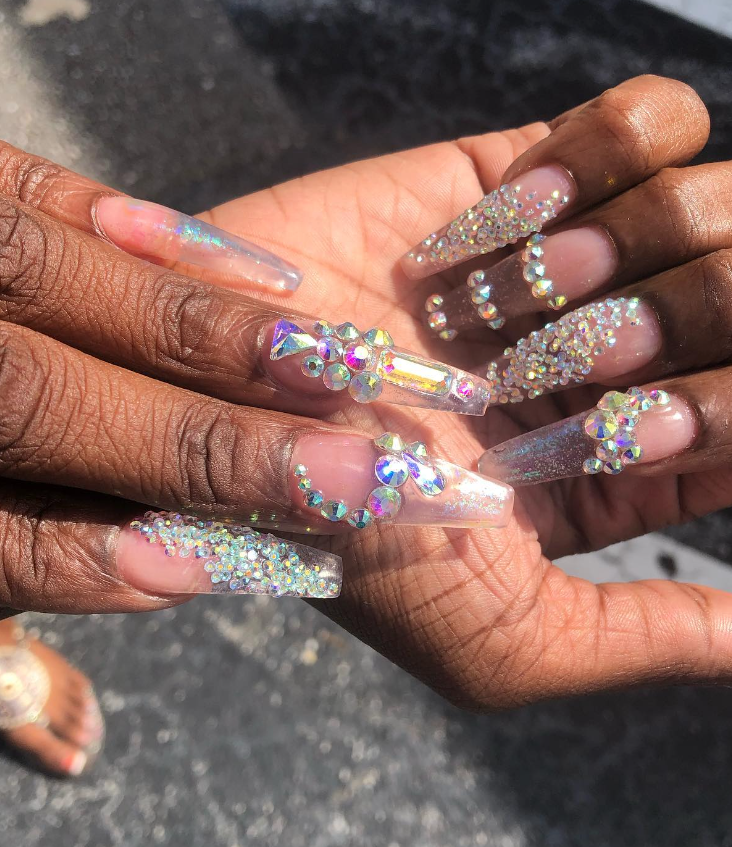 This clear coffin nail design is so pretty!
@tailish_nailz/Instagram
2. Clear coffin nail design: Shimmering Glitter
For those who want a bit of sparkle and glamour, a touch of glitter on clear coffin nails will make your manicure shine. Choose a clear base and add a sprinkle of glitter on the tips for a classic French manicure with a twist. Alternatively, you can cover the entire nail with a layer of fine glitter for a dazzling effect. The subtle sparkle adds a touch of playfulness and charm to your nails, perfect for summer evenings or special occasions.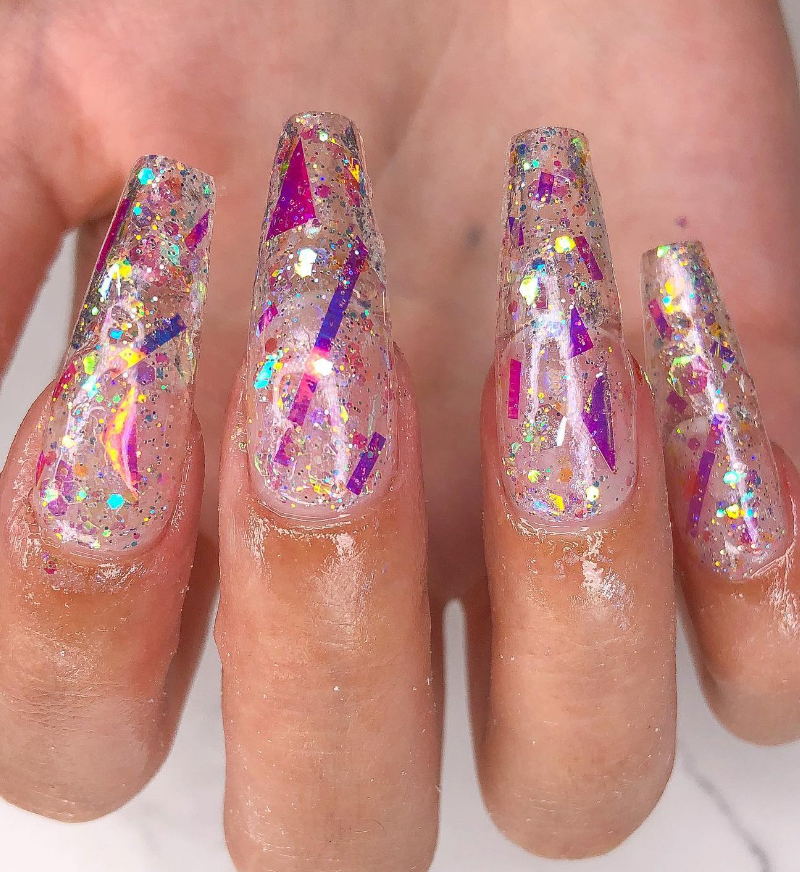 This clear coffin nail design is so cute!
@nailsbycristiana_/Instagram
3. Clear coffin nail design: Floral Accents
Bring the beauty of summer flowers to your fingertips with delicate floral accents on clear coffin nails. Paint your nails with a transparent or lightly tinted base and add tiny hand-painted flowers in soft pastel hues. Alternatively, you can apply floral nail decals or 3D nail art pieces to achieve a more dimensional look. These floral accents will make your nails look like miniature works of art, capturing the essence of nature's beauty.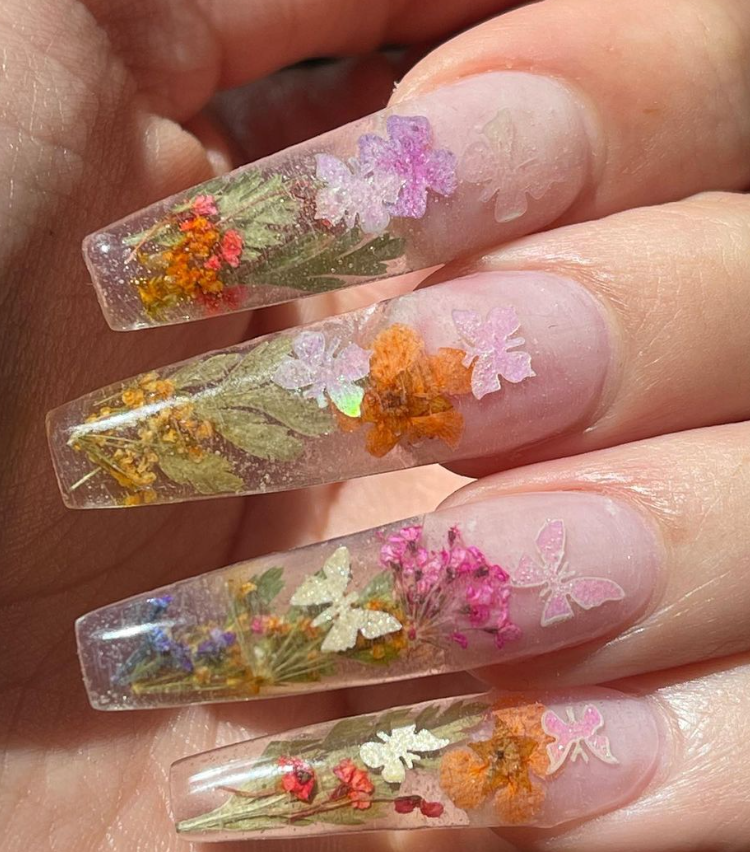 Recommend this pretty clear coffin nail design for you!
@delicatenailspa/Instagram
Clear coffin nails are the epitome of elegance and style, making them a perfect choice for Summer 2023. Whether you prefer a minimalist approach, a touch of shimmering glitter, delicate floral accents, abstract designs, or jeweled sophistication, there's a clear coffin nail design that will suit your taste and elevate your look. Embrace the understated beauty of these nail designs and let your nails become a stunning accessory that complements any summer outfit.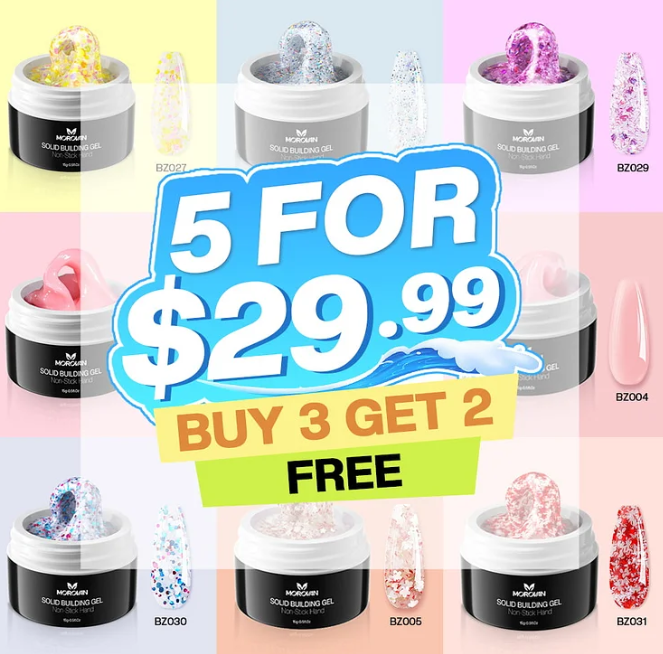 Clear coffin nail design product recommendation
Latest Posts
Featured product