Captivating Butterfly Nail Designs
Aug 26, 2023 by MOROVAN
Nail art has always been a creative canvas for expressing individuality, and incorporating butterfly nail designs adds a touch of elegance and beauty to your fingertips. Butterflies symbolize transformation, freedom, and the delicate wonders of nature. Whether you're aiming for a romantic, feminine look or a burst of vibrant colors on your nails, butterfly nail designs offer a realm of possibilities. In this blog post, we will explore a range of butterfly nail designs to spark inspiration for your next nail adventure.
Simple and Beautiful Butterfly Nail Designs
1. Watercolor Dream Butterfly Nail Designs
Watercolor butterfly nail designs bring a dreamy palette to your nails. Use soft pinks, blues, and purples to outline the delicate form of a butterfly, creating a miniature canvas on your fingertips.
2. Minimalistic Black and White Butterfly Nail Designs
For those who lean towards minimalistic styles, consider a black-and-white butterfly nail design. Sketch the outline of a black butterfly on a white base, creating a look that exudes a unique charm.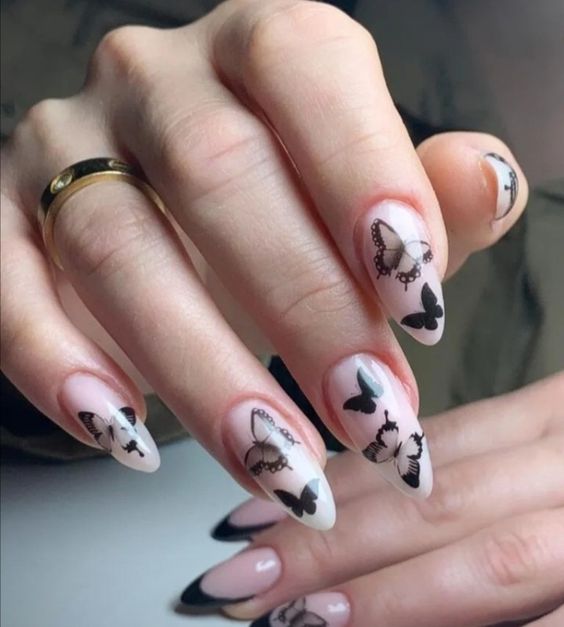 3. Metallic Elegance Butterfly Nail Designs
Adding a metallic touch enhances the liveliness of butterfly patterns. Opt for gold, silver, or copper shades to give the wings of the butterfly a textured appearance.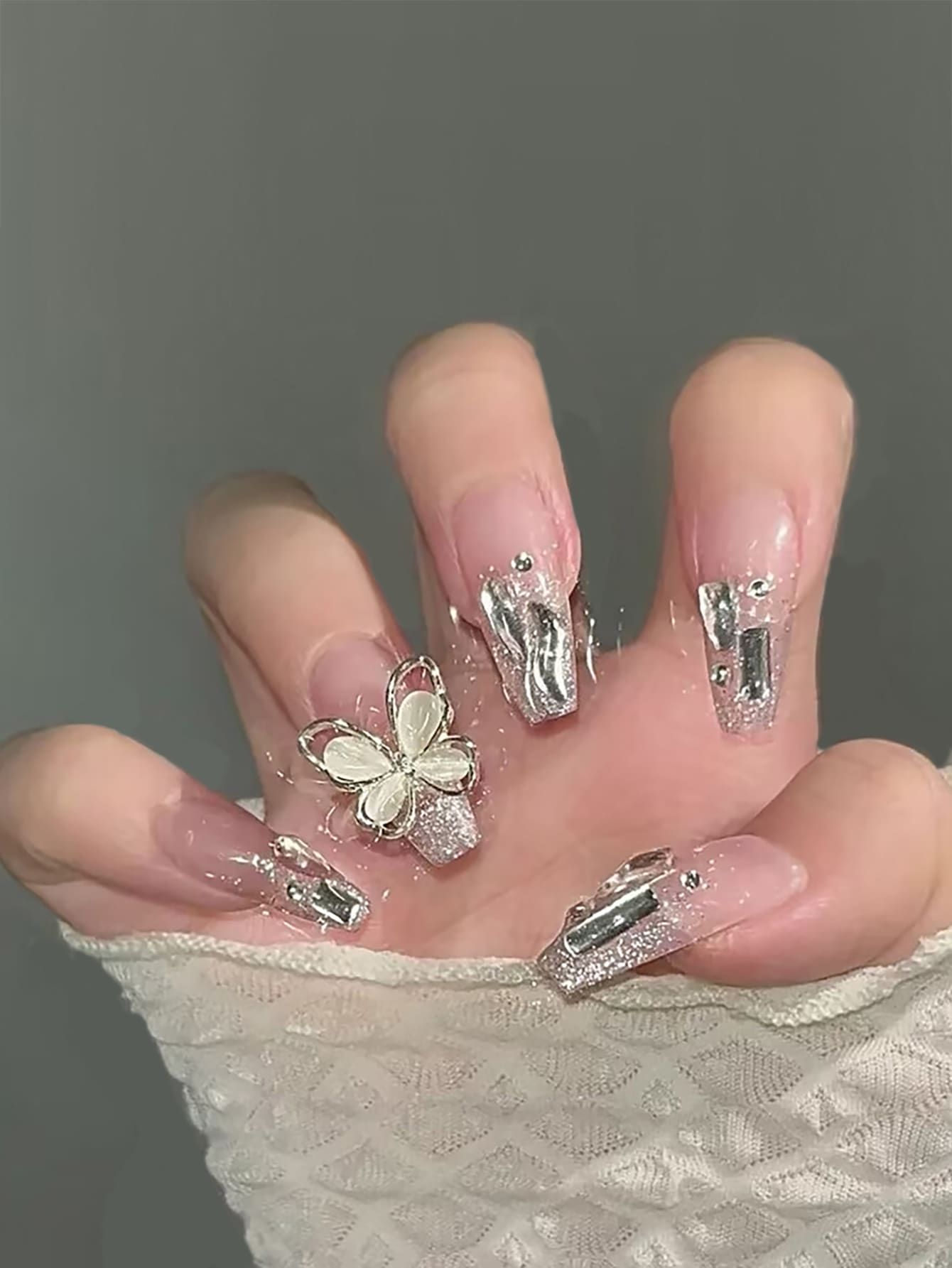 4. Rainbow Playful Butterfly
Childlike playfulness can seamlessly blend with butterfly nail designs. Fill the wings of the butterfly with vibrant rainbow colors to infuse your fingertips with a burst of energy.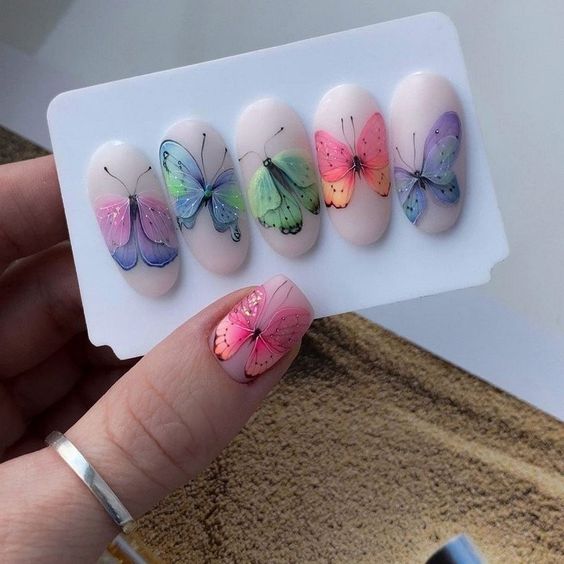 Vibrantly Colorful Butterfly Nail Designs
5. Mysterious Matte Butterfly
Matte textures add an air of mystery and are well-suited for butterfly nail designs. Choose subdued matte colors to create a distinctive and enigmatic effect.
6. Vintage Fusion of Patterns and Butterflies
The fusion of vintage patterns with butterflies creates a nail art that exudes a retro ambiance. Embrace bold pattern elements to make the butterflies stand out even more uniquely.
7. 3D Butterfly Embellishments
Adding three-dimensional butterfly embellishments to your nails adds depth to your nail art. Utilize small gems or stickers to create an eye-catching 3D effect.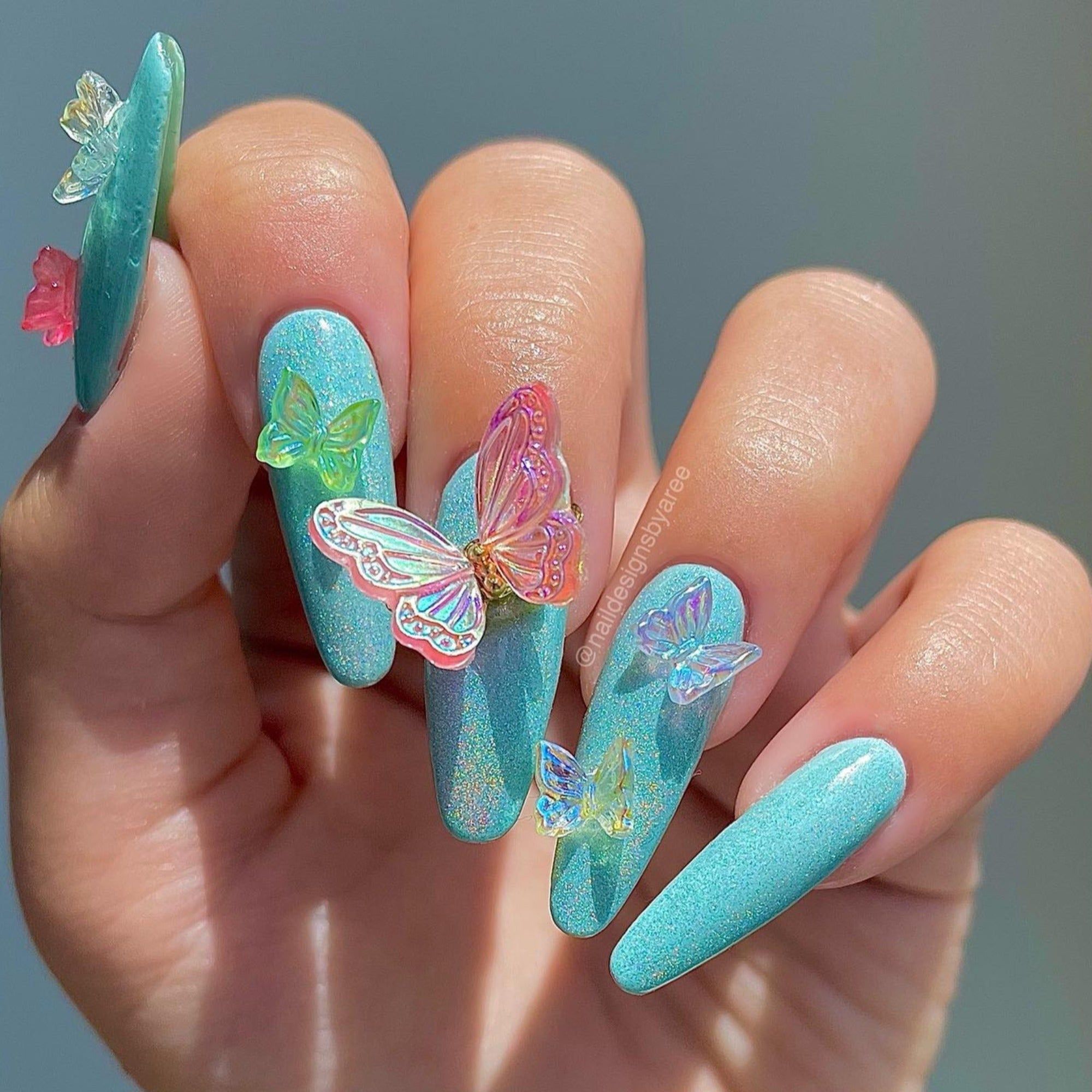 8. Garden Reverie Butterfly
Fusing butterflies with floral elements creates a dreamy butterfly garden nail design. Opt for a vivid array of floral patterns to infuse your fingertips with vibrancy.
9. Delicate Line Art Butterflies
Using delicate lines to outline the form of a butterfly creates a refined and distinct nail art effect. Choose bright colors to make the lines pop.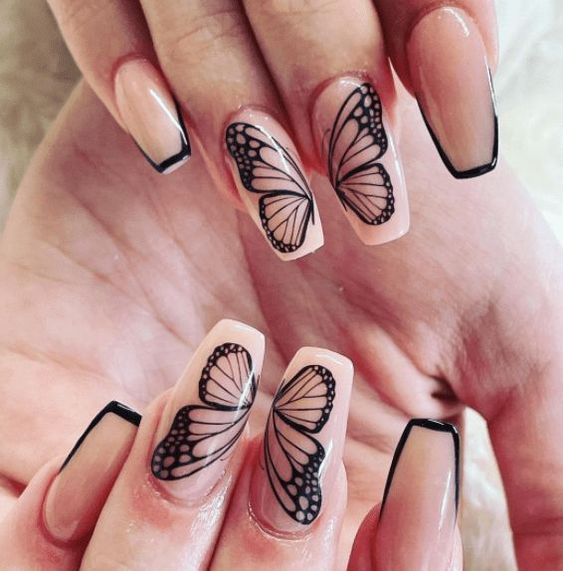 10. Printed Butterfly Nails
Experiment with the printing technique to imprint butterfly patterns onto your nails. This method ensures precise butterfly imagery while showcasing the unique texture of printing.
No matter your style preference, butterfly nail designs bring a touch of allure to your fingertips. From watercolor dreams to deluxe gem accents, each design possesses its own unique charm, allowing your nails to exude the radiant beauty of butterflies.
Latest Posts
Featured product