Beautiful Butterfly nail designs for 2023
Apr 26, 2023 by MOROVAN
Butterfly nail design is a very popular style of nail art that can showcase the beautiful posture of butterflies dancing, giving people a sense of lightness and elegance.
Butterflies, as a common natural element, are often used in nail art designs. The butterfly element also represents beauty and elegance. Butterflies have beautiful wings and slender bodies, and are often considered as representatives of the beauty of nature. The butterfly element is often used to express people's longing for beauty and elegance. Especially in the fields of art and fashion, the butterfly element is a very popular design element.
Easy Butterfly Nail Art Design: Nail Patch Butterfly Pearl Style
Generally speaking, butterfly nail designs can be divided into several different styles such as minimalist style, gorgeous style, cartoon style, etc. Minimalist style butterfly nail art designs usually feature simple and clear patterns, and this style emphasizes the simplicity of lines and the delicacy of patterns. Gorgeous style butterfly nail art designs are more focused on decoration and details. They often have more colors and more exquisite details to enhance their gorgeousness. Cartoon style butterfly nail designs feature cute cartoon images, and this style of butterfly nail designs is very suitable for young people and children.
The following are the recommended butterfly nail designs for the year 2023:
1.Beautiful Butterfly nail design: Silver Glitter Butterfly Nail Art
This butterfly nail design features a lot of silver glitter with a gradient of light blue and green glitter on the fingertips, paired with butterfly stickers for a very delicate and unique look.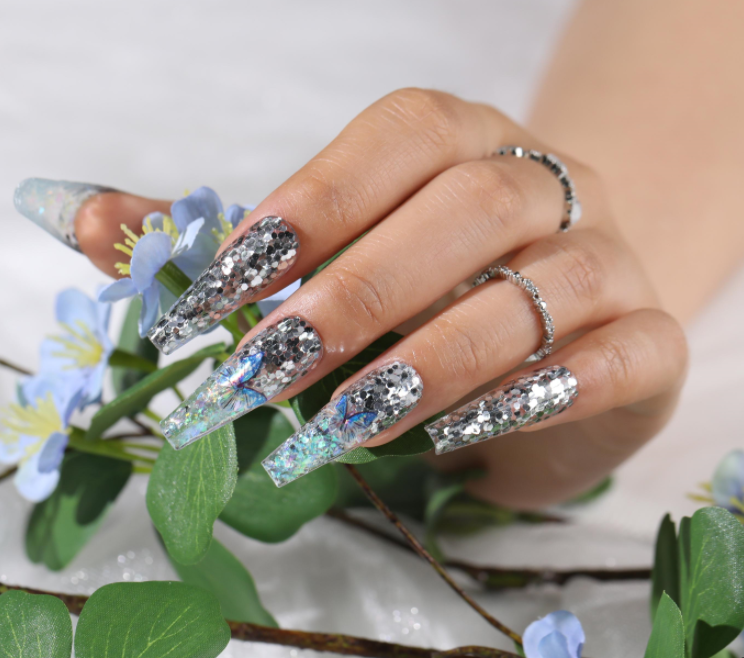 Beautiful butterfly nail design for you~
2.Beautiful Butterfly nail design: Clear Light Purple Butterfly Nail Art
The light purple color and butterfly elements are a perfect match! This manicure design creates a vintage atmosphere, with a subtle and gentle tone, and a hint of shimmer, reflecting an elegant beauty.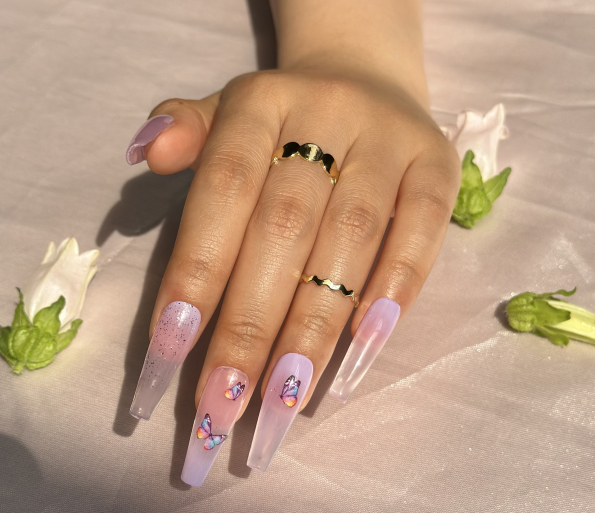 Come and try this butterfly nail design!
3.Beautiful Butterfly nail design: Blue glitter butterfly nail art
Blue represents tranquility and peace, while the butterfly element adds a sense of lightness and elegance, making the nails more charming. A little nude pink is used as a decoration, and the butterfly-shaped glitter makes this butterfly nail design more lively and eye-catching!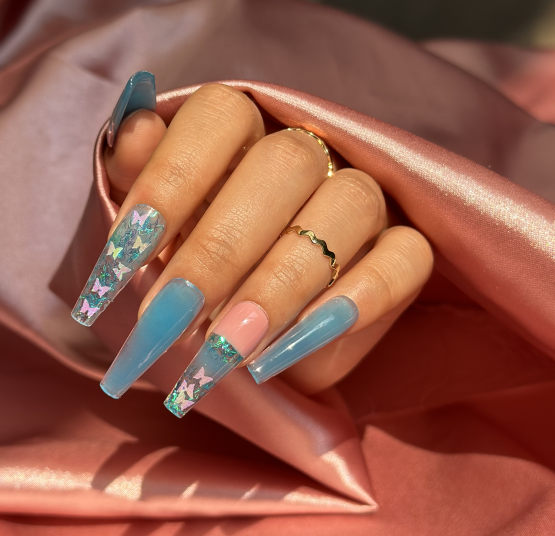 This butterfly nail design is very elegant!
The style and features of butterfly nail designs are also related to seasons and occasions. For example, butterfly nail designs in spring usually use bright colors and flowers to enhance the spring atmosphere; while butterfly nail designs in summer are usually fresher and brighter to suit the summer vibe. On important occasions such as weddings and dinners, it is usually more gorgeous and exquisite to showcase women's elegance and nobility.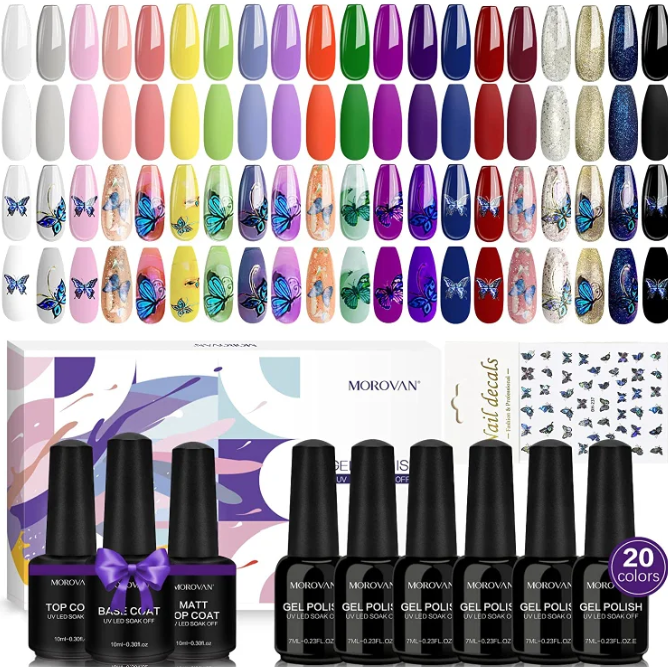 Butterfly nail design product recommendation
Latest Posts
Featured product